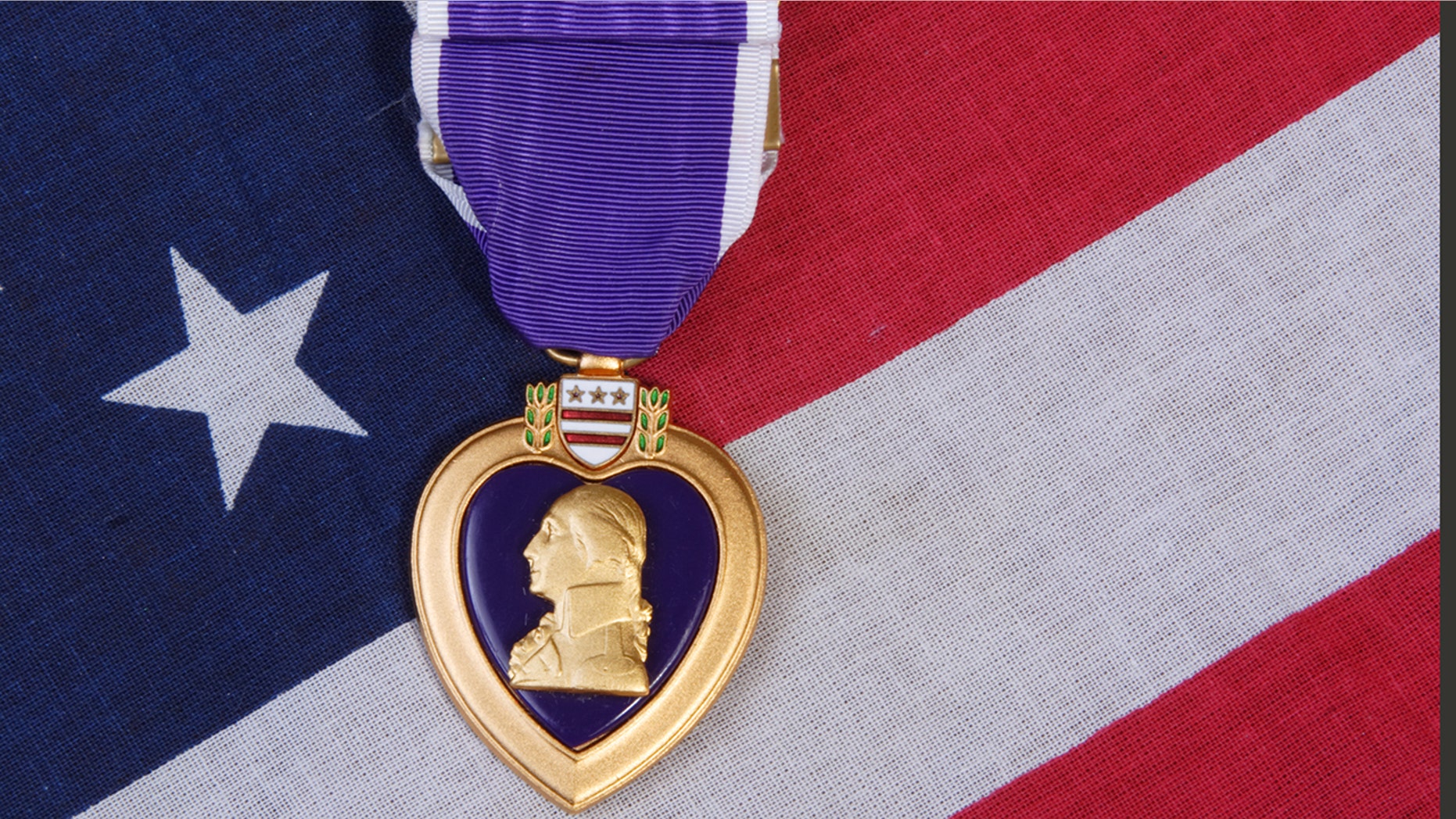 Cpl. Francis Byrne, a 94-year-old World War II veteran who is battling terminal cancer, will finally receive a Purple Heart. (istock)
You can't say U.S. Army Cpl. Francis Byrne isn't a patient man.
After all, he waited 74 years for recognition since that day in Belgium in 1944 when he was hit by shrapnel from an exploding Nazi landmine. But the 94-year-old World War II veteran is now locked in a life-or-death battle with a new foe — cancer — and Byrne told the New Hampshire Union Leader he was worried time was finally running out.
Then he got a phone call this week from Washington, D.C. — Byrne would get his elusive Purple Heart.
The Manchester, N.H. resident is finally set to receive the military honor awarded to members of the armed forces wounded or killed while serving, Sen. Jeanne Shaheen, D-N.H., revealed Thursday.
"Francis Byrne is an American hero and I'm so thrilled that he will finally receive his Purple Heart for his incredible sacrifice and service," Shaheen said. "This Purple Heart is invaluable to Mr. Byrne and his family, and I so look forward to seeing him presented with it in the near future."
Byrne, who was given four months to live after being diagnosed with terminal kidney and bladder cancer two months ago, said it was a dream come true to finally receive the Purple Heart.
"I started shaking," he told the New Hampshire Union Leader about his reaction when Shaheen called to give him the good news. "I was so emotional. I didn't think I would live to see the day."
Byrne enlisted in the U.S. Army in 1943 at the age of 18. He saw his first combat a year later on Omaha Beach in Normandy on D-Day and was injured in the line of duty in Belgium.
"A kid about 30 feet away from me stepped on one, and a piece of shrapnel hit me right there. Still there in the bone," he told WMUR, while pointing to his leg.
He told the Union Leader he didn't see any visible wounds in the immediate aftermath of the explosion and told a medic to work on the soldier who had triggered the mine. When he realized he'd been hit by shrapnel, his lieutenant promised to fill out the paperwork that would get Byrne the Purple Heart.
But the lieutenant was killed the next day in battle.
Byrne was discharged in 1945 and worked as a construction supervisor in Massachusetts.
An X-ray on his leg taken in 2006 showed a 6-millimeter metallic object in his ankle, a piece of the Nazi shrapnel which doctors believe slowly migrated south from his shin over the years, the Union Leader reported.
In his house, Byrne has a display case on the wall that holds the medals he received, including ones for fighting on D-Day and at the Battle of the Bulge.
In the middle is an empty spot where he plans to place the Purple Heart.
"I can't wait to see it there," he told the Union Leader.
Source: Read Full Article