Washington: It was the moment that could have imperilled Donald Trump's chances of becoming president. Instead, it set a new normal on how to ride out a political storm – and some Republicans are now using the same playbook in the battle for control of Congress at next month's US midterm elections.
Remember October 2016? One month before Trump beat Hillary Clinton in the race for the White House, a damning video was leaked in which Trump was overheard bragging to TV host Billy Bush about his sexual exploits.
Donald Trump. Credit:Atlanta Journal Constitution
"When you're a star, they let you do it," he said in the now infamous Access Hollywood tape. "Grab 'em by the pussy. You can do anything."
Not only did the revelations do little to derail his campaign, his defiance in the face of that scandal, among others, set a fresh template that embattled politicians and candidates have often followed: Deflect or deny. Don't apologise. Double-down.
The latest example emerged this week in the crucial Senate race for Georgia, when Trump's chosen candidate Herschel Walker – a former football star who has campaigned in support of a national ban on abortion – came under fire over claims he quietly paid an ex-girlfriend to terminate a pregnancy in 2009.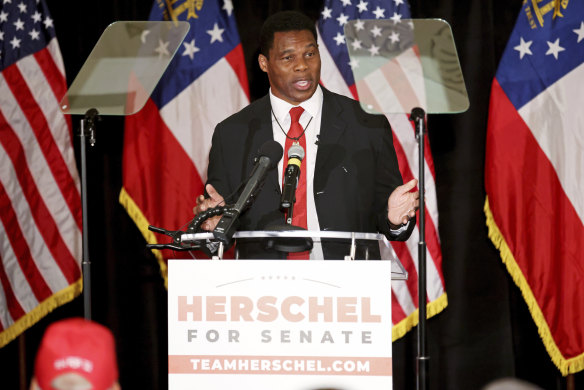 Former NFL star Herschel Walker. Credit:AP
The woman, who was not identified, reportedly provided The Daily Beast with a copy of a receipt for the procedure, a get-well card signed by Walker and an image of a $US700 cheque also signed by him.
No sooner had Walker denied the claims before he was hit with yet another damaging leak: that the woman in question also conceived a child with him, two years after the abortion.
And then came another political bombshell, this time from The New York Times: that Walker had urged her to terminate the second pregnancy. They reportedly ended their relationship after she refused.
Walker's response so far has been to paint the allegations as a "flat out lie", insisting he doesn't know the woman making them, and threatening to sue the Daily Beast for what he claims is a smear campaign against him.
Republicans have also rallied to support him, including Trump, suggesting it's nothing but a smear campaign from the media and Democrats.
"They are trying to destroy a man who has true greatness in his future, just as he had athletic greatness in his past," Trump said.
It's hardly surprising that Walker and the Republicans are doubling down. With only one month until the midterm elections, Georgia is seen as a realistic chance for the Republicans to take the seat from the Democrats, which could help the GOP regain control of the Senate – the all-important chamber that decides the fate of everything from future Supreme Court nominations to Biden's legislative agenda for the next two years.
To that end, Walker is so vital to the Republicans' fortunes that they are unlikely to throw him under the bus – even if he turns out to be a yet another hypocrite when it comes to women's reproductive rights.
Yet this isn't the only issue that has plagued the GOP candidate over the past few months. One recent ad from the Republican Accountability project featured his ex-wife describing in detail how he once held a pistol to her temple and told her he was "going to blow her brains out".
His campaign has also been filled with so many gaffes and lies – falsely claiming he was a law enforcement officer; criticising Biden's climate change reforms by bizarrely arguing that America already has too many trees; and lying about graduating from Georgia University.
Walker also has children with four different women, but hasn't publicly acknowledged three of them – despite spending much of his public life railing against the absence of black fathers. This led to one of the most damaging tirades against him: from his own son Christian, a conservative social media personality who blasted his father in a social media tirade last week.
"Family values, people? He has four kids, four different women," Christian said in a blistering video attack. "Wasn't in the house raising one of them. He was out having sex with other women."
The question now is if any of this will make a difference within the party or at the ballot box, where Walker is locked in a tight race against incumbent Democrat Raphael Warnock.
Veteran political analyst Larry Sabato doesn't think so, telling The Age and The Sydney Morning Herald that US politics has been so upended in recent years that "we've now reached a point where I don't even think murder one [charges] would eliminate a candidate."
"He was previously behind, although not by much, so it wouldn't surprise me if he lost," Sabato adds, "but I don't know if the latest revelations alone would be the main reason."
The conventional wisdom is that many voters are likely to have made up their minds about one side or the other. Others may have reservations about Walker but won't bring themselves to vote for Warnock because he represents Biden's agenda. Some may simply not show up to vote given it's not compulsory to do so in America.
Herschel Walker and Democrat Senator Raphael Warnock.Credit:Atlanta Journal-Constitution
And some pro-lifers, evangelicals or conservatives, will simply turn a blind eye. Just as Trump's indiscretions with women were overlooked in favour of his promise to put more conservatives on the Supreme Court bench to overturn Roe v Wade, the same may be done for Walker based on his (potentially hypocritical) stance on abortion.
As conservative radio host Dana Loesch put it last week: "Winning is a virtue. I don't care if Herschel Walker paid to abort endangered baby eagles. I want control of the Senate."
Get a note directly from our foreign correspondents on what's making headlines around the world. Sign up for the weekly What in the World newsletter here.
Most Viewed in World
From our partners
Source: Read Full Article