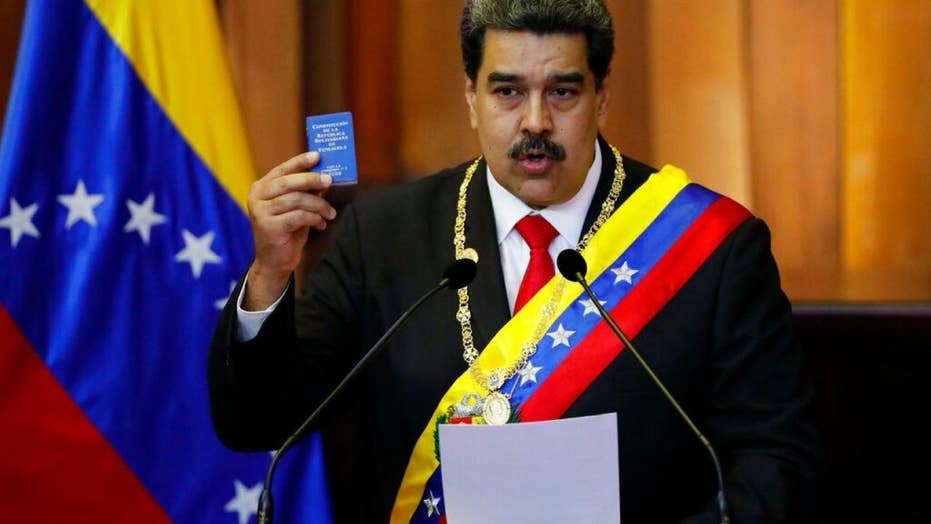 US military aircraft to deliver 200 tons of aid to Venezuela
A United States aircraft is set to deliver 200 tons of aid to the Venezuelan border.
The Trump administration is sending more than 200 tons of humanitarian aid to the Venezuelan border in Colombia as early as Saturday as it increases pressure on embattled President Nicolas Maduro to give up power, according to a State Department email sent to Congress.
The announcement of additional aid comes as the Trump administration added Venezuela's oil boss Maj. Gen. Manuel Quevedo and four other intelligence officers to a list of Maduro loyalists under U.S. financial sanctions.
VENEZUELA UNVEILS ANTI-US COALITION AT UNITED NATIONS 
The request for additional aid came from opposition leader Juan Guaido, who the U.S. and most of the Western Hemisphere has recognized as the country's leader despite Maduro being sworn in for a second term last month.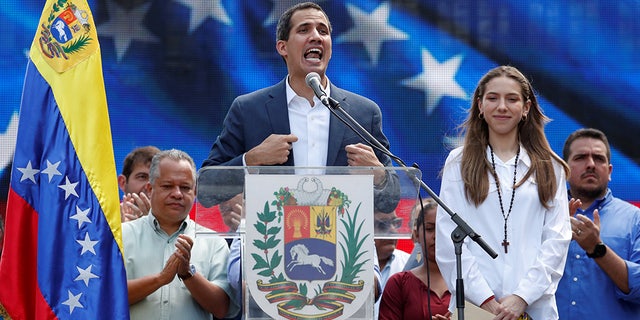 Venezuelan opposition leader and self-proclaimed interim president Juan Guaido gestures as he speaks next to his wife Fabiana Rosales during a rally in Caracas, February 2, 2019.
(Reuters)
Guaido has vowed to deliver the aid over the objections of Maduro, who in an interview with The Associated Press said that the offer of U.S. assistance represents "crumbs" compared to hostile efforts to block the country's oil exports and restrict its access to foreign funding.
While the U.S. military has long supported civilian-led humanitarian assistance missions around the world, this is the first time they are being used to deploy aid for Venezuela. Last year, the U.S. government sent more than $100 million in aid to Cucuta to help Colombian authorities absorb some of the estimated 3 million of Venezuelans fleeing hyperinflation and food shortages.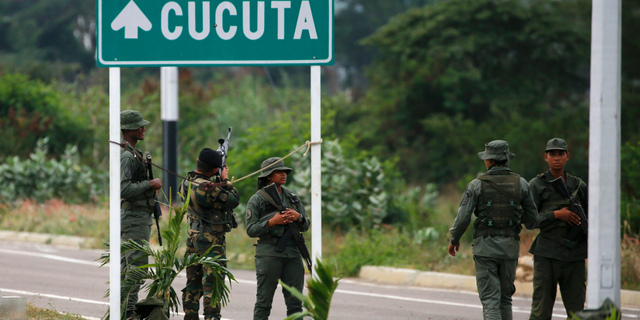 Venezuelan Bolivarian Army soldiers stand guard at the Tienditas International Bridge that links Colombia and Venezuela, near Urena, Venezuela, Friday, Feb. 8, 2019. (AP Photo/Fernando Llano)
VENEZUELA'S CRISIS HITS STAND-STILL OVER EMERGENCY AID 
In slapping new sanctions on Quevedo, the president of the Venezuelan state oil company PDVSA, U.S. Treasury Secretary Steven Mnuchin said the oil executive had been instrumental in propping up what he called Maduro's illegitimate regime.
In the AP interview, Maduro said Quevedo had been in India this week looking to drum up new business for PDVSA after the company was itself hit with sanctions aimed at cutting off an estimated $11 billion in profits.
The new sanctions also target four high-ranking intelligence officials, including the head of the feared SEBIN intelligence police and an elite commando unit known as FAES that is accused of several targeted killings.
In a statement, Mnuchin accused the officials of corruption and helping Maduro repress democracy in Venezuela — which includes using "torture and other brutal use of force."
TOUGH OIL SANCTIONS ON VENEZUELA INTENDED TO CUT OFF MADURO, MNUCHIN SAYS 
"We are intent on going after those facilitating Maduro's corruption and predation," Mnuchin said, adding that Quevedo and others have syphoned off funds that "rightfully belong to the people of Venezuela."
In the AP interview, Maduro also said he was willing to meet President Donald Trump at any time or place to resolve the crisis over U.S. recognition of Guaido.
CLICK HERE FOR THE FOX NEWS APP
Meanwhile,  Secretary of State Mike Pompeo told reporters Friday in Reykjavik, Iceland, that he sees clear signs that Maduro is starting to understand Venezuelans reject him as their leader.
The Associated Press contributed to this report. 
Source: Read Full Article