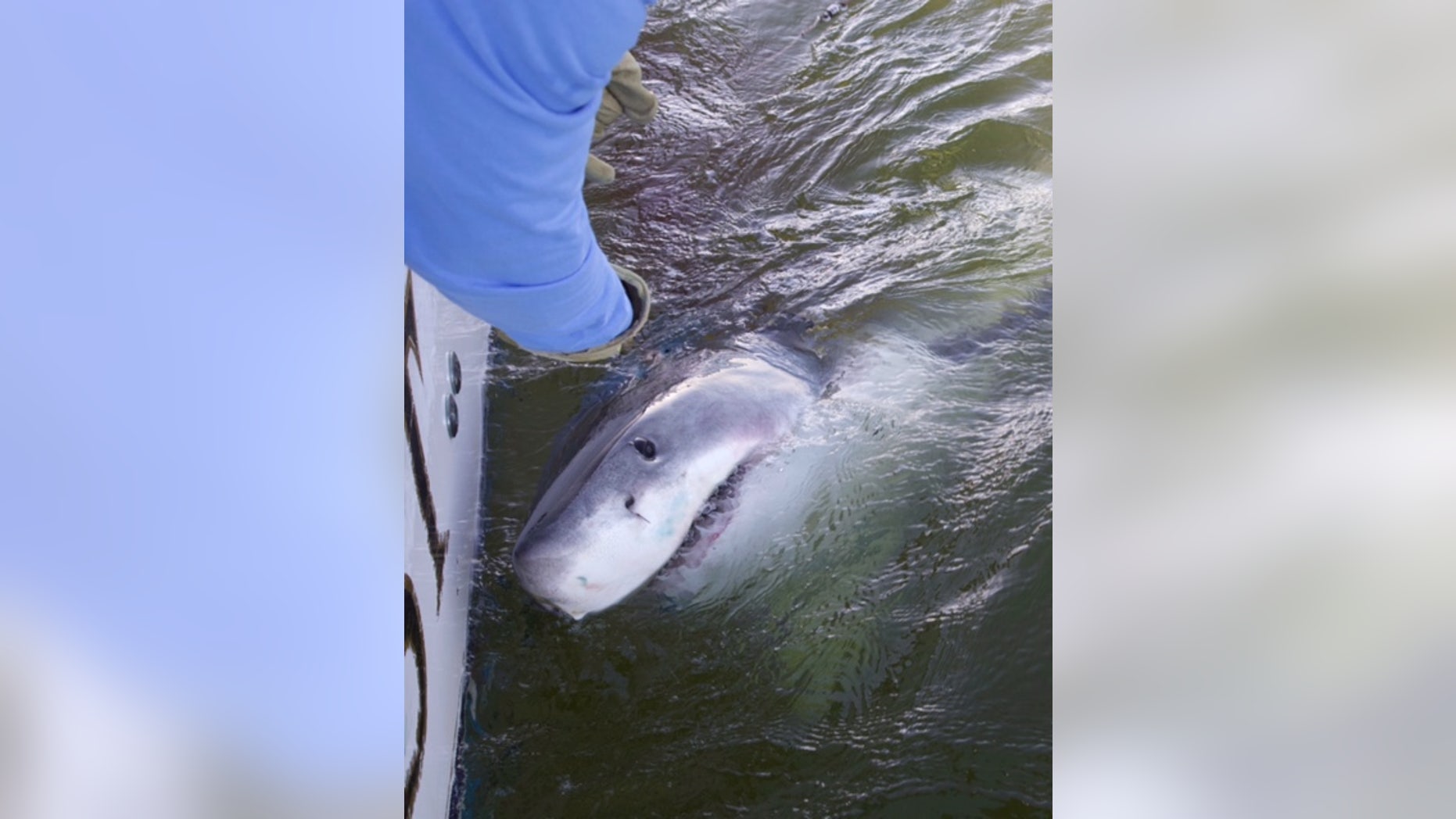 Chip Michalove estimated the great white shark was 17-feet in length. He hooked it initially, but the shark got away.
(Chip Michalove/ Outcast Sport Fishing)
As a charter fisherman who assists shark experts with their research by hooking and tagging great whites, South Carolinian Chip Michalove has come across a number of impressively-sized sharks throughout the years.
But none were more impressive than the "monster" great white he hooked earlier this week. Michalove told Fox News on Thursday he estimated the massive fish weighed 3,500 pounds and was roughly 17 feet in length.
FISHERMAN CRITICIZED BY FELLOW ANGLERS, ANIMAL ACTIVISTS OVER 1,400-POUND MARLIN CATCH
Michalove hooked the shark, a female, at roughly 1:30 p.m. on Tuesday off the coast of Hilton Head. He was accompanied by Jon Dodd of the Atlantic Shark Institute at the time.
Michalove, who also tags sharks on behalf of experts at the Massachusetts Division of Marine Fisheries, wrote on Facebook the shark "spit the hook after a 15 [minute] battle."
"After she threw the hook and came partially out of the water twice, she turned and chased the bait back to the boat as we reeled it back in," he continued. "We dropped the bait back to her, but she wised up. She wouldn't give us another shot."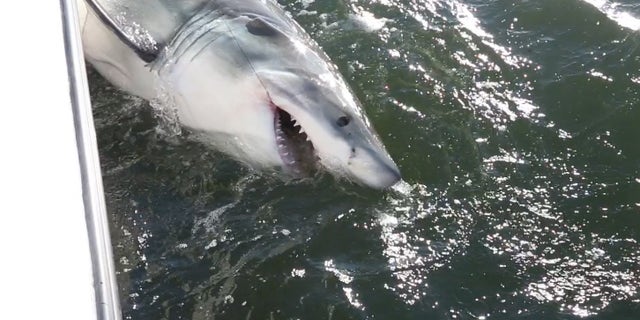 A roughly 10-foot great white Michalove hooked and tagged Tuesday. (Chip Michalove/ Outcast Sport Fishing)
"It was a bittersweet day because we did land and tag a 10-footer, but I can't help but think about the one I lost," he said. He also hooked a shark later that afternoon but lost it. He told The Island Packet he and Dodd were too tired from the battles with the two other two sharks, which is why they were unable to tag the third.
Michalove — who is "obsessed with sharks" and has been "ever since [he] was little and watched 'Jaws'"— told Fox News this was only the second time he has hooked three great white sharks in one outing; the first time being a couple of years ago.
"To get three in one day was pretty surprising; it's extremely rare," he said.
MINNESOTA TEEN'S MONSTROUS NORTHERN PIKE CATCH BREAKS STATE RECORD
The fisherman, who is the charter captain at Outcast Sport Fishing, said he finds the most great whites off the Hilton Head coast during the winter months. It's for this reason he's confident the 17-footer who escaped him Tuesday will return.
"I'll have another shot," he said confidently. "She'll be back."
Source: Read Full Article