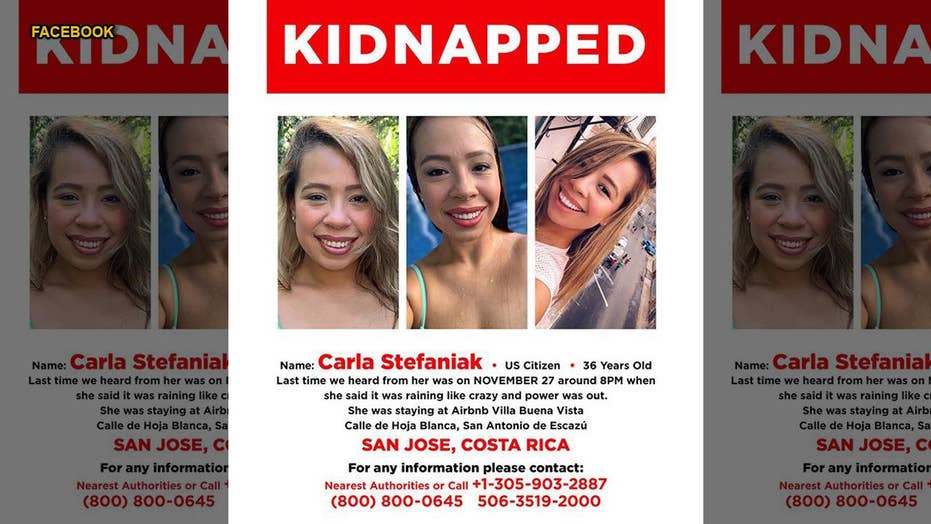 Body found on Costa Rican property confirmed to be missing Florida woman
A body found on a property in Costa Rica on Monday was reportedly confirmed to be that of Carla Stefaniak, a Florida woman who disappeared last week while on vacation for her birthday.
The killer's motive in the murder of a Florida woman, whose body was discovered at a Costa Rican complex where she'd been staying to celebrate her birthday, "was sexual" in nature, an official said Wednesday.
Judicial Investigator Director Walter Espinoza didn't go further into what may have prompted someone to kill Carla Stefaniak, or how authorities arrived at the "sexual" motive. An autopsy showed the woman died from blunt force trauma to the head and also suffered several stab wounds to her neck, according to WPLG-TV.
Bismark Espinoza Martinez, 32, was taken into custody Monday night at about 11 p.m., WFTS-TV reported, citing Costa Rica's Judicial Investigation Agency.
Martinez was detained after officials said they determined he had time to commit the crime and had made statements that didn't line up with video surveillance in the area.
"He presented many contradictions. As of that moment, he became a suspect," Espinoza said Tuesday.
The only photo released so far of Martinez does not show his face.
"Someone was interviewed and said she left for the airport at 5 a.m. when the flight was much later," Wayne Black, a South Florida private investigator, told WPLG-TV. "There was something fishy about that to begin with."
Stefaniak's body was discovered Monday half-buried and covered in plastic bags on the property of the Costa Rican Airbnb she'd been staying at with her sister-in-law, Espinoza said.
Costa Rican officials said blood was discovered inside the complex, too.
"In her apartment, we found blood. Three hundred meters away we found her body," Espinoza said.
Stefaniak's sister-in-law left Costa Rica on Nov. 27 and Stefaniak was due to depart the next day — but she never made her flight. Her family last heard from her the night of Nov. 27.
Fox News' Nicole Darrah contributed to this report.
Source: Read Full Article