This is the story of a police killer armed with a bloodied knife, two young cops equipped with tiny rubber batons and big hearts, a pub drinker with a cold pot and a good arm, and an inspector with a wooden head.
The young cop Keith Pickering, who arrested the armed offender who had just fatally stabbed his colleague.
It is also about righting a wrong and acknowledging a couple of heroes whose acts of bravery brought down the killer on a summer's day in the middle of Melbourne nearly 50 years ago. James Henry Patrick Belsey was profoundly mentally disturbed and repeatedly said he wanted to kill police. The trouble was, no one was listening.
In December 1973, he escaped from a Queensland mental institution and drifted to Melbourne, living rough with stray cats at the Queen Victoria Market.
Diagnosed with paranoid schizophrenia, he believed he was Jesus Christ (he also referred to himself as Robin Hood). He was also convinced police were persecuting him.
On January 5, 1974, he was sitting on the steps of Flinders Street Station with a group of young people when two police asked them to move as they were blocking access.
Belsey responded: "You will be sorry on Monday mate. I have every cops' name in Melbourne in my book."
The police understandably took the comments as the mutterings of a blowhard. He came back 30 minutes later and said to the same police: "You will be sorry on Monday because I'm going to get a gun and kill you and also a few of your mates."
He told a woman on the steps: "I'm going to shoot them and if I can't do that, I'll stab them."
He bought shotgun shells but on Monday he couldn't buy the weapon after telling a gun dealer he wanted it to kill police. Instead he walked down the road to buy a carving knife from Coles.
On Tuesday, January 8, Senior Constable Charles Norman Curson (known as Norm) 33, married with two children, was chatting with a newspaper vendor on the steps of Flinders Street Station. It was nearly 3.20pm. According to the book In the Performance of Duty by Gavin Brown, Gary Presland and Ralph Stavely, he had just finished his shift on traffic point duty at 3pm. His colleagues said it was his habit to talk to retailers to kill a few minutes before jumping on a train back to his Nunawading home.
One of his replacements on the change of shift was a 19-year-old country kid, Constable Keith Pickering, who was standing on the road outside St Paul's Cathedral directing traffic.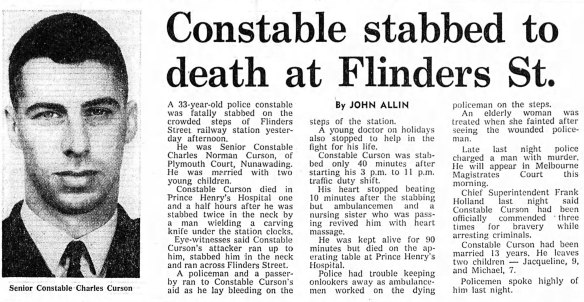 The Age's report on January 9, 1974.Credit:Age archive
The 3.21pm part express would have had Curson at his home station in 18 minutes.
Curson was about to head up the steps to walk through the barriers when a woman spoke to him. He turned to reply when Belsey, wearing the shotgun ammunition belt and carrying a large carving knife, walked up behind to sever his jugular vein.
The newspaper vendor jumped out to grab Curson and lower him to the ground. He then yelled out to the point-duty police for help. An off-duty nurse worked on Curson at the scene and a doctor was there within minutes. But no one could save him, and he died in surgery two hours later.
Pickering ran from his post to see Belsey crouched and muttering, while pointing the knife at the young constable. Asked all these years later how he felt, he says: "I shit myself."
A doctor and paramedics try to save Constable Curson's life as he lies at the steps of Flinders Street Station.Credit:The Age
He knew what he was up against when he saw the bloodied blade. "My dad was a slaughterman, so I knew what blood on a knife looked like."
Today a police officer would be wearing a stab-proof vest and be armed with capsicum spray, a long riot-style baton, a semi-automatic pistol and may have had access to a Taser gun.
The officer would have radioed for help, the incident would have been caught on CCTV on Melbourne Safe City network and the Critical Incident Response Team would have been minutes away.
Back then traffic police wore ties, often donned white pith-type helmets and were armed only with 14-centimetre rubber truncheons.
For Pickering and his fellow traffic cop, Trevor Pollock, waiting was not an option.
"I pulled my baton and wasn't really sure what to do," he says, but then training and instinct kicked in. If Belsey moved towards Pickering he would back away, and when the man with the knife started to retreat he would move forward.
Belsey calmly walked into Young & Jackson's Hotel, moving slowly through the crowded bar. "I went in and Trevor followed," says Pickering.
Knowing Belsey could turn his blade on drinkers, they wanted to force him through the bar to any area where he could be grabbed.
Pollock moved to the side and in a pincer movement they herded their target into a corridor.
When Belsey put his knife down and Pickering went to grab it, the offender bent down and was about to pick up the blade. If he got there first it is probable the young cop would have been stabbed, as the mentally disturbed man had planned to kill several police.
At that moment a drinker threw his beer over Belsey, creating just enough distraction for Pickering to pounce and handcuff him. The two police marched him about 100 metres to the Flinders Lane police station, where he was thrown in the cells.
Belsey was not put on trial as he was found to be insane. He was committed to be kept in custody at the governor's pleasure until he died or was found to be no longer a risk.
According to In the Performance of Duty, Belsey had several stints in mental institutions and a long-held hatred of police. He once tried to rob a bank with a comb and in 1971 burst into the Bourke Street police station armed with two knives. Broom-wielding constables managed to disarm him. He told police then he wanted to slit a policeman's throat.
For the heroes of the day, Pickering and Pollock, there was no acknowledgment, no debriefing, counselling or even a cup of tea and a Teddy Bear biscuit. They finished their shifts and were back on duty the next day.
Their inspector, it seems, held the view that all police were expected to risk their lives because it was part of the job. Easy to say from behind a desk.
The inspector was wrong. The prestigious police Valour Award is presented for "Exceptional bravery in extremely perilous circumstances".
Can you think of more perilous circumstances than confronting a homicidal, knife-wielding man who has just fatally wounded a colleague who lay dying across the street?
Today the police involved would receive psychological counselling, be monitored for their own well-being and would be able to take mental health leave if required.
Pickering says he thought of the incident "every day" and it was one of the reasons he quit the city and headed back to Swan Hill to police his home town and raise a family. He retired in 2014 after a career lasting 43 years, five months and 11 days.
"Back then there was no counselling. We just went home." he says. But it has never left him. "It is always in my head."
In 1990, after years of treatment, Belsey was quietly released and lived a further five years without incident in the community. Diagnosed with inoperable throat cancer, an application to issue him with a pardon was fast-tracked to the Supreme Court so that he could die a free man.
He died three weeks before it could be heard.
Six years ago, Keith Pickering took his grandchildren to the city in the summer holidays and when they stepped out of a jeweller's shop in Swanston Street they saw a maroon Commodore drive past and turn into Bourke Street Mall to kill six people and injure a further 27.
Norm Curson's wife Robyn in 1974, when she was 34, with daughter Jacqui, then nine, and son Michael, then seven.
The driver was James Gargasoulas, who moments earlier had been doing donuts without being intercepted at the very intersection where Pickering had chased and arrested Belsey.
Pickering is a chance for senior police to right a wrong. Norm Curson is honoured at the Police Academy, where the train platform used for training officers is named after him. But no one has acknowledged the men who caught his killer.
Jacqui Smith, who was just nine when her father was murdered, would like to see Pickering and Pollock recognised: "They were extremely brave to capture the man who murdered my father."
Police Association Secretary Wayne Gatt adds: "Sometimes we need to review cases so that acts of courage can be acknowledged. We need to do the right thing."
There is a precedent. For decades Special Operations Group members could not be awarded Valour Awards, as they were expected to display exceptional bravery. After a change of policy in 2002, six were retrospectively awarded VAs for acts of remarkable courage from 1985, 1993 and 1994.
Surely the acts of two young cops in Flinders Street 49 years ago should be reviewed by the police Honours and Awards Committee. They deserve nothing less.
Most Viewed in National
From our partners
Source: Read Full Article