The West continues to get slammed with heavy rain and snow on Wednesday — and the East will be seeing a quick burst of snow as well.
California areas have been seeing remarkable weather.
Santa Rosa, California got 5.56 inches of rain, making it the rainiest day in the city's recorded history, while some areas north of San Francisco got up to 18 inches of rain in the last two days.
Downtown Sacramento saw 2.52 inches of rain on Tuesday, making it the third wettest February day in recorded history — and the rain hasn't stopped yet.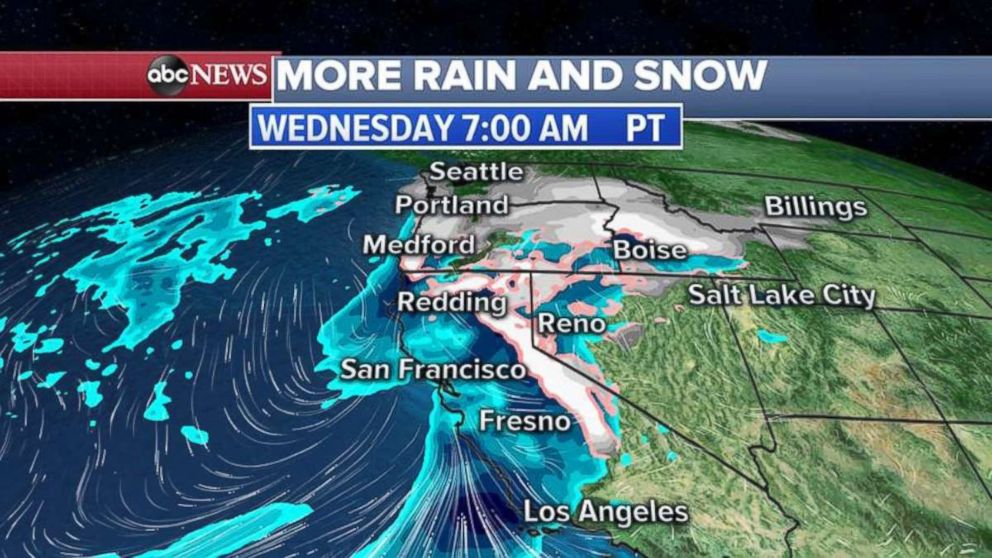 The highest total rainfall over two days was reported at Venado in Sonoma County, with an incredible 20.48 inches.
Meanwhile, other nearby areas have been slammed with snow. In the Sierra Nevada mountains, almost 60 inches of snow fell in the last two days — and, like the rain, the snow's not done yet out there.
The extreme weather has impacted travel. Interstate 80 was closed overnight due to impassible conditions from the heavy snow, and a dozen trucks got stuck on a highway in Idaho due to 10-foot drifts.
That remarkable weather is not done yet in the West.
While the worst of the heaviest rain is over in the West, a plume of moisture is still coming over from the Pacific throughout Wednesday, bringing more rain and snow, though in lesser quantities.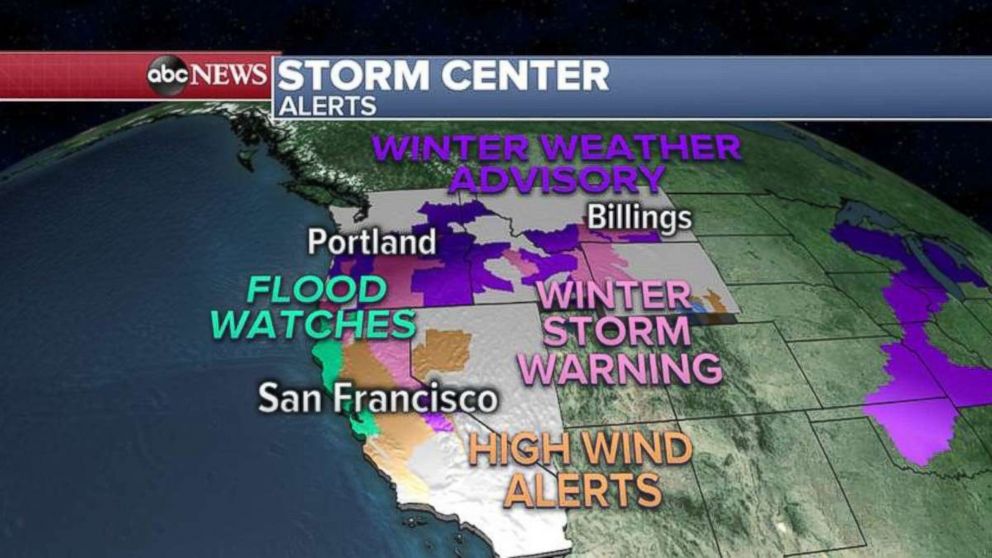 Flood, snow and wind alerts remain in the West from Portland to San Francisco, and even into Santa Barbara. This means mudslide and rockslide threats are continuing in the area as well.
The heaviest rainfall will be south of the Bay Area through Wednesday night, where 1 to 2 inches could accumulate. In the mountains, several more feet of snow are possible in the next 24 to 36 hours.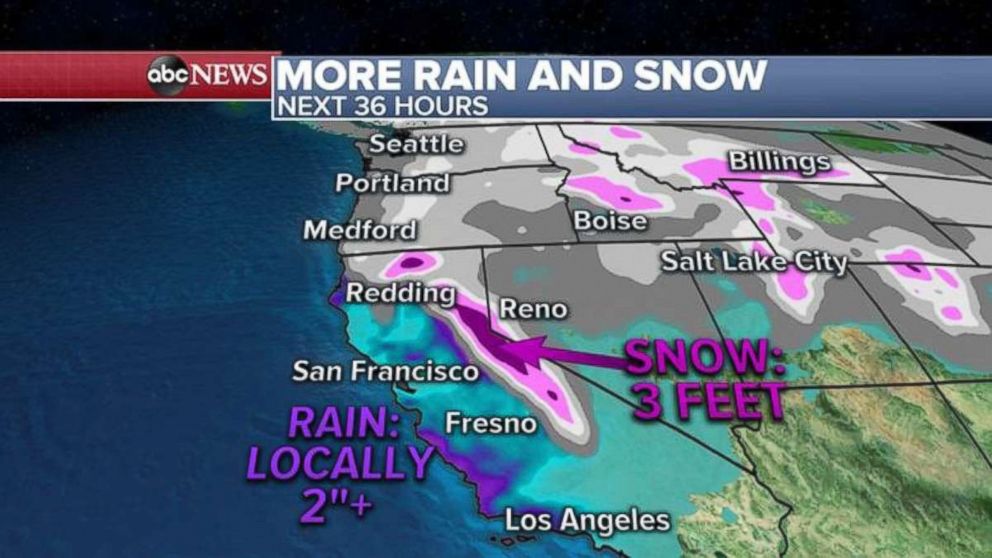 By Wednesday night and Thursday morning, much lighter rain is forecast for the West Coast. Most areas will be dry, with just a few showers in Los Angeles and throughout central California.
Snow and ice hit the East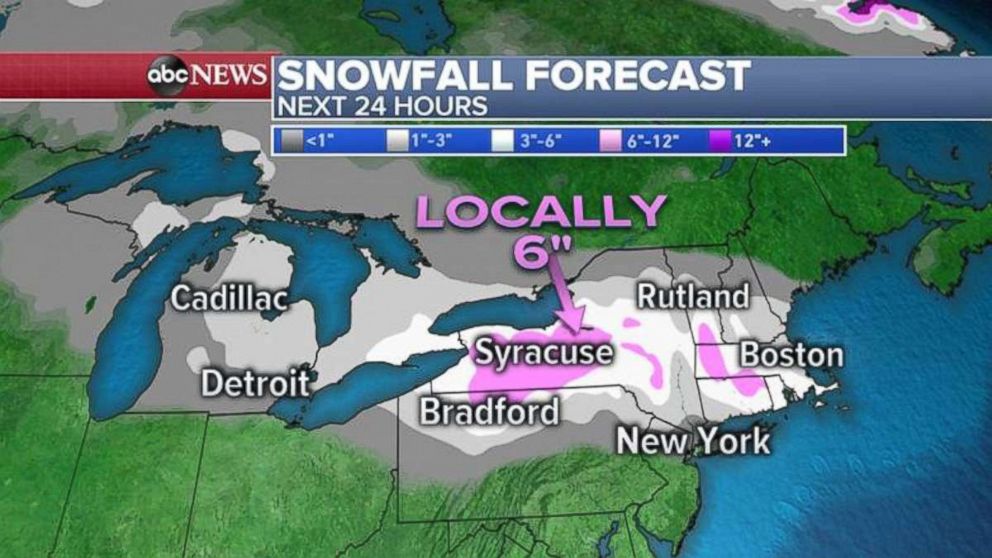 A quick storm system is moving through the Midwest and Northeast Wednesday into the night, bringing snow and freezing drizzle.
Fourteen states are under Winter Weather Advisory from Oklahoma to Massachusetts for treacherous road conditions.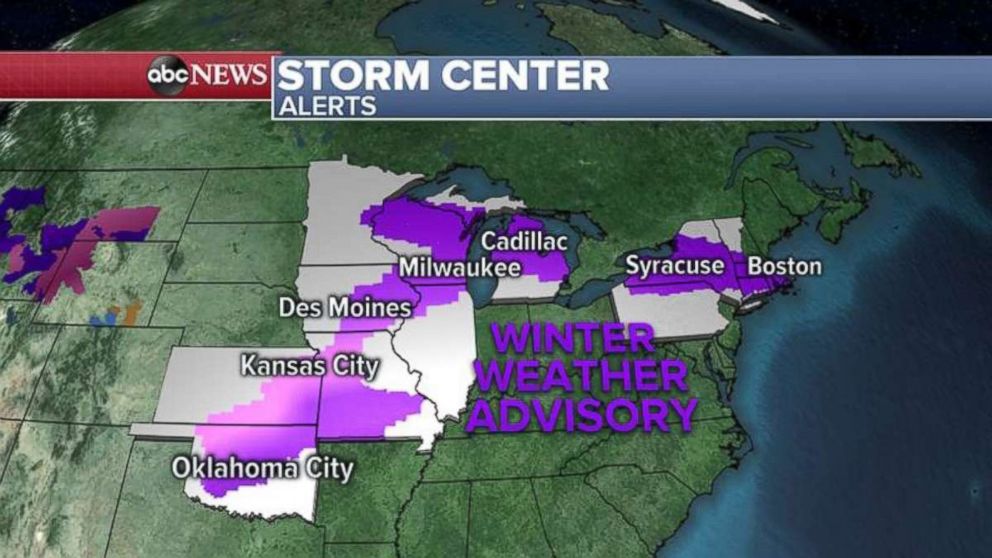 In the southern Plains, this will mostly be a freezing drizzle rather than snow, which will make roads slick.
The heaviest snow will fall in western New York, northern Pennsylvania and into parts of southern New England, where a half a foot of snow could accumulate by Wednesday night.
Alexandra Svokos contributed to this report.
Source: Read Full Article