For our free coronavirus pandemic coverage, learn more here.
"One would risk being disgusted if one saw politics, justice, and one's dinner in the making."
Nicolas de Chamfort (1741–1794)
The Andrews government Achilles heel has been on display last week. Much-needed modern and fit-for-purpose public health laws were forced through the lower house of Parliament despite some obvious flaws.
The Andrews government's pandemic laws have proved controversial.Credit:The Age
The new laws improve the state's ability to battle health emergencies and are the rough equivalent of laws used around Australia. Subject to some kinks being ironed out, they are in many ways an improvement on the laws they replace.
But apart from the substantive law, the politics has been clumsy. Instead of consulting crucial stake-holders and experts from the legal and medical communities – all of whom have valuable contributions to make, [Hugh De Kretser wrote an excellent op-ed for this masthead] all of whom would ensure we have a better law to meet the inevitable challenges that COVID-19 will leave – the government curtailed debate, crunched the numbers and piled pressure on the crossbench independents in the upper house to fix their mess.
A much better approach would have been to get it right at the start instead of using the ALP's majority to slam it through the lower house.
Some light tweaking may then have been required to secure the numbers in the upper house, but that seems not to be the Premier's style. Consultation is difficult and can take time, and it does not come naturally to Dan Andrews.
Demonstrators gathered at the steps of Parliament House on Tuesday evening.Credit:Simone Fox Koob
Sadly, the high-handed approach to updating the old emergency health laws has poured fuel on the smouldering bin-fire lit by conspiracy theorists and anti-vaxxers who see evil lurking in every shadow. Difficult as it is to see things from their point of view, they think every move by Dan Andrews is suspicious and a step towards dictatorship.
Much as we do need to guard against any permanent reduction in liberty and freedom, finding a balance between human rights and rampant disease requires re-thinking some of what we have until now taken for granted.
The sensible contributors who oppose the new public health laws are doing democracy a favour by forcing us to scrutinise aspects of making laws that mostly we do not bother with.
Opportunistic posturing by some in the state opposition though, has seen them try to weaponise anxiety and harness the very worst of the anti-Andrews brigade. It is a perilously dangerous path to go down, and they may come to regret it.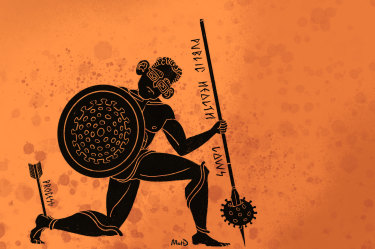 The Andrews government Achilles heel has been on display last week.Credit:Illustration: Matt Davidson
Shadow treasurer David Davis addressed a tiny and incoherent group of protesters on the steps of Parliament this week. I happened to be in the city the day before and saw the same group.
They are not making any useful or genuine contribution to public policy. Their absurd and over-stated allegations wrapped in vile language, threats of violence and wild accusations of criminality mark them as fringe dwellers in a democracy.
By addressing them, albeit as props for the TV cameras, David Davis has gifted the conspiracists a veneer of legitimacy they do not deserve.
His decision suggests that one of the opposition's most senior and effective parliamentary brawlers has not learned anything from his crazy-brave attempts to stop sky rail and level crossing removals a few years ago. That campaign against a much-needed and welcomed congestion-busting infrastructure project cost the Liberals support in key marginals in the south-east suburbs.
Protesters clash with Victoria Police officers at an anti-lockdown rally in Richmond.Credit:Chris Hopkins
The overwhelming majority of Victorians have now been vaccinated and are desperate for an end to the undermining and lunacy of the same groups who rioted at the CFMEU offices, desecrated the Shrine and assaulted police en-masse at the Barkers Road river crossing in Kew.
Why would a leading figure in mainstream politics indulge the fringe? This is a reckless path to go down and Matthew Guy ought to assert his growing authority, enhanced since making the call to sack his good friend Tim Smith, to pull his veteran colleague into line as well.
There is a vital role for the state opposition to play in improving these laws as they present themselves as a genuine alternative government in the countdown to the November 2022 state election.
The opposition insists that the Premier release the public health advice that triggered lockdowns and curfews. They are right to do so.
The government's continued refusal to let the public know who advised what and when is absurd. Attempts at cover-ups are always worse than the fallout they seek to avoid – ask Gladys Berejiklian. If there are flaws in the reasoning, or mistakes were made, then let us see and learn from them.
The opposition and the legal community are also correct when they call for better oversight of the new public health orders.
The laws must provide for a Supreme Court judge or the Ombudsman to have oversight to make sure the politicians comply.
Public health orders and the laws that authorise them are not a game. They are a vital tool in the medical kit to stop Victoria from ending up like Brazil, the UK, Florida or other jurisdictions where politics has interfered with public health.
The virus does not care which political party is in power or whose ambitions are aided or thwarted. The virus does not vote.
Most Viewed in National
From our partners
Source: Read Full Article