One of the greatest joys in life is watching cooking shows on Netflix in bed with your favorite pillow and/or a fluffy animal for maximum snuggle time. But it feels like there are a million and a half titles to choose from. Should you spend time with Paul Hollywood's mustache from The Great British Baking Show? Or is your time better spent with enchanting hosts who can teach you a thing or two about what we put into our bodies?
Below, a brief rundown of which food themed programs deserve your time. Proceed with caution—and lots of snacks because well, you know.
The show that's basically food porn—and that's a good thing: Chef's Table
Stream It
It's pretty much a guarantee that if you pause at any second of Chef's Table, it's probably a shot worth framing. From picturesque shots of fields and cityscapes to stunning close-ups of a dish that's just getting its finishing touches (think flower petals or several precise dots of sauce), the series will make you feel all sorts of things while sharing deeply personal stories of some of the world's most famous chefs. By the time you get to Los Angeles-based baker and grilled cheese extraordinaire Nancy Silverton's episode (season three), you'll want to sign up for culinary school.
The binge-worthy show that you need to stop ignoring: The Great British Baking Show
Stream It
Don't fight it, it's time to embrace GBBO (otherwise known as The Great British Bake Off in the UK). The show is best enjoyed on weekends, when your to-do lists are nowhere to be seen and time seems to slow down. On each episode, Paul Hollywood and Mary Berry (who was replaced by Prue Leith beginning on Collection 5) judge a group of extremely nice and good-hearted amateur bakers who are tasked with making everything from complicated meat pies (no soggy bottoms, please) to frangipane tarts. The ultimate star baker (aka winner) is named at the end of every season, but let's be real: the real winner is whoever's responsible for cueing up the quaint piano music every time someone leaves the show.
Note: The Great British Baking Show: The Beginnings, The Great British Baking Show: Holidays, and The Great British Baking Show: Masterclass (in which Paul and Mary demonstrate some of the major recipes), are also worth a binge.
The cooking competition that will ease your homesickness just a wee bit: The Big Family Cooking Showdown
Stream It
There's no better cure for the heart than food. If your heart is also aching because your family is in a different time zone, The Big Family Cooking Show will feel like a warm hug. Like GBBO, this series isn't a mean-spirited competition. Rather, it's more about families working together, cooking together, and learning from each other. Plus, season one is hosted by a familiar face—GBBO winner Nadiya Hussain, so it's almost like you're with family.
For the Shark Tank fan in your life: Million Pound Menu
Stream It
What happens when you bring together powerful people with money to spend and a bunch of aspiring restauranteurs with big, often unrealistic ideas? Yes, this show will make you a tad nervous but there's always someone to root for, if your idea of a successful business involves vegan junk food, raw cookie dough, or burgers. And because it's a product of Netflix and BBC Two, there's barely any drama and everyone is just so nice to each other!
The show that's part of a well-balanced meal: Nailed It!
Stream It
With a running time of about 30 minutes per episode, Nailed It! is the perfect show to wind down to, and eating a bag of chips (or a full meal) while watching is highly encouraged. Like GBBO, this show features amateur bakers. Unlike GBBO, the contestants are mostly terrible at their challenge, which is replicating sweet things like a unicorn cake, a cake of Trump, and an upside-down Santa Clause in a chimney design. (Seriously, things get pretty bad.) The best part about Nailed It! is real-life angel Nicole Byer, who has the most fabulous outfits, the best flirting game in town, and naturally compliments her co-host and co-judge, chocolatier Jacques Torres.
Note: Nailed It! Holiday, the Queer Eye bonus episode, and Nailed It! Mexico are equally entertaining.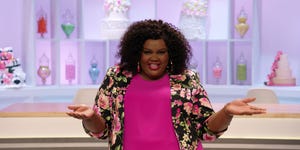 The "OMG I need to be BFFs with the host" show: Salt, Fat, Acid, Heat
Stream It
The opening minutes of Salt, Fat, Acid, Heat's first episode ("Fat") feature chef and food writer Samin Nosrat sampling different kinds of gelato as her voice tells you something about how Italians are masters at making food taste incredible with the use of fat. If you gasped because that, too, is the face you make when you eat gelato, congrats, you've found your dream BFF and host of four magical episodes of a show that will teach you everything there is to know about focaccia, soy sauce, sour oranges, and her mother's famous crispy rice. FYI: Samin makes the same face when she eats parmesan that's been aged 40 months as she confirms that you really can't get better than a diet of butter and cheese. IT ME 1000 percent.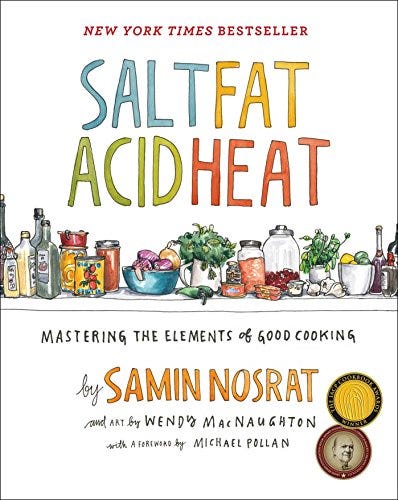 If Chef's Table and Salt, Fat, Acid, Heat made a baby: Cooked
Stream It
You can thank documentary film director Alex Gibney (perhaps best known for Going Clear: Scientology and the Prison of Belief) for the meticulously shot food porn of Cooked, based on celebrated food writer Michael Pollan's book of the same name. Through four episodes, Pollan looks at how fire, water, air, and earth influence the way we cook.
The award-winning series that will make you feel smarter and worldly without leaving your couch: Anthony Bourdain: Parts Unknown
Stream It
Anthony Bourdain's recipe for Parts Unknown was usually as follows: travel to a unique, maybe overlooked part of the world, find locals with extraordinary stories, eat good food. Through 12 seasons, Bourdain, who died in June 2018, taught viewers how to truly see the world while offering his poetic reflections.
Note: Netflix is currently streaming seasons seven through 11.
The show that will make you crave Momofuku and start a debate: Ugly Delicious
Stream It
With guests like the late Jonathan Gold, actor Steven Yeun, and Sean Brock, one of the leading figures of the great hot chicken renaissance, Ugly Delicious tackles head first some of the most uncomfortable topics found at the intersection of food and culture. Why is Viet-Cajun crawfish only popular in some parts of the South? Is MSG really that bad? Is Italian stuffed pasta better than Asian dumplings? Let David Chang, founder of the Momofuku empire, guide your way.
The docu-series that will make you question EVERYTHING: Rotten
Stream it
Do you actually know where your garlic comes from, and who the journey actually affects? What about your milk? Or your chicken and fish? Food corruption never looked so good.
If you take comfort in watching someone else eat: Ainsley Eats the Streets
Stream It
Ainsley Harriott, a chef who used to be a pop star in the duo, the Calypso Twins, is the delightful host of this show that puts the spotlight on the street food around the world (think hawker centers in Malaysia and the grill masters of Osaka). The best part about each episode isn't how hungry you get after just a few minutes—it's when Ainsley takes to the kitchen himself to whip up a local dish he's just fallen in love with.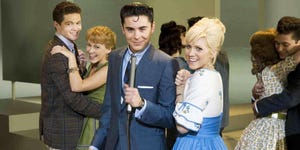 Source: Read Full Article