Oprah Winfrey has interviewed thousands of celebrities throughout her long career as a talk show host and multi-media personality — which is no surprise, considering she logged more than 5,000 episodes on "The Oprah Winfrey Show" chatfest alone, per IMDb.
From 1986 to 2011, the Queen of Talk sat down with everyone from Tom Cruise to Whitney Houston. Her 1993 interview with Michael Jackson was such a big "get" that she scored a primetime special out of it. Nearly 20 years later, her bombshell interview with Prince Harry and Meghan Markle would also make huge headlines as the Duke and Duchess of Sussex spoke out for the first time about their decision to "step back" from their duties as working members of the royal family.
With so many interviews under her belt, it's no wonder that Winfrey hit a few snags along the way. Thirty-five years after first landing her syndicated talk show, Winfrey still considers one of her interviews to be the biggest bomb of all — and it was one of the biggest stars in Hollywood at the time.
Oprah Winfrey called her 1988 interview with Elizabeth Taylor "the worst interview" of her life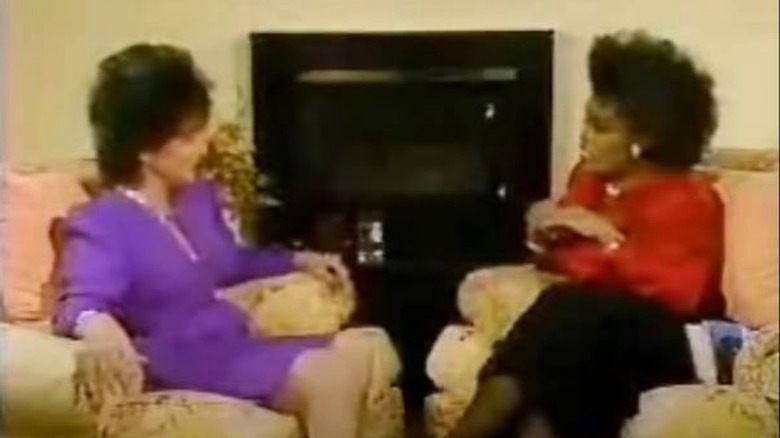 In 1988, less than two years into her syndicated talk show's run, Oprah Winfrey scored the interview of a lifetime. Oscar-winning actress Elizabeth Taylor agreed to sit down with Winfrey on her daytime chatfest. The two women were set up on cozy armchairs at the Hotel Bel-Air, but the comfort stopped there. According to Oprah.com, Taylor gave Winfrey a last-minute stipulation. The "Cleopatra" star, who was between marriages at the time, specified that Winfrey couldn't ask her anything about her relationships. Winfrey was caught off guard by the request and later said of the stipulation, "That's kind of hard to do when you're Elizabeth Taylor and you've been married seven times."
During the interview, Taylor didn't give Winfrey much of anything. Her responses were short, there were awkward silences, and Winfrey was even given a terse "None of your business" as an answer to one of her questions, via The New Yorker. At one point, Winfrey found herself blurting out an uncharacteristic nervous retort at her guest. "You're so revealing — you just tell everything! I declare, you've got to stop talking so much, Ms. Taylor!" she said.
Winfrey later revealed that Taylor apologized for the interview and explained that she'd been in a lot of hip and back pain that day. But that didn't make the rewatch any easier for her. Via The New Yorker, Winfrey has called the conversation "the worst interview of my life."
Elizabeth Taylor opened up to Oprah Winfrey about her personal life four years later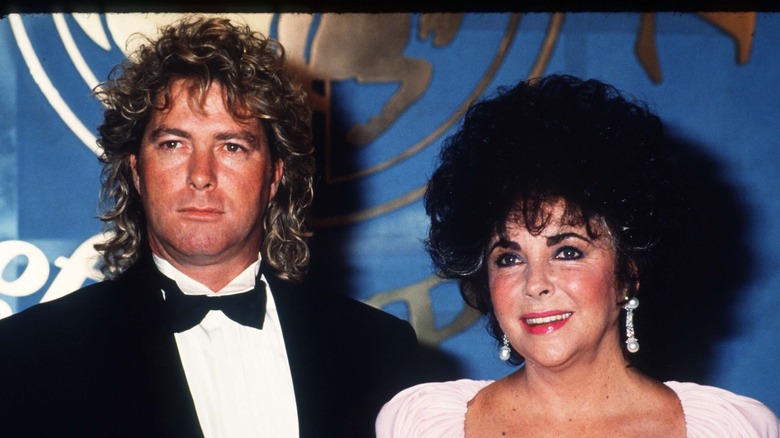 While her first go-around with Elizabeth Taylor didn't fare well, Oprah Winfrey got a second chance to talk to her four years later. According to Oprah.com, during a 1992 sitdown on "The Oprah Winfrey Show," Taylor opened up on her close friendship with Michael Jackson as well as her time in rehab at the Betty Ford Center, where she met her future husband, construction worker Larry Fortensky. Instead of staying guarded and closed-mouthed, this time around Taylor happily dished about her love story with Fortensky, who was 20 years her junior. At one point, the Hollywood legend even clutched the talk show host's hand as she talked about her love for her last husband.
When Winfrey dared to ask Taylor what drew her to Fortensky — "Were you physically attracted to him?" she asked — Taylor gushed, "I saw beyond his macho exterior a great sweetness and an astute understanding of people. And we just had fun together and we got to know each other. We'd go for rides and picnics, and I'd go to the supermarket and do things I'd never done."
Taylor and Fortensky divorced in 1996, per People.
Source: Read Full Article