Jennifer Lopez is gushing over Ben Affleck — without explicitly gushing over Ben Affleck. The reunited couple have been the talk of tinsel town ever since they reconciled in late April, just weeks after Lopez officially called off her engagement to Alex Rodriguez. The exes confirmed the news in a statement to Today, in which they admitted they'd decided they would be better off as friends.
Lopez and Affleck have moved pretty quickly since then. While they're still yet to officially confirm they're back on, they've certainly let their PDA do all the talking after being spotted all over the U.S. together looking very much in love.
Several sources have also dished plenty of details regarding their rekindled romance, including revealing that Bennifer is very "serious" this second time around (they initially began dating in 2002 and became engaged a few months later, before splitting in 2004). "This is not a casual relationship. They are taking it seriously and want it to be long-lasting," People reported, noting the two have been speaking "about a future together."
So, what's Lopez saying now about her boyfriend? Well, the star dished some not quite so cryptic hints about her love life in an interview where she opened up about how she really feels when it comes to her past music inspired by Affleck. Read on for what she's revealing.
Jennifer Lopez said her album inspired by Ben Affleck is 'more relevant today'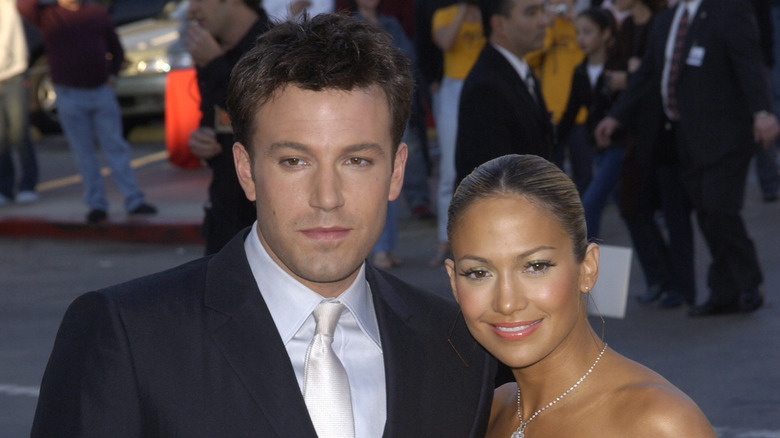 Jennifer Lopez spoke out about her songs widely reported to be about Ben Affleck during a July interview with Zane Lowe on Apple Music as she gushed about her 2002 album, "This Is Me… Then." Lopez shared she'd listened to the songs "on many… different levels" and dropped a pretty major hint about her rekindled romance by pointing out the tracks "are more relevant today than they even were then."
Lopez explained recording the album "was a real, pure moment in time" and noted, "music, when it's important, it never goes away" because "love, it just doesn't go away. It's just there." Well, that definitely sounds like a declaration of love for Affleck to us!
As reported by Cosmopolitan, J-Lo "dedicated" the album to Affleck "as a way to celebrate their engagement" (it was released the same month as he popped the question) and it's thought to have multiple songs about her "Gigli" co-star. Most obvious is the track "Dear Ben," while Affleck, of course, appeared in the music video for "Jenny From The Block," which told the story of the intense media scrutiny that surrounded their romance.
Lopez's latest talk about the album came after she gushed about it on Instagram in May, admitting it was her favorite she's released.
In the same Apple Music interview, Lopez revealed she'd "never been better," adding, "It's the best time. It's the best time of my life." Aww!
Source: Read Full Article