Melissa George has some life advice: be careful what you wish for. "The first thing I did when I moved to LA was to decorate my apartment in a French style, and then I ended up going to Paris," the 42-year-old Perth-born actor says.
"Now, I find myself in Paris, completely immersed, absolutely loving it but it's not home. I am not able to work here so I've got mixed feelings about it. I would like to bring Hollywood to Paris, if I could do that, that would be ideal."
Melissa George: Having children is the greatest, most victorious, thing.Credit:Effi Cohen
Reflecting on her younger self, as she prepares to make a surprise return to Australian television in the Nine Network drama Bad Mothers, George describes the young girl who packed her bags for LA as someone who was "high on life".
"You didn't mind how much you were rejected because you were just so high on being in a new town," George says. "It's very easy to forget how important energy, and positivity, is in order to propel yourself to the next level. That's what I had, and what I still have.
"When I got to LA I was just so high on life, I went into every room convincing myself that I was American, and all of a sudden I would get all these jobs and then I'd have to tell them that I didn't have a visa," she says, laughing. "It was almost fake it 'til you make it. I became the queen of that."
Somewhere, somehow, the personal journey overtook the professional one, she says.
Melissa George as Charlotte Evans in Bad Mothers.
"Now I'm trying to make it in France, I've become a mother, I have two kids, but at the end of the day they want a Paris girl, they don't want an Aussie who speaks French," George says, candidly.
"They know you're not French and that's the barrier I am finding. So I have to figure out how I am going to work here."
Melissa George and Ewen Leslie in The Butterfly Tree.
In 2016, George's marriage to French entrepreneur Jean David Blanc ended, and the couple now share custody of their two sons Raphael and Solal (we had been told in advance that George would not discuss their split or custodial matters). "You've got to create things and to me, that's where true happiness comes from," George says. "Just being there with my two boys."
And nothing in life, George says, has equalled motherhood. "Having children, for me, will go down in my life as the greatest, most victorious, thing I've ever done," she says. "It was all in French, by the way," she adds, recalling her labour. And it lasted four days.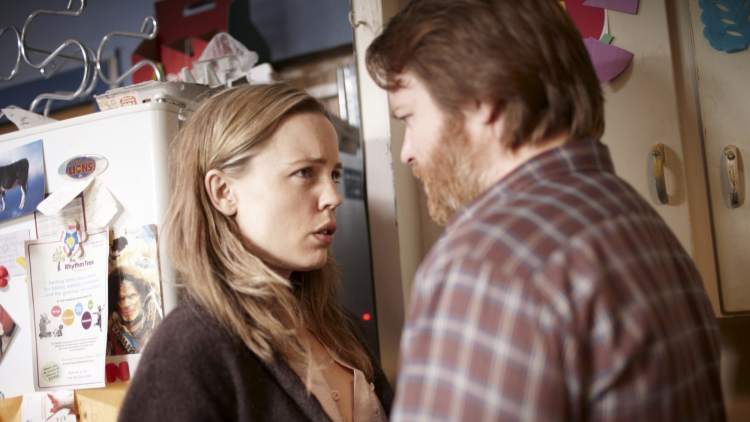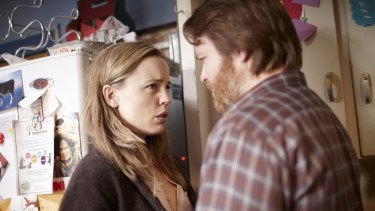 Melissa George as Rosie, in The Slap.
I'm really gregarious when I'm around Aussies. I laugh a lot.
"No drugs, no nothing, just primal woman walking the halls of a French hospital, trying to get this very large child out of my body," George says. "Adopting, however you do it, when you have that baby in your arms, it's the greatest thing in the world."
While she travels for work – most recently a lead role in Beau Willimon's space drama The First, playing Diane Hagerty, the wife of Sean Penn's character, astronaut Tom Hagerty – what eludes George at present is a city to call home.
"The only place I chose to live was New York City," George says. "Australia is home, for sure, and it'll never not be home. It's where I feel the best. It's where I feel complete.
"But I think where I dream is New York," she says. "That's where I achieved my independence, that's where I got some of my best roles. And it's still standing, I still have my place there because I can't let it go. I want to go back."
The personal gift in taking a role in Bad Mothers, she says, was that it gave her an excuse to come back to Australia.
"I wanted to touch Australia soil, I'd do anything to be there," George says. "[The show] was really well written, it was beautifully directed and I found myself with all these amazing actors. I got to see my mum, I wanted to go home."
Walking onto the set for the first time, and meeting the cast – Tess Haubrich, Mandy McElhinney, Jessica Tovey, Daniel MacPherson, Don Hany, Michala Banas and Steve Bastoni – George was reminded of her younger, wilder self.
"I realised I'm really gregarious when I'm around Aussies, I laugh a lot and I was in such a good mood, I felt good," George says. "And I just looked at myself when I came home, [that's what happens] when you come home to Australia. I came out feeling really good about myself. That's kind of why I did it."
That group did, unexpectedly, include one former on-screen love interest (Hany) and one actual ex-boyfriend; Bastoni and George dated in the mid-1990s.
"Can you imagine?" George says, laughing. "I'll tell you what I thought … I thought I was the biggest floozy in Australia when I walked on that set. I said, oh yeah, you've been living with this Italian over here, and the other one you were trying to make him your husband on a TV show.
"I walked on set like a queen," George adds. "I was like, 'Hi boys! Everyone doing all right?' Oh my God, I hugged Bastoni, and he threw me in the air," she says. "He was so nervous. I felt like the pieces were connected. We went full circle, no burnt bridges, only good memories. And Don Hany, are you kidding? The most amazing man. Just extraordinary.
"I just feel like as you go through your life you've got lots of relationships and on that particular set I had tons," she says. "Some more intimate than others, but there you go."
In Bad Mothers, George plays Charlotte, a woman who is pivotal – no spoilers – to the opening storyline of the series.
The natural instinct in entertainment journalism seems to be to ask if she's a "good woman" or a "bad woman" but in the illuminating context of the #MeToo era they both seem like reductive tags to hang on a woman, even a fictional one.
"You know what it is? I think women are feared because we're so layered and mysterious and could be good or bad," George says. "And when we're bad we should be good, and when we're good it's like, why isn't she bad?
"Bottom line, when you're a woman, and you're walking through life as a female, you know we just can't win, but we'll damn well give it a try. That's the thing: we're completely feared by men.
"We're also the greatest mystery. We can create children, we can give birth, we can be sexy, we can be feminine, we can be polite, we can be super rude, we can be bitchy, or not, we can wear a dress and we can wear pants.
"We've got so much to choose from, that's what makes it so interesting to talk, in fiction, about women."
Though the title of the series is Bad Mothers, George notes she does not play one.
"I modelled her on someone I know in Paris who is, at the end of the day, the most fragile woman," George says. "Women hate her because she's beautiful, and she's strong and she's positive, but at the end of the day she's the one that's completely broken.
"It's interesting that facade that Charlotte puts on to make everyone like her, but she's so broken and unhappy, and at the end of the day, what you see is not what you get. She doesn't have it all. She appears to have the money, the house and the handsome man, but she has nothing."
Like Liane Moriarty's Big Little Lies, Bad Mothers gently taps a sensibility that feels uniquely Australian: the notion, inherited from indigenous tradition, of secret women's business.
"When women get together we are very, very strong, very powerful," George says. "And I think that's why secret women's business is very effective. There are women who don't get on with other women, or are fearful of them. But for me, no. Everything's solved [with other women]."
George says the most important relationships in her life are with women, her mother Pamela, her sisters Marnie and Katy, and her long-time female friends.
"I speak to them every day," George says. "Women have the time to fix other women. This is what's so magical. And that's why we're pretty awesome. We can do it all.
"The more you go through life as a female the more you change, finding a husband, having kids, going through a divorce, going through a separation, going through issues … at the end of the day, you meet up with a girlfriend, everything's solved.
"You don't need a therapist, you don't need to speak to anybody, you just go and have a coffee with your girlfriend. And in a split second, everything is clear, you are strong."
Bad Mothers airs on Nine from February 18. Nine is the owner of The Sydney Morning Herald.
Source: Read Full Article