Honestly, who doesn't have a soft spot for long-lost evil twins, dreamy trophy husbands, fictional drug lords, sudden fortunes, monumental failures, and truly mind-blowing survival acts (shout-out to leading lady Rubí who literally falls down an entire flight of stairs into a glass table and survives) Let us all take a moment to appreciate the one and only telenovela, which brings you all of this and more. Because regardless of their believability, you can't help but get sucked in. So without further ado, here are the best telenovelas of all time.
Yes. Of all time, which means they're not all available for streaming rn. Get ready to pop the popcorn, brew up that hot cafecito, and settle into the d-r-a-m-a, because you know a quality novela is nothing if not ~juicy~.

Teresa
STREAM NOW
Teresa is a beautiful teenage girl desperate to be rich by any means, which obviously means that no one is safe from her trickery and deceit. And we mean no one, not even her family, friends, or various lovers. Her quest for riches starts with good intentions— she's desperate to get out of poverty after her little sister Rosa dies of heart disease, blaming her parents lack of money and looking to save herself. But as we all know, the road to Hell is paved with Good Intentions™.
Rebelde
STREAM NOW
If you're obsessed with Elite (along with the rest of the world), then you can think of Rebelde as a way less intense early 2000s version of it. It's a remake of the Argentinian series Rebelde Way, and it's set in an *ahem* elite boarding school. The show follows the relationships of a group of wealthy and scholarship students who, in true Breakfast Club fashion, join together despite their differences and start a pop band. Oh, and another fun thing: They all dress like they're about to star in a Britney Spears music video. It's truly amazing.
Marina
Marina is the story of a girl who loses her mother and gets neglected by her rich father. Left in the care of her uncle, who was madly in love with her mother, Marina meets her future husband, who is married at the time. Thus ensues, in true telenovela fashion, a wild and crazy love triangle with many, many twists and turns. It's ultimately a love story, as all of these are, but not without attempted kidnappings and ex-lovers throwing themselves off of cliffs, of course.
Cuidado con el ángel
Maite Perroni and William Levy star in this classic, slightly supernatural love story about a girl named Marichuy and her guardian angel. Marichuy runs away from the orphanage she grew up in to start a life on the streets, but is snatched up by Juan Michel, a criminal rehabilitator and psychiatrist, who sends her to live with what is later revealed to be her biological father. There's love triangles! Crime! Several shirtless scenes of William Levy! What a ride.
Triunfo Del Amor
Maite Perroni and William Levy star again in this classic love story about a young girl (Maria) who grew up estranged from her mother (Victoria), but reunites with her again under less than stellar circumstances (she unknowingly joins her fashion house as an aspiring model). Max (yes, William Levy) is one of her mother's models, but he's absolutely smitten with Maria, much to Victoria's dismay. And, of course, it's not a soap opera without someone's mother trying to break up a relationship— so this time, it's Victoria, and Max's ex-girlfriend, doing the scheming. Is that enough drama for you? Well here's some more: Maria has no idea Victoria is her mother, and finds out in the most dramatic way when she gets diagnosed with Phase 1 of a deadly virus.
Corazon Salvaje
This is a novela we can't even believe exists. Translating literally to "Wild Heart," Corazon Salvaje is one of the wildest love stories ever to grace Spanish television— a double love triangle between two sets of siblings. We won't give too much away, but just know: it's one of the most memorable novelas out there and you just might finish the whole thing in a few days.
María la del Barrio
STREAM NOW
This Mexican novela has it all: face slaps, unexplained car crashes, people coming back from the dead, and the most intricate family drama you've ever seen. It follows a young girl, Maria, who is sent to live with businessman Fernando De la Vega after her godmother dies. But things go south for Maria the minute she moves in with him, as his wife and maid immediately set out to make the girl's life hell. To the rescue, though, is her stepbrother with unnecessarily rock-hard abs, whom she falls in love with, and yes, has a child with. Often billed as one of the most successful novelas of all time, each episode pushes the boundaries of what could possibly be believable, and has spawned some timeless, hilarious scenes that have made the rounds on Youtube and Vine (RIP).
Rubí
STREAM NOW
What is better than a deliciously vindictive anti-hero? How about a deliciously vindictive anti-hero slash femme fatale? The 2004 soap, based on a 1960s short story, follows Rubí, who climbs out of her impoverished childhood and into wealth by seducing men, ruining a marriage, and generally manipulating everyone. And it gets real dramatic. As in attempted murder and leg amputation. The best part? There's a 2020 reboot, so you can go straight to the new version once you finish the original.
Yo Soy Betty, la Fea
STREAM NOW
There have been dozens of remakes and adapted versions of this novela, including the super-popular American version, Ugly Betty, but the original—about a homely but brilliant secretary working at a high-pressure fashion company—was Colombian and ran from 1998 to 2001. I'm not exaggerating when I say it's the most successful (and probably the most popular) novela of all time.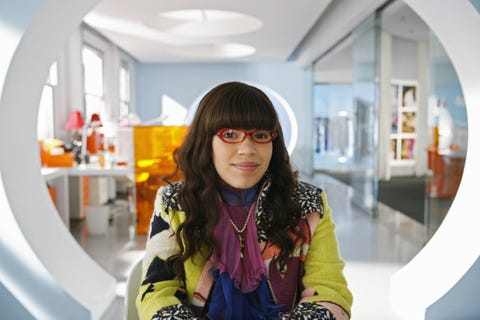 Juegos de Fuego
Okay, admittedly, I'm biased because Juegos was Chilean and I'm Chilean, so I will always have a soft spot in my heart for it, but it was pretty good. JK, it was actually terrible. (But, like, so bad it was good, you know?) It did include the best soundtrack ever though. If you haven't yet, you should go look up "Mi Historia Entre Tus Dedos" on YouTube. In fact, I'm going to do that right now.
Marimar
Forbidden love, disapproving parents and grandparents, beautiful beaches, hot guys, and Thalia as the protagonist Marimar (she falls in love with Sergio, the son of a wealthy farmer, much to the chagrin of his parents)—this Mexican novela had it all. Fun fact: Marimar was actually a remake of another Mexican novela, La Venganza. The more you know!
La Reina del Sur
STREAM NOW
Translated as "The Queen of the South," La Reina takes place in Mexico and chronicles the rise of Teresa Mendoza, who works her way up to become the most powerful drug lord in the country.
La Patrona
STREAM NOW
Another novela hailing from Mexico! This one makes the cut because it features main character Gabriela Súarez (played by Aracely Arambula) as the only female miner in a small town. A single mother, Gabriela faces many obstacles, including sexual harassment and being accused of crimes she didn't commit. Still, Gabriela perseveres and manages to get revenge.
El Zorro, la Espada y la Rosa
This one will forever win my heart, because it featured Beyoncé in the theme song, and how can you go wrong with that? The limited series, which ran from February to July 2007, is loosely based on Zorro and takes place in a fictional, ahistorical version of Los Angeles. There are cannibals, warriors, witches, pirates, masked avengers, and yes, of course romance and polygamy too!
El Clon
STREAM NOW
A remake of a Brazilian novela, El Clon focused on drug trafficking and religion and was shot on location in Morocco, Colombia, and Florida.
Martin Rivas
A favorite of my abuela, Martin Rivas was a 2010 period telenovela (taking place in the early 19th century) based on the 1862 novel of the same name and (similar to Miramar) features a forbidden love between Martin Rivas, the impoverished protagonist of the show, and Leonore Encina, the wealthy daughter of the family Martin lives with.
La Usurpadora
STREAM NOW
No list is complete without this doozy of a soap opera, which aired from February to July of 1998. Twin sisters Paulina and Paola are separated at birth, and when they manage to reunite as adults, Paola (the evil twin, natch) blackmails Paulina into switching places with her so Paola can leave her husband and take a yearlong vacation with her lover. For some reason, Paulina reluctantly agrees. Oh, and while she's living with Paola's husband for a year, she actually falls in love with him.
Dos Mujeres, un Camino
STREAM NOW
Last but certainly not least. This 1993 show features Johnny, a truck driver who travels between Mexico and the U.S. while juggling a relationship with two women: his wife, Ana Maria, and his love on the side, Tanya.
Source: Read Full Article