"The Real Housewives of Potomac" star Candiace Dillard is returning for Season 6 of the hit Bravo show despite her drama with her former co-star Monique Samuels. Yet now that Monique's gone, Candiace is hoping this new season be a fresh start for the ladies. She explained (via Reality Tea), "I would hope that we could come together as a group and find a way to healthily and happily move forward and make room for new drama." She continued, "I would want a season 6 to be a new chapter for our group."
While Candiace described Season 5 as "very dark," she does believe the drama helped the show's viewership. She revealed (via Page Six), "I am really of the mindset of, 'Well, duh. Of course we're an amazing show! Like, thank you for finally noticing!'" She also dished about why she thinks the show took longer to catch on, saying "I just think number one, 'Potomac' is the only city/state in the 'Housewives' franchises that is not a common name. People couldn't even pronounce Potomac."
Either way, Candiace seems to be happy that the reality show is returning for another season. She divulged, "I've watched from the beginning because I was excited about a second all-black ensemble cast on Bravo. So I think that they had to really push and fight to ensure that we could get to where we are today and here we are." With Candiace back on Bravo, let's take a look back at her transformation over the years.
As a child, Candiace Dillard was inspired by her parents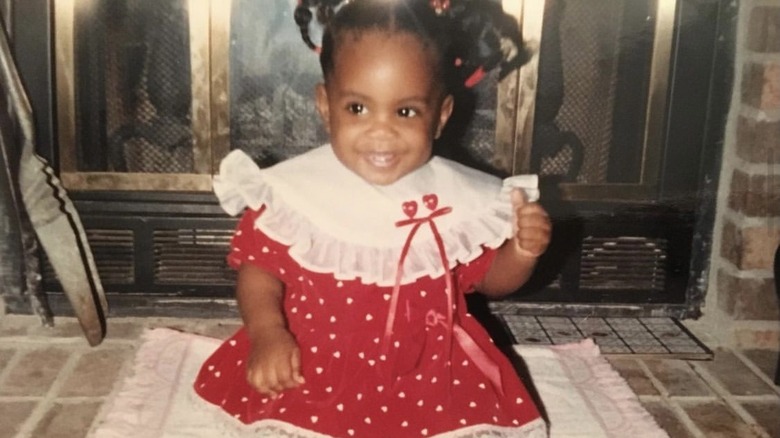 Candiace Dillard may be known for her life in Potomac but the "Real Housewives" star was actually born in Biloxi, Mississippi, according to her Bravo bio. However, Candiace grew up in Atlanta, Georgia, with her parents and siblings, Chris and Crystal. Her parents worked as Air Force physicians, which apparently had an impact on Candiace. Her bio points out, "At an early age, Candiace learned what excellence looked like from observing her parents, who worked in different facets of the medical field."
Candiace's parents divorced and the reality star is apparently still dealing with the fallout from a tryst her father had that resulted in the birth of her half-brother. While it happened when Candiace was a child, it still hurts her mother, Dorothy. She explained (via Distractify), "The two times in my life that I have talked about my half-brother, she has gotten really angry. Which I understand to a certain extent with the way that he came about." She continued, "The love of her life betrayed her. That's not lost on me. What is lost on me is the fact that you're not able to place those emotions and deal with them 30 plus years later."
Despite their disagreements, Dorothy has been Candiace's biggest supporter since birth. Candiace dished, "As much as my mom and I will go at it and fight, at the end of the day she's my mom. It has more to do with her just wanting what's best for me."
Candiace Dillard became Miss United States at age 27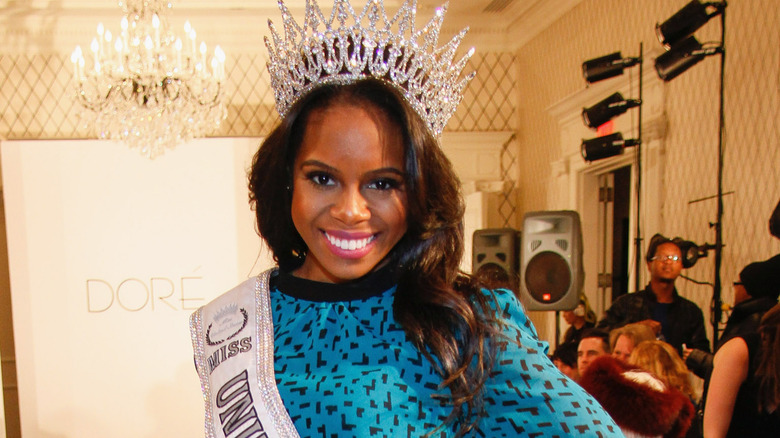 While Candiace Dillard may be known as one of "The Real Housewives of Potomac" these days, in 2013, the Howard University graduate was named Miss United States. Candiace had won the coveted title after becoming Miss District of Columbia. She continued on the pageant circuit for several years and, according to her Bravo bio, also holds top placements in the Sunburst, National American Miss, National Miss American Coed, Georgia Miss American Coed, and Miss Maryland USA.
The year before she was crowned Miss United States, Candiace campaigned for a former president of the United States. In 2012, she hit the campaign trail, serving as a staffer for President Barack Obama's reelection campaign. Around that time she also worked in the White House Offices of Public Engagement and Intergovernmental Affairs, "where she liaised between the White House and the African American community" for Obama.
It appears that Candiace not only had the beauty to be a pageant queen, but that she also had the brains to back it up. In an instagram post, Candiace revealed that winning her Miss United States title, "changed my life for the better," and advised future delegates to "Walk across that stage like your dreams depend on it. Because they are counting on you! Every last one." It appears her Miss United States win did help Candiace transform into the powerful woman she is today! 
Candiace Dillard started her own businesses before turning 30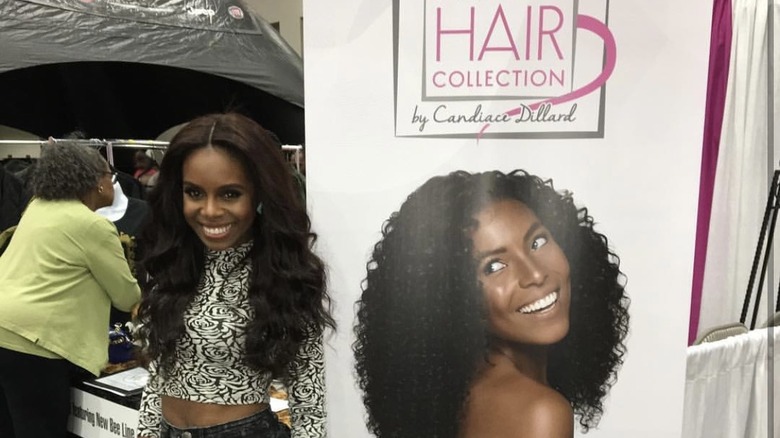 After becoming Miss United States, "The Real Housewives of Potomac" star Candiace Dillard found a way to capitalize on her pageant success by founding Candiace Dillard Pageant Consulting. In 2015, she released a trailer for her business where she says, "I really worked hard for it and I got it. And the beauty is now that I can share that with someone else. I can help someone else realize that goal and that dream."
Outside of pageant consulting, Candiace is also the co-founder of Prima Hair Collection by Candiace Dillard. In 2016, she posted a throwback photo from her launch on instagram writing in the caption, "We sold out of our most popular items TWICE since then." Candiace also co-owns Chateau Salon Suites. It's clear the reality star knows what it takes to launch a successful organization. In 2009, Candiace created a mentorship and women's empowerment organization called My Sister's Keeper, which according to her Bravo bio, is "designed to give young girls the opportunity to interact with women in their communities."
Around the time Candiace was launching her businesses, she was also working as an actor. In 2014, she starred in the web series "Pivot Point." In 2015, she promoted the show on her instagram with a photo of herself from the series, writing in the caption, "I played 'ol Evil Victoria on that cool web series #PivotPoint." It's clear Candiace was keeping busy but her real big break came a few years later!
At age 32, Candiace Dillard joined Real Housewives of Potomac and got married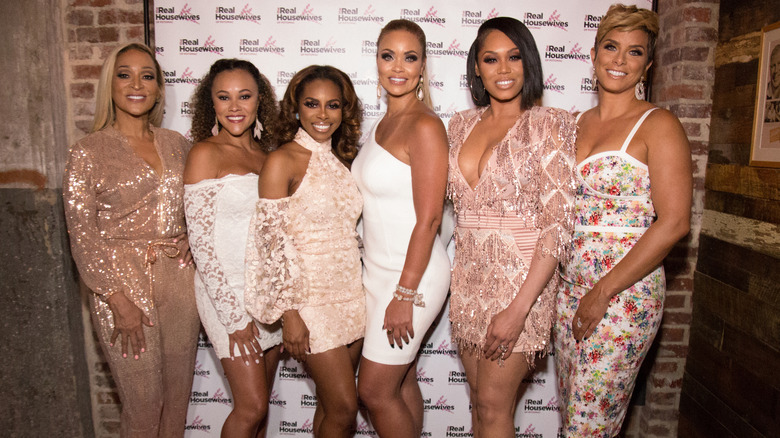 It appears 2018 was a big year for Candiace Dillard because that's when she joined the cast of Bravo's "The Real Housewives of Potomac." At the time, Candiace dished (via People), "You don't have to like her. She's here, she's sick. Enjoy her. Or don't, but that's my prerogative. I can't apologize for being myself."
That same year, Candiace married her longtime boyfriend, restaurateur Chris Bassett. Their wedding planning was a big part of Candiace's first season on the reality show. But as for the wedding planning drama, Candiace divulged, "It's my right to want what I want and have what I have on my wedding day. And to not have to explain that to anyone."
Candiace explained why featuring her relationship with Chris on the show was a positive thing. She revealed, "I was hoping I'd be able to normalize interracial dating and interracial love." She added, "Because as a Black woman, who will have Black children, I will be imposing my Black girl magic on my family." As for if the two do eventually plan on having children, Candiace admitted that she isn't sure if that's what she wants. She said, "I always thought I wanted kids, but that was before I realized I had to grow it and keep it forever. You can't give them back!" Despite what Candiace and Chris decide for their future, it's clear 2018 was a life-changing year for the couple.
Candiace Dillard finished her debut album at age 34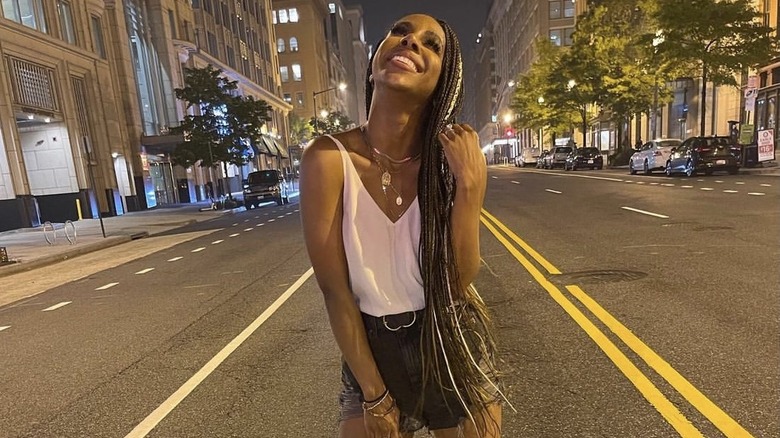 Candiace Dilliard is moving forward with her music career now that her debut album is finally complete. The "Real Housewives of Potomac" star made the announcement in June 2021 on her twitter, writing, "Oh, you guys!! My album is DONE. It's been turned in and release dates are impending. I can't wait to give y'all the deets." While this is her first full album, "Real Housewives" fans know Candiace has always had an affinity for singing, and showed off her skills during Season 4 of "The Real Housewives of Potomac." She also sang her original single "I See You" to her husband, Chris Bassett, during their wedding reception in 2018, according to the Daily Dish.
The reality star also put her D.C. area townhouse on the market in 2021. She told People, "We were ready for a change." She continued, "While I'm incredibly sad to be letting it go, as this was my first home as a young adult, I know that the next owners, whoever they will be, will enjoy turning this house into a home of their own." Candiace posted that she and Chris bought a new house on her instagram in November 2020.
With so many changes through the years, it's clear Candiace has grown into a successful businesswoman, wife, homeowner, and, of course, the fan favorite reality TV star that we love to watch on "The Real Housewives of Potomac."
Source: Read Full Article