What comes to mind when you think of A-list celebrities? Their gorgeous looks, talents, and luxurious lifestyles? Well, many actors, pop stars, and general Hollywood fixtures possess all of the above. Stars have the adoration of millions of fans and get paid millions of dollars for doing what they love, whether it be acting, singing, or dancing. Being a celebrity is hard work, but we're sure that not many would complain because of how much money they're able to make. Or the fact that we're talking about them … right now! 
However, the money stars make can often be squandered through improper spending habits … or swindled by people closest to them. They can get rich quick, but also get in debt quicker. A celebrity who had the misfortune of going into debt was "The Wizard of Oz" star Judy Garland. The iconic actor rose to fame as a child star, but could not escape from the pitfalls of making bad deals, partying, and trusting the wrong people. Find out how much debt Garland left behind after her death.
Judy Garland was broke at the height of her career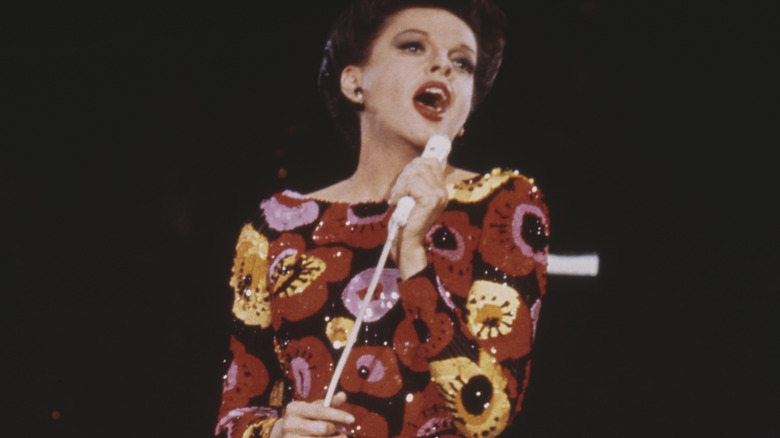 Judy Garland started out as a child star and made a name for herself as Dorothy in "The Wizard of Oz." She was a generational talent who commanded the stage with her acting and vocals. But behind her success was a troubled woman who had trouble managing her finances.
As Garland's third husband, Sid Luft, revealed in the memoir, "Judy and I: My Life with Judy Garland," Garland made between $12 and $15 million between 1961 and 1966. She was at the height of her career during that time, performing in more than 50 concerts per year and starring in "The Judy Garland Show" on CBS. Luft claimed that Garland was actually broke. "But no matter how much she worked, no matter how many concerts she performed or television shows she did," Luft wrote, "she was always in debt." Garland reportedly owed the government $400,000 in 1966 and was instructed to sell her home within 90 days. She had to scrape for money by performing at whatever gigs would pay her, but amidst issues like alcohol addiciton, still couldn't pay off her debts.
Per Fox News, Garland still owed the IRS $4 million before she died in 1969, as the outlet wrote, "coping with addiction and engaged in a custody battle over her children." As she once said on tape, "I'm an angry lady. I've been insulted, slandered, humiliated." It seemed the Hollywood beast swallowed her whole. 
Source: Read Full Article