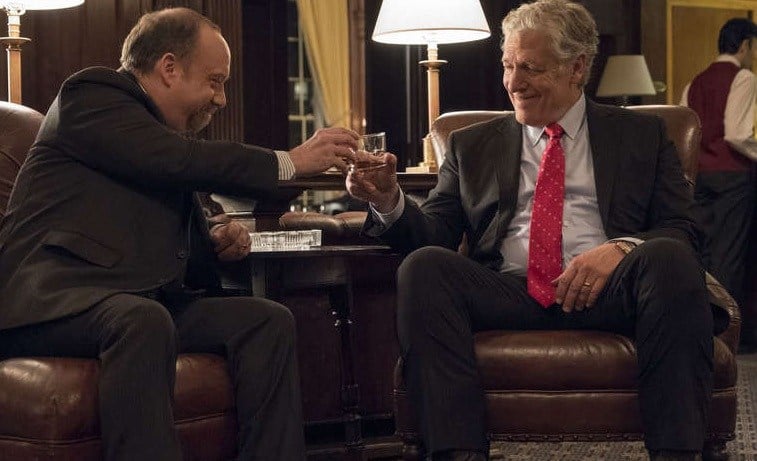 Chuck Rhoades's maneuvering led to his downfall at the close of 'Billions' Season 3. | Showtime
In some ways, the end of Season Three of Showtime's Billions was unthinkable. How could Chuck Rhoades, the U.S. attorney who entire existence seems based on the power of his office, proceed without a job? Yet shortly after his downfall, we find him sipping wine with his wife and former arch-nemesis Bobby Axelrod.
Rhoades, played by Paul Giamatti, seems awfully comfortablesharing a bottle with Axe at his table. The same can be said of Axelrod, played by Damian Lewis. After his hedge fund's star employee launched a rival operation, Axe needed to regroup.
This setup leaves open so many possibilities for the show's Season Four, which arrives in 2019 with at least one new cast member. Here are the biggest questions for the show and its characters ahead of the upcoming season.
1. Can Taylor Mason Capital succeed?
While Axe Capital has the name and track record, industry heavyweights recognized that Taylor (Asia Kate Dillon) ran the show while Bobby fought off the law. When the non-binary character set off on their own, several investors followed. That put winds at Taylor Mason Capital's back in its opening days.
However, Taylor's departure also happened to leave Axe (and Wendy Rhoades) enraged. Sure, Axe declined when Grigor Andolov (John Malkovich) asked if he wanted him to kill Taylor, but the new hedge fund risks plenty with its founder alive and well. We'll see Taylor finds a way to run Axe's gauntlet.
2. What will Axe's fury entail?
At the close of Season Three, we learn Axe won't go so far as to have a former employee killed. However, after a meeting with his attorney, we see he's planning to sabotage Taylor in other ways (starting with a slew of court filings).
A big question for Season Three remains whether he can stay on the right side of the law. Of course, with Chuck Rhoades out at the Southern District, law-abiding may no longer be such a concern for Axe. But that raises another burning question.
3. What comes of the Axe-Chuck alliance?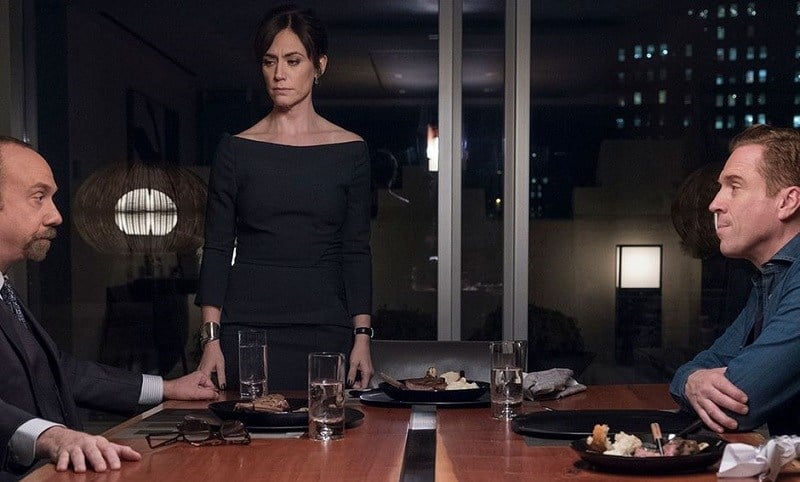 An unlikely truce between Chuck and Axe opens up endless possibilities for 'Billions' Season 4. | Showtime
For fans who watched Chuck and Axe gleefully picturing each other's demise for three seasons, the last episode of Billions must have been a little jarring. Already, we know Chuck can help Axe skirt the law in various ways. However, it's unclear how Axe can help Chuck get revenge on Jock Jeffcoat.
Will Rhoades run afoul of the law again even as he may be plotting a run for governor? (At his last maneuver, the door remained open. Getting fired by Jock may actually be a feather in his cap in New York, depending on how everything shakes out.)
The audience was left with virtually no clue about Chuck's future, other than the revenge he threatened. So there's no telling where this unholy alliance will lead, but it's one of the more compelling storylines for Billions writers to explore in Season Four.
4. Will Wendy Rhoades embrace the dark side?
Wendy Rhoades is the powerful yet nurturing force behind both Axe (her boss) and Chuck (her husband). However, late in Season Three, the audience got a glimpse of Wendy's dark side. Snapping at Taylor during a parking lot was one thing; telling Axe to stamp out Taylor like a bug (in so many words) was even more shocking.
Watching characters harden after an excruciating battle can be entertaining television and a great challenge for a performer. We'll see if the writers let Wendy (and Siff) continue down this path. It would add even more drama to a show that's already brimming with it.
Check out The Cheat Sheet on Facebook!
Source: Read Full Article