This week, the loudest kids in Sarasota took a break from yelling at each other on the beach … to yell at each other in Miami, in the middle of a boutique hotel which probably had to discount the room rates of everyone not filming this show. So, what were they yelling about?
Mostly Cara who, despite not being invited on this mini-vacay, found a way to get in the mix anyway. And she wasn't making her plans to steal Alex from Juliette too subtle. Meanwhile, Madisson gave Ben an ultimatum about their relationship, Kelsey confronted Jared about their late night after Brandon's party, and Garrett tried and failed to find love once again. (Maybe Juliette's right and he's just an easy target for girls trying to make Alex jealous?)
We needed a consult to get a handle on all this dramz, so we called up Spencer (and Heidi!) Pratt to get their take on all the latest happening on and off The Key.
On Garrett trying to make Cara go public with their relationship after two dates: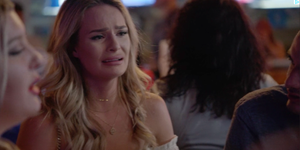 When they were on the beach and he asked her to put their pic up on Insta, and she said no, and he was bargaining for her to at least make it a story—man, that was wild. Love yourself, Garrett. It's 2019: If she doesn't post you on her stories, which go away after 24 hours, she's not for you. It's time to let go.
On Garrett going in for a kiss on the beach:
He went in for that romance and Cara's like "I thought we were just posing for one of those slow-mo effects that make this show so great; what are you doing?" That was the realest thing we've seen in a while on Siesta Key, though. This is what it looks like when one person thinks they're on a date and the other thinks they're on a photo shoot.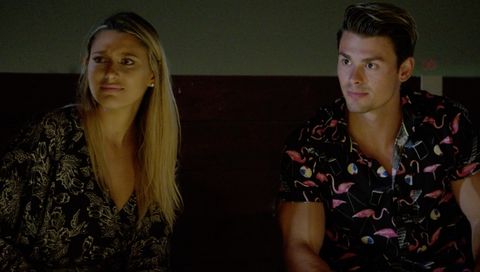 On Kelsey's insistence that she never cheated with Jared:
I'm trying to figure out if Kelsey just gets drunk and doesn't really remember details, or if she really is just like, deny, deny, deny, and thinks the rest of us will go along with it because she's a top model or whatever.
She has a boyfriend, right? That guy she's putting up on Instagram seems like a real boyfriend. I was so worried that her having a boyfriend that's not on the show was going to affect her on-camera time. Glad to see that's not the case.
On Kelsey blaming others for her bad decisions:
When she's talking to Jared and she says, "If you ruin my relationship," it's like, What are you talking about, girl? It's not like this is the first time she's been here. She blamed Garrett for her cheating with Alex. And what was her excuse? "You left me at his house! You left me in his pool!"
I wish they'd do a reunion show so they could just roll the tape in real-time while Kelsey's getting her lie on. "Oh, you said it was a one-way kiss? It looks like the only thing you're mad at is he put it on his IG and Chloe was out there watching."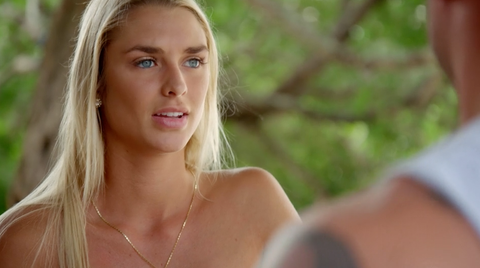 I will say that this is my favorite part of the show: Kelsey hooking up with guys who aren't her boyfriend and then pretending like it didn't happen. Like no producer is following her with a handheld. Kelsey, you're doing real good with your camera time, but don't forget you're always on-camera.
On Chloe showing everyone Kelsey and Jared's late-night Insta Story:
There's certain people that you just know not to tell things to. If I was friends with Chloe in real life, she'd be blocked on all my social media. I could be kidnapped and she would never know. I'll take my chances getting captured by a serial killer before I let Chloe add me on "Find My Friends."
No one is getting away with anything when I'm around. Sorry not sorry. @jkelderman1 @thekelseyowens #SiestaKey #beachbuddies
On whether Cara should have shown up on the trip:
No, but I don't think Garrett should be on this trip, either, when you come down to it. He's Juliette's ex. That's what makes me think it's not really Juliette's trip at all. It's just a cast trip and they needed an excuse to take it. That means it's everybody's trip. Everyone's invited. Except Canvas.
On Cara saying she and Garrett are just "good friends":
Cara only has one mission. And it's to steal Alex from Juliette so she can be the star of this show. She wants to be able to say, "Last week on Siesta Key…Juliette was the narrator."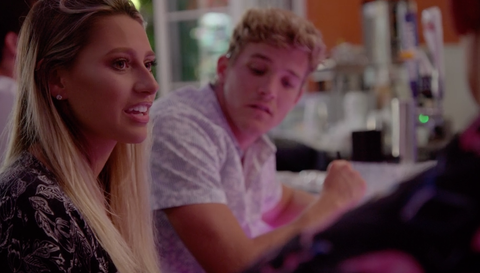 On whether Cara will succeed in stealing Alex away:
I'm sad to say that Alex looked like he was really entertaining her come-ons. He loves it when everyone's fighting over him. And if he can steal another girl from Garrett? Damn, that's probably the only thing he's thinking about: how he can dunk on The Key's number one online fitness trainer.
When she was rubbing his hand, I was a little disappointed in both Alex and Juliette. He should have said something and Juliette should have rocked up to them and stood up for herself like she did last season when everyone went off on her at the boat yard. This isn't like Juliette, just to sit there and take it.
Heidi: I'm just so shocked Juliette didn't punch her in the face. Cara should never be touching someone who's in a relationship. But at the end of the day, that's Alex's responsibility. Juliette can't be his bulldog. He's got to make a choice. He's not respecting her.
Cara, the hot, rich ex is showing up for revenge on TV? Alex knows exactly what's going on. I'm on Team Date Alex at Your Own Risk. But after that, I'm totally on Team Juliette.
How I feel when I see Cara grab Alex's hand #called #it #SIestaKey pic.twitter.com/tWtFJM2KwS
On if Spencer thinks Alex should stop talking to Cara just because Juliette asked him to:
Oh my God, if Heidi told me to stop talking to somebody I would have a perimeter and an alarm would go off like, "You're entering my personal space, back the hell up, please," because I'm always gonna be polite.
If my girlfriend doesn't feel comfortable with me talking to you, we're not going to be over here holding hands. If you two work it out? Great, let's have some Prosecco. Until then? Bye-bye.
On Juliette's telling Cara, "You're half deaf, half rude, mostly stupid":
Cara's definitely the new scariest girl in the Key, but Juliette could handle this so differently, though. She's giving her so much power and she doesn't need to be doing that. Every time she tries to defend her feelings to Cara, that sociopath knows Juliette's scared and she loves it.
Is there a draft in here? Feeling a little chilly. #SiestaKey pic.twitter.com/qxIhamhTPj
Cara's right, though: If Juliette's so upset that Cara dated Alex, why the hell are all the rest of the women invited on this trip. If we were going by that, Canvas would absolutely be invited because she's the only one who never tried to make that happen.
Juliette needs to stop trying to reason it out because that's not going to work here. She should just say, "You know what? It doesn't matter why I don't like you. I just don't. And I don't want you on my trip. Don't say hi to me if you see me buying gifts at the bait shop. That's it." Cara wouldn't be able to respond to that.
On Garrett going down on Cara and being made fun for it by the ladies of The Key:
Spencer: I was like, Yeah, player. That's some A-game. I feel like he read a nice Cosmopolitan article about it—they got that good here's what your woman wants advice.
I was so excited for him, and then when they switched it up and everyone laughed, that was very hurtful. I feel like he's a 2020 man. I love that. That's what we need out here in the streets.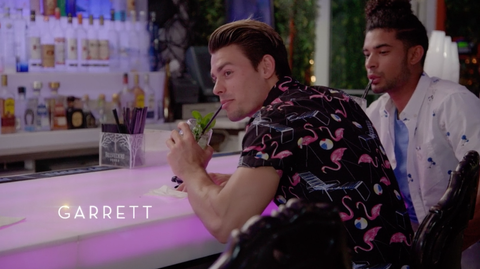 Heidi: He should get a frickin' gold star. That's boyfriend material. They're just jealous.
Spencer: I'm just happy that he's moved on from writing 1,000 notes about why he loves someone to giving women something they actually want. That's a much better gift. Maybe if he'd figured that out earlier, Kelsey wouldn't have been complaining about his picnics.
FINALLY. 💕 #SiestaKey pic.twitter.com/xcoeow8I6H
Spencer on Madisson's ultimatum to Ben:
I'm just glad she asked for the separate rooms on-camera because he looked like he would've freaked-out if they hadn't been filming him. Bro, I know you wanted to "cuddle" and all, but I'm pretty sure you didn't just fly out here for Madisson. You're taking your shirt off on camera just a little bit too much for me to believe that.
I don't even know why he was worried. If some girl told me we're gonna have separate rooms I'd be like, Great. I get a whole twin size bed to myself on this bootleg trip
On Madisson's self-esteem:
Madison in 2019 is gonna start valuing her worth. She should've never got back into this cycle with Ben. They've been dating casually for … five years? It's time for an all new guy.
Questions that need answers. 🤔 #SiestaKey pic.twitter.com/M1ZDbWYBGz
The second Ben doesn't show you the respect you deserve, it's time to move on. When Heidi thought I wasn't up to par back in the day she literally changed her cell phone number. I couldn't even reach her. We need Madisson changing numbers on Ben. Oh, you don't want to commit? Try to get my new number, dog. Don't ever ask a dude to tell you what's wrong with you, Madisson. It's not you, girl. It's the guys you keep dating.
Love seeing @MadissonHaus stand her ground. Yes queen you tell him. #SiestaKey
On if Madisson and Ben are going to last:
She basically told him, "If you want to have sex on this trip, you better call me your girlfriend to everyone." Yeah, no. I think everything's going to go back to the way it was as soon as he has room privileges. Watch him text her on Monday morning to let her know he's "been doing a lot of thinking."
On Canvas and Tawni's new relationship:
Thank u, next.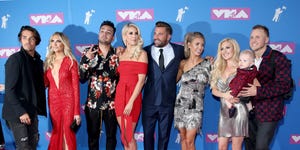 Source: Read Full Article