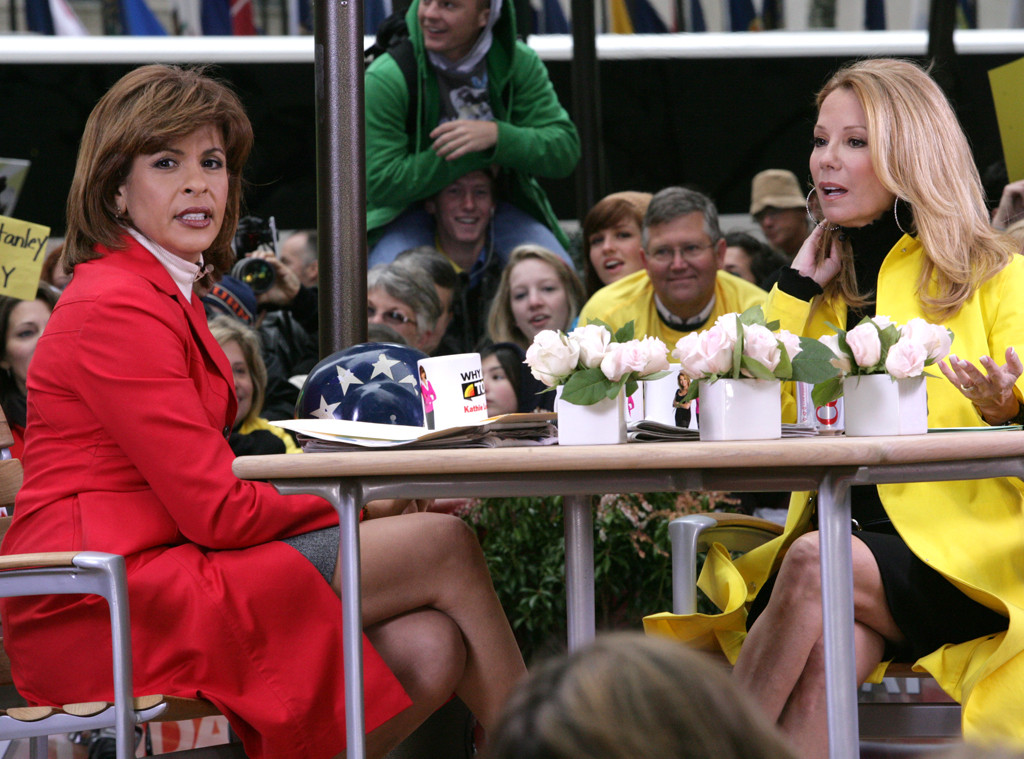 Virginia Sherwood/NBC/NBCU Photo Bank via Getty Images
There have been very few other daytime TV pairings as perfect as Kathie Lee Gifford and Hoda Kotb.
Much like the wine they sip weekly, the two women have spent nine years maturing into one of the most recognized duos in daytime. However, before 2008, the women hardly knew each other. Instead, Gifford was living a relatively private life following a 15-year stint on Live! alongside Regis Philbin. Meanwhile, Kotb was working as a correspondent for NBC.
Their destiny together launched in 2007 when Today added a fourth hour of morning programming to its lineup. Originally, the hour was hosted by Kotb and NBC colleagues Natalie Morales and Ann Curry. However, thanks to a well-timed, 4-hour lunch, Gifford was in the picture.
The ladies met for the meal at the Rainbow Room inside 30 Rockefeller Plaza—and the rest, as they say, is history. "She thought everything I said was funny. I sang to her and she loved it, so I said, 'I gotta be with Hoda,'" Gifford recalled on Today when they announced her new role the following year. "Timing is everything in life."
While the women hit it off right away, they weren't the two peas in a pod we know them to be today. They spent their first show (in the clip below) getting to know each other and their sisterhood blossomed every day since.
Nearly a decade later to the day of their first show, the duo celebrated their ninth anniversary in April 2017—albeit apart. As a new mom to her infant daughter, Haley Joy Kotb, Hoda stayed home, but phoned in her feelings on their special day.
"I have to tell you listening to our nine years condensed into three minutes makes me jonesing to come back next to you," she admitted to her right-hand woman.
After years filled with life-changing moments—the death of Gifford's husband, Frank Gifford, in 2015 and the adoption of Hoda's daughter in 2017 to name a recent few—the anniversary felt even more impactful for the duo.
"My life has changed so profoundly since I met you," Kotb told Gifford. "I told you this before, but I cannot believe the path my life took after our lives intersected. So, for every single day of the nine years, I love you."
Of course, all special TV eras eventually come to an end. Their lives together are once again entering a new chapter as Gifford announced on Tuesday she will be leaving the show upon their 11th anniversary this spring.
"I've been here almost 11 years—thought I would stay one year. Something happened along the way—fell in love with a beautiful Egyptian goddess," she candidly said as she pointed to Kotb. As for her right-hand woman, Gifford added, "You don't share that kind of life together and not be changed forever by it…you're just so special, Hoda. Thank you so much."
The significance of their friendship is not lost on Kotb, either. "The minute you stepped into my life with both feet everything changed," she told her longtime friend and colleague. "Everything good that's happened in my life has happened since you came."
As Gifford touchingly concluded, "We weren't colleagues very long. We became friends and we're going to be friends for the rest of our lives."
(E! and NBC are both part of the NBCUniversal family.)
(Originally published April 7, 2017 at 12:38 p.m. PST)
Source: Read Full Article