Syfy's TV show Resident Alien Season 2 ended on a cliffhanger for its first half. A lot goes on, from an alien baby hatching and possibly being dangerous to Harry learning the truth about the real danger on Earth. With the second half of Resident Alien Season 2 premiering in the summer, here is what showrunner Chris Sheridan has to say about Harry and the baby.
[Warning: The article contains spoiler information for Resident Alien Season 2.]
Harry becomes an impromptu guardian to an alien baby in 'Resident Alien' Season 2
Asta and Harry travel to New York after receiving a phone number in Harry's alien language in prior episodes. They soon learn the other alien on Earth is named Goliath and poses as a well-known artist over the past decade. Harry's hope of finding his kind is crushed when he learns Goliath is dead. Sensing something is afoot, Harry destroys Goliath's preserved body to find an egg.
Goliath used Violinda's DNA to make a hybrid alien baby. Its true purpose was revealed in Resident Alien Season 2 mid-season finale. Asta and Harry return to Patience, Colorado, to a surprise birthday party. One problem, the baby hatched and is dangerous to humans. While Harry searches for it, it uses its powers to read a message from Goliath.
Goliath warns Harry there is an even more dangerous alien species on Earth. They plan to take over the human race. Certain events occur, and the alien baby runs away. Harry now has a responsibility to look for the alien baby. While Harry sees the baby as a vermin and not of his kind, what is in store for the second half of the season?
Chris Sheridan teases how the baby fits into the rest of 'Resident Alien' Season 2
In an interview with TV Line, the series showrunner gives fans a tidbit of what is to come. Fans know Harry still thinks with his alien emotions instead of his newly acquired human ones. When it comes to finding the alien baby, it is not to protect it or the humans.
"He has to get the rest of the message. He knows there's an alien race on earth, but he doesn't know much more about it. He kind of cares less about the fact that the baby could be going around killing people. For him, it's more about getting this message and figuring out who's on earth," explained Sheridan.
The matter remains; there is an alien baby in Patience. Harry is the only one with the knowledge of how to raise it. Resident Alien has had a running theme of family. With Asta reconnecting with her daughter to becoming a surrogate parent to Harry, Harry might find himself a father figure.
"But we will extend that theme in the second half of the season with Harry searching for this baby and what that looks like when he finds it," said Sheridan. Fans will have to see how a dangerous alien baby changes the chaotic small town.
The teaser trailer continues the mystery and comedy of the alien series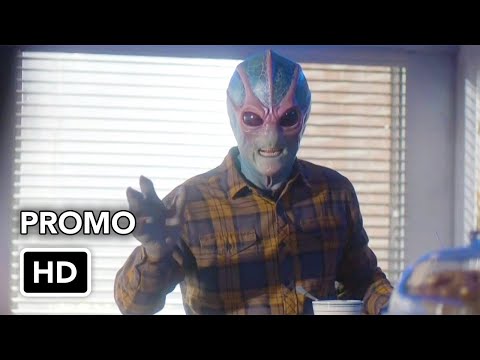 The alien baby in Resident Alien Season 2 kickstarted new storylines when the series returns in the summer of 2022. The second half of the season will begin with episode nine, titled "Autopsy." In the teaser trailer, fans see the repercussions of Asta shooting the man Harry met in New York. The gunfire alerted D'Arcy and Sheriff Mike.
Not only do they have to hide the evidence or make up an excuse, but Harry has to find the alien baby before it is too late. Fans see him venture into a cave and Sahar's voice-over saying, "It's the alien baby."
The teaser revisits the man who shot General McCallister in the mid-season finale. His eyes shift between grey alien eyes and a human's. In true Resident Alien fashion, the teaser ends with a joke from Harry. He threatens to teach the alien baby to poop on Max's head. Sheridan teases the next half of the season will further explore Harry's growing human emotions and empathy.
Source: Read Full Article