[Warning: spoilers from season three of Riverdale, ahead]
Madelaine Petsch waltzes into the Cosmopolitan office in a little Self Portrait suit number and her own "Matrix" sunglasses on the tip of her nose. I ask her if she's always one to wear sunglasses inside, or if it's just to promote her new M3 collection for Privé Revaux (on sale May 27). "It depends on the size," she explains. "Small sunglasses are more of a fashion accessory than actually useful because this isn't gonna block me from the sun. I wear them on the tip of my nose, this is doing nothing from the sunlight."
She immediately gets busy finding the perfect pair for me (she chooses the "Mads" in case you give a shit). As fun as it is to hang with the Riverdale star, she's here for business. We go through the whole schpiel: she tells me about the line's reasonable price point ($39.95), which pair is her boyfriend's favorite to wear (the "Matrix" as well), and all the options ("I've never seen big blue sunglasses. I wanted blue sunglasses"). But eventually, she's ready to just relax and chat. "Buy my sunglasses you know?" She laughs, "I'm trying to feed my dog."
I'm more than happy to oblige. I talked to Madelaine about her hustle outside of Riverdale, social anxiety at the Met Gala, and the Jason Blossom of it all.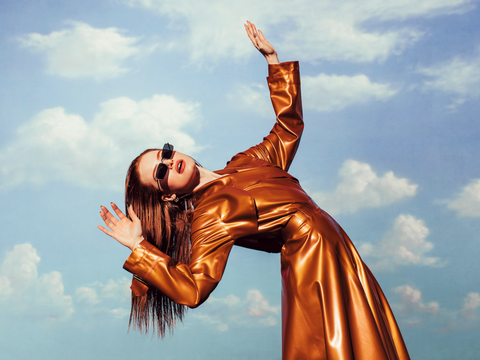 You're such a powerful business woman. How did you wind up getting your line of sunglasses worn on Riverdale?
I didn't get the them on Riverdale. We have a really great team of people who want to support us. So they kind of were like, "Hey, I noticed you launched a sunglasses line, wanna put them on the show?" And Cami is obsessed with the "Candies", so she's says, "I'm wearing these regardless." She wears them in the first episode of season three. She told them, "I wearing these for the pool party."
Give me the inside scoop on the Met Gala, please.
Can you believe that I went to the Metropolitan Museum of Art for the first time for the Met Gala?
I have social anxiety. I was so nervous because I've been dreaming about this my entire life, essentially. But it was honestly not nerve wracking at all! You can't bring your publicists, typically. And for somebody like me who relies upon people a lot, it's interesting to realize how alive you really are. I was like, "Oh my god, I can't have a team member with me, this is gonna suck!" But then I stood up there, and there were so many publicists there to help who would fluff your dress all the way up the stairs, and it was so stress free. It was so beautiful inside. I walked a lot, my feet probably still hurt.
https://www.instagram.com/p/BxNdk6oHAed/
The Met Gala has been something I have dreamed of and about for as long as I can remember. Beyond honored to have been there Monday. 💚
A post shared by Madelaine Petsch (@madelame) on
Who did you party with?
Me party? No. My dress was a little bit geographically challenged—hang out by yourself geographically challenged—so I sat at my table most of the night because it was big and I couldn't really get up because it was made out of wire.
Once I was stuck underneath the table it's like oh, I probably shouldn't get out of here for a while. But Lili and Cami came and sat with me for a little bit, and just hung out with the Riverdale cast for the most part. It's cool, my first time, to be able to know five other people on the carpet. Lili's first time, it was just her and Cole.
Were you star struck by anyone?
I don't think star-struck is the right word…Oh my god. Ezra Miller. Oh my god! I was like, you are like the coolest person on the planet.
Did you talk to him?
I didn't actually see him in person. That's another thing about the Met. Once you're in, it's like you're kind of in and it's so big you could miss people all over the place.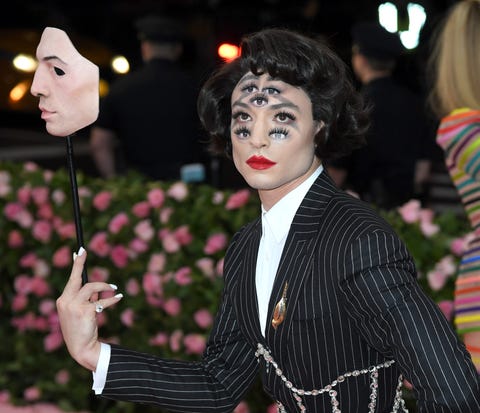 Did you go to an after party?
I went to the Gucci after party for, you know, a long time. [Editor's note: that was heavy sarcasm.] It's my first fucking Met Gala, I had to go to an after party. So I went more just to experience it and see what it was like. It was nice to see everybody dressed down a little bit, too.
Let's talk Riverdale. So, Jason Blossom may be back?
Potentially? His grave is empty.
How will Cheryl react if Jason is alive?
I think her feelings will be hurt because, if he is back, that means he was never dead. That means that he's been gone for two years, and hasn't given her the time of day. I think it would break her heart.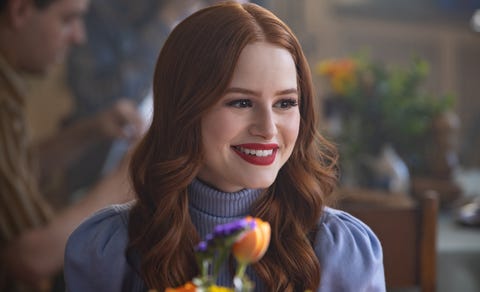 And you just sacrificed yourself for Toni Topaz…
When I read that in the script, I honestly started crying. I ship Cheryl and Tony so much and it was so heartbreaking to see her girlfriend being dragged away.
This is like the third time Cheryl's been kidnapped, will she ever get a therapist?
I'm sure it's like the seventh time! [Laughs] I think everybody in Riverdale needs therapy. We're getting real, but Cheryl does need therapy. She's got so many mental issues. Her mother push down all of her feelings about women her entire life. Her dad killed her brother, her brother is now dead, she has no friends, she has her first girlfriend…there's so many things happening. Oh, there's also a murderer on the loose and now she's at the Farm where they are harvesting organs.
Yes, this bitch needs therapy, like badly. Get her in therapy.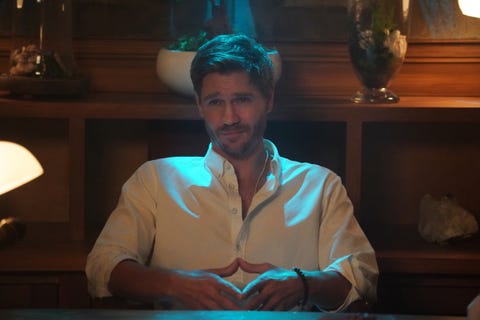 One could argue Edgar Evernever is a really bad therapist.
[Laughs] This is just really bad therapy. Organ therapy. Also, can we talk about the fact that Kevin is gonna be missing an organ for the rest of the show?
LOL. What can you tease about the finale?
You will get resolution about whether or not Jason is alive in the finale, you will see Cheryl, whether she's dead or alive—
Wait, I didn't know Cheryl's death was on the table!
It could potentially be, but people always come back to life in Riverdale, as we know. Jason, Cheryl, the Blossoms are on the line in more ways than one. I just winked at you for the record. [Laughs]
The Riverdale season three finale airs tonight at 8 P.M. EST on The CW.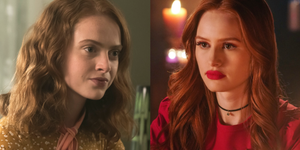 Source: Read Full Article