After the first season of Love Is Blind took the world by storm in 2020, it was a no-brainer that Netflix would produce another season, which did not disappoint. Season 2 introduced some of the most shocking "I dos" and "I don'ts," giving us glimpses into the new relationships of cast members like Nick Thompson and Danielle Ruhl. 
Although Nick and Danielle's chemistry was undeniable and fans rooted for them, some of their controversial fights and confrontations seemed to come out of nowhere. (Danielle was open about struggling with her mental health during the experiment.) However, panic attacks in Mexico and concerns from fans aside, the couple is still going strong! What's their secret? Couples counseling! Here's what they want Love Is Blind fans to know. 
Nick Thompson and Danielle Ruhl put the concept of 'Love is Blind' to the test
While you can see the passion and compatibility between Nick and Danielle, there were also a lot of arguments, tension, and frustration. After all, these two human beings only knew each other for 38 days before saying "I do."
Within that time, it shouldn't be a surprise that we would see the good, the bad, and the ugly as they navigate the seriousness of choosing each other right now, especially when most get years to sort through their differences before tying the knot. 
Nonetheless, the love was there, and it was mutual. Despite Danielle's constant skepticism that Nick would leave her and not truly accept her, he absolutely did and apparently still does. 
What's more, their problems were still trivial compared to what Jarrette Jones and Iyanna McNeely went through. Iyanna had to watch the show and see him continue to show feelings for Mallory Zapata despite their engagement. 
Couples counseling has made a significant difference in their communication
During an interview with Us Weekly, the couple opened up about their challenges on Love Is Blind and in the months that followed. Despite the storm fans saw brewing on the show, the couple has experienced a lot of success with couple counseling. 
Danielle revealed one of their breakthroughs, saying, "The couple therapist literally was like, 'Danielle, you speak French. He speaks German. When you're talking to each other, it doesn't translate. And it takes months, years sometimes, to be able to actually communicate with each other.'"
"So the harder we try, the more our therapist is a translator for us, the easier it becomes," the Love Is Blind star continued. "And like, even with my anxiety — and we both go through our stresses — one time, I might need to be alone. One time, I might need him to hug me. And I have to realize, I can't assume that he is gonna know how to be there for me."
She finished by emphasizing the importance of being open and honest with each other. "I have to verbalize, 'This is what I need from you right now,' and be patient with him not completely, always understanding what to do in those situations."
The Love Is Blind couple told the magazine, "I just can't wait for people to see the relationship that we have now."
The infamous Rock Band set made a comeback!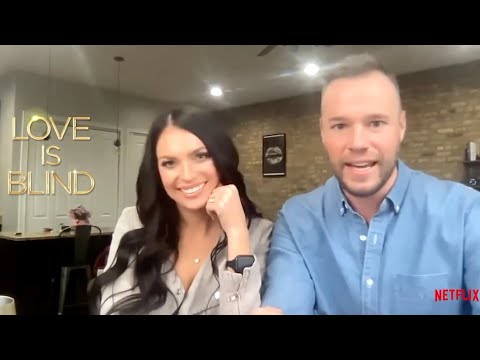 Remember the infamous Rock Band and party costumes that filled every room in Danielle Ruhl's home? It was one of the many arguments that followed the couple through the season. Danielle likes wild parties with her friends; Nick Thompson didn't want the same when they moved in together.
Yet again, the newlyweds proved fans wrong and worked it out. Not only is the Rock Band set still there, but Nick reportedly wears the costumes more than Danielle. She raved, "We figured it all out. Compromise, compromise … The Rock Band set's here, the costumes are here. He wears the costumes more than I do."
It's safe to say you can add another couple to the list of success stories in Love Is Blind — right next to Lauren Speed and Cameron Hamilton and Amber Pike and Matthew Barnett.
Source: Read Full Article