The Oscar-winning actress flaunts her baby bump in a light gold Dior dress as she attends her first red carpet event since she has become pregnant with her first child with Cooke Maroney.
AceShowbiz –Jennifer Lawrence was a glowing mom-to-be at the premiere of her upcoming movie "Don't Look Up". The actress showed off her baby bump as she attended her first red carpet event since becoming pregnant with her first child with Cooke Maroney.
The soon-to-be-first-time-mom stepped out on Sunday, December 5 for the premiere event at Jazz at Lincoln Center in New York City. She dressed her growing baby bump in a light gold embroidered silk Dior dress and shimmering semi-sheer cape sleeves that oozed old Hollywood glamor.
The Oscar-winning actress had her blonde hair styled in a wavy updo. She posed on the red carpet with her co-star Leonardo DiCaprio, who looked sharp in a fitted navy suit with a matching tie. "I'm excited to be here with the whole cast," she told ET about the occasion. "I'm so excited for this movie and for people to see it."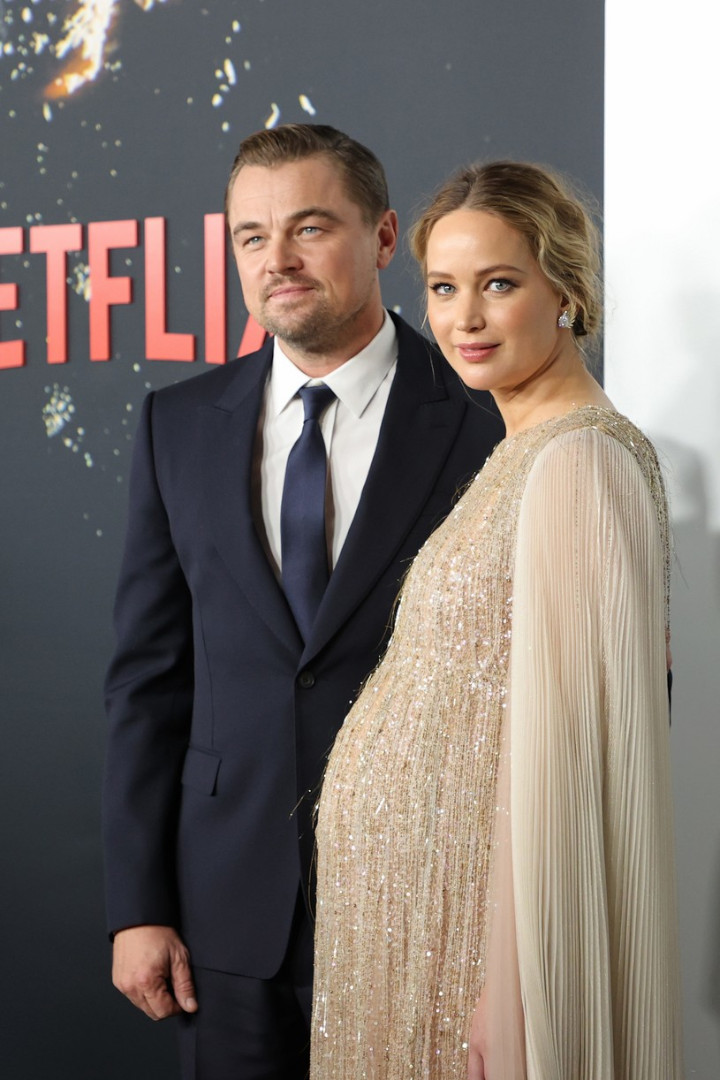 Jennifer Lawrence and Leonardo DiCaprio posed together at 'Don't Look Up' premiere.
The premiere was also attended by other cast members, namely Meryl Streep and Jonah Hill, as well as Kid Cudi who sang a song for the film with Ariana Grande. On the red carpet, Lawrence also gushed about working with her A-list co-stars. "I mean, Meryl Streep is the actual greatest actor that has ever lived, and when you watch her in person it only confirms that," she said.
But Lawrence got more starstruck meeting Grande, who has a small role in the film. "I think I was more star struck to be around Ariana Grande," the 31-year-old admitted. "Because our worlds don't really collide with the musicians, and what she does is so different."
"I mean, I sound similar, don't get me wrong — better even," the "X-Men: Apocalypse" star quipped, jokingly adding that she's got her own album in the works. "I'm coming out with something, you'll see."
Directed by Adam McKay, "Don't Look Up" is a satirical sci-fi black comedy film about two low-level astronomers attempting to warn mankind, via a media tour, about an approaching comet that will destroy Earth. It is due out December 10 via Netflix.
Source: Read Full Article