It's said that trends come back in style every 20-ish years. So far, 2021 is on track to be the most early aughts-inspired year ever. Baguette bags are in again, the cast of "Friends" is everywhere, and one of the most famous and most gossiped about Hollywood couples is canoodling together once again from coast to coast.
Bennifer is back!
In the late spring of 2021, nearly two decades after their relationship (actually, their engagement) fizzled out the first time, Jennifer Lopez and Ben Affleck are together again. Maybe. Possibly. Many sources think so! As for the stars themselves? They're letting the paparazzi photos do the talking.
Is it just a summer fling? A brilliant PR move? Could the second time around be the charm for Ben and J.Lo? Will there be a sequel to "Gigli"? Here's what we know about the trendiest comeback of 2021 — Jennifer Lopez and Ben Affleck.
Jennifer Lopez and Ben Affleck were Hollywood's hottest, flashiest couple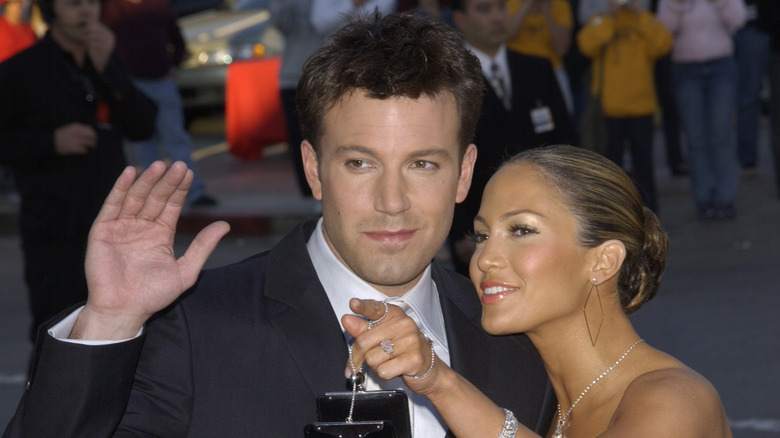 Not too many actors take out full-page ads in The Hollywood Reporter praising their co-stars just because. But for Jennifer Lopez, who starred with him in the eventual rom-com bomb "Gigli" in 2002, Ben Affleck took the go big or go home approach, his ad reading (via The New York Times), in part, "I only wish I were lucky enough to be in all your movies."
That larger than life approach came to characterize the Oscar-winning screenwriter, actor, and producer's relationship with the pop star over the next two years. From paying homage to Lopez's rear end (while yachting, as one does) in her "Jenny From the Block" music video to announcing their engagement in a joint interview with Diane Sawyer, Affleck and Lopez were everywhere in the early 2000s and quickly became one of Hollywood's most popular couplings.
Gushing about Affleck to Sawyer in their ABC interview, Lopez said, "I'd probably say that he is brilliantly smart, loving, charming, affectionate. And I just admire him in every way. I respect him. I feel like he teaches me things." She also liked his pretty epic taste in jewelry. The 6.10 carat pink diamond engagement ring Affleck proposed with was "the most magnificent thing," Lopez told Sawyer (via CNN).
By the end of 2003, though, it was becoming clear that Affleck and Lopez's fiery flame was starting to burn out.
Ben Affleck and Jennifer Lopez moved on fast after their first breakup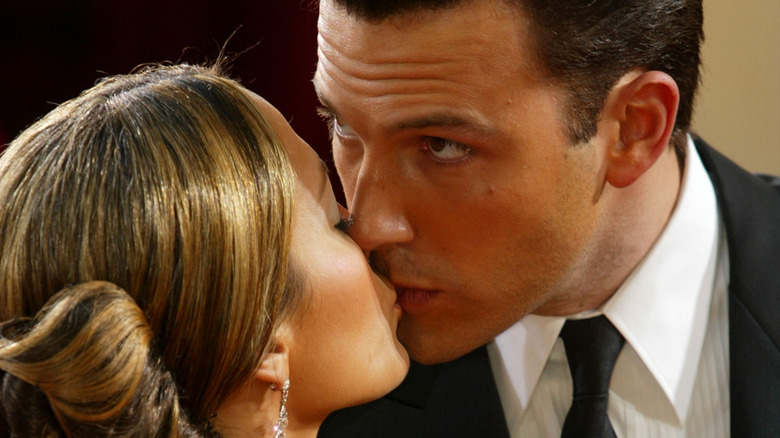 "Jennifer Lopez has ended her engagement to Ben Affleck" was the official Team Lopez statement heard around the world in January 2004 (per People). But the announcement wasn't much of a surprise. In September 2003, just days before they were to tie the knot, Lopez and Affleck called off their wedding with a joint statement (via ABC News): "Due to the excessive media attention surrounding our wedding, we have decided to postpone the date. When we found ourselves seriously contemplating hiring three separate 'decoy brides' at three different locations, we realized that something was awry."
Earlier that summer, following the "Gigli" premiere, cheating rumors swirled around Affleck, which he and his reps firmly denied. After the wedding postponement, though, the bliss and bling of Bennifer faded fast, and the two wasted no time moving on in the new year. In early June 2004, Lopez married singer and friend Marc Anthony at her Beverly Hills home, and by the year's end, Affleck was dating another co-star, Jennifer Garner. The "Argo" star later revealed that his budding romance with Garner overlapped a bit with his time with Lopez. "We met on 'Pearl Harbor,' which people hate," Affleck told Playboy, "but we fell in love on 'Daredevil,'" released in early 2003.
Lopez and Anthony welcomed twins Max and Emme in 2008 and divorced in 2011. Garner and Affleck, parents to Violet, Seraphina, and Samuel, finalized their divorce in 2018 after a three-year separation.
Jennifer Lopez and Ben Affleck have talked about their split — and stayed in touch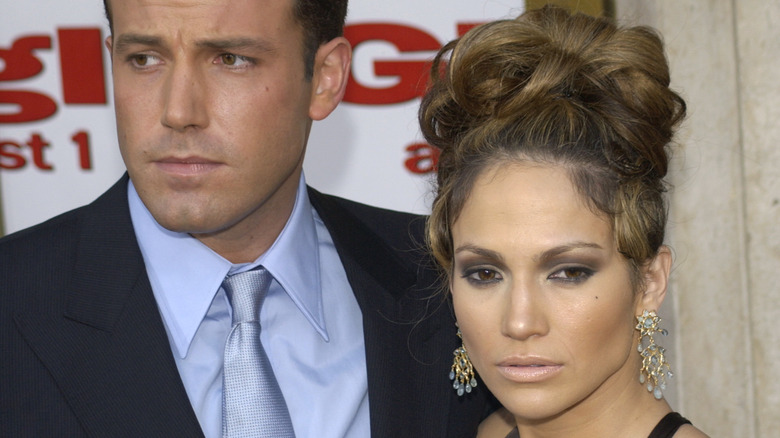 In the close to two decades since Ben Affleck and Jennifer Lopez broke up, they've talked about being the biggest power couple in the world, and what ended their romance.
On the British TV show "Live" in 2008, Affleck said that he and Lopez were surprised by the media scrutiny surrounding their relationship. "I think Jen and I made a mistake in that we fell in love, [and] we were excited and maybe too accessible," he said (via Us Weekly). "I don't think either of us anticipated the degree to which it would take on a world of its own." 
In her 2014 memoir, "True Love," Lopez revealed that the end of her engagement to Affleck was her "first real heartbreak." In the same year, the J.Lo Beauty founder told "Today" (Us Weekly), "I really felt like I had found somebody great and he had found somebody great and we thought we could make it work." 
To the delight of fans and gossip blogs everywhere, Affleck revealed in 2020 that he and Lopez have kept in touch. Sharing his disappointment with the New York Times writer Brooks Barnes that Lopez didn't receive an Oscar nomination for her role in 2019's "Hustlers," Affleck said, "She's the real thing. I keep in touch periodically with her and have a lot of respect for her. How awesome is it that she had her biggest hit movie at 50? That's f*****g baller."
2021 produced the perfect conditions for Bennifer 2.0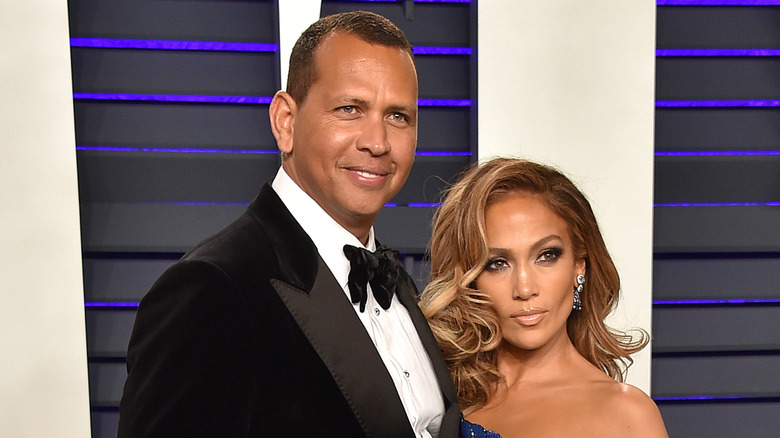 Take a breakup with "Knives Out" star Ana de Armas. (Farewell, Cardboard-Cutout Ana from the Affleck front lawn!) Add in the end of J.Lo's engagement to ex-Yankee Alex Rodriguez. Mix in a helping of Hot Vax Summer, and what do you get? The ideal conditions for an internet-breaking reunion.
One of the first big hints that a Bennifer revival was in the cards came from a cover story Lopez did with InStyle in the spring of 2021. For their May "Beauty Issue," the magazine featured interviews with some of the most notable people in Lopez's life, everyone from Michelle Obama and "The Wedding Planner" co-star Matthew McConaughey to — you know it — Ben Affleck.
"She remains, to this day, the hardest-working person I've come across in this business," Affleck said. "She has great talent, but she has also worked very hard for her success, and I'm so happy for her that she seems, at long last, to be getting the credit she deserves. … Where are you keeping the fountain of youth? Why do you look the same as you did in 2003 and it kind of looks like I'm in my 40s … at best?"
Not included in InStyle's feature? Lopez's then-fiance, Alex Rodriguez, which was particularly notable considering they didn't officially announce the end of their engagement until ten days after the InStyle piece ran.
Ben Affleck was spotted coming and going from Jennifer Lopez's house in April 2021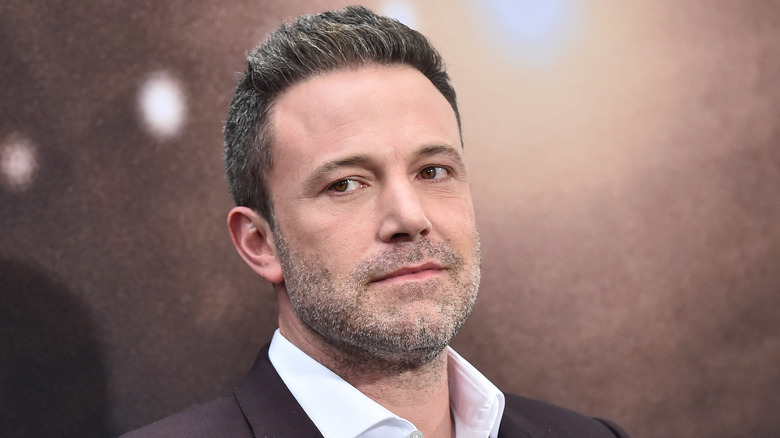 In the spring of 2021, following Jennifer Lopez's split from Alex Rodriquez, she and Ben Affleck found themselves both single at the same time. According to A-Rod and J.Lo's joint statement given exclusively to "Today," Lopez and Rodriguez said they "realized we are better as friends and look forward to remaining so." The announcement came just a month after breakup rumors hit a fever pitch when the couple shared that they were "working through some things." As for Affleck and Ana de Armas, they did many a pap walk in 2020 after working together on the movie "Deep Water," but by the start of 2021, they were at "different points in their lives," according to People.
With the timing as ripe as ever, speculation started to mount. Will it happen? Could it happen? Is a Bennifer reunion really possible? The universe answered faster than some fans may have even expected. At the end of April, Affleck was spotted going back and forth from Lopez's LA home. Both Lopez and Affleck were seen (separately) riding in a white Escalade SUV, a source telling Page Six, "Security picks him up at a nearby location and drops him off after spending a few hours at her house."   
Another Page Six source pumped the brakes on the gossip story of the summer, at least a little: "They are friends. … They've never not been."
Jennifer Lopez and Ben Affleck started getting spotted together everywhere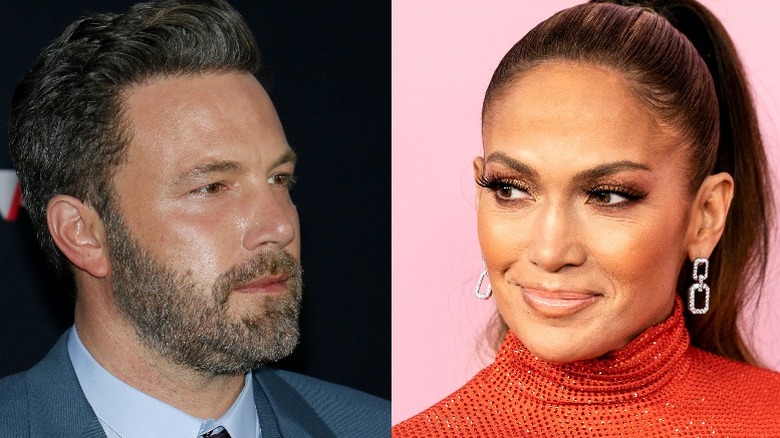 Clandestine home visits were so April 2021. Come May, Bennifer 2.0 went bicoastal. First up, separate appearances at Global Citizen's VAX LIVE charity concert in LA. According to E!, Lopez opened the show with a rendition of the Boston Red Sox-favored song "Sweet Caroline," in a potential nod to Affleck's favorite team, and invited her mom on stage to sing with her.
Then, at long last, came the photographic evidence everyone was pining for: Lopez and Affleck together. In a car. Ben at the wheel. In … Montana? The weekend getaway was Affleck's idea, a source told People. Another source told the magazine that Lopez "had a great time with Ben. … They have a strong connection. It's all been quick and intense, but Jennifer is happy."
And ready to fuel the rumor mill once again. Lopez followed up their Montana getaway with a gushing #TBT Instagram post celebrating her 2002 album "This Is Me … Then," which she's previously said was strongly inspired by her time with Affleck. Reports also appeared that Affleck has been emailing Lopez for months.
By late May, Miami was the destination for the possibly-maybe-probably back together exes, with Affleck and Lopez spotted at her beachfront home. Around the same time, Affleck was also seen wearing a watch Lopez gave him their first time around.
Diddy and A-Rod want you to know that they love J.Lo too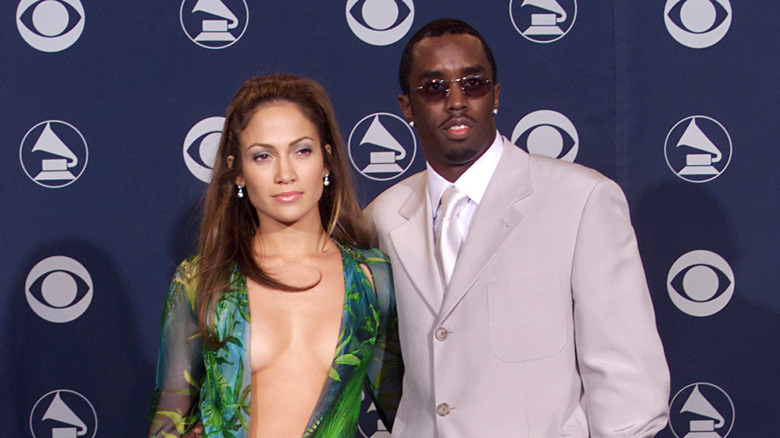 It hasn't just been Ben Affleck and Jennifer Lopez in all their feels. The summer of 2021's brought out the exes too. Lopez's most recent, Alex Rodriguez, has been not so subtly pining for the "Cambia El Paso" singer. And by "pining," we're talking about an Instagram video featuring a tabletop altar of sorts dedicated to J.Lo, including a framed heart-in-the-sand photo and Coldplay's "Fix You" playing in the background. That was right after their breakup. Later in May, Rodriguez was in a more philosophical mood, posting on his Instagram Story (via ET), "I am about to step into a new beginning in my life. Anything that doesn't serve me is clearing out of my life. New energy is emerging."
Four days later, Sean "Diddy" Combs took to Instagram with a #TBT photo of he and Lopez, whom he dated from 1999–2001. Unlike Rodriguez, Diddy let the captionless photo speak for itself.
And though Lopez was spotted having lunch in Miami with her ex-husband, Marc Anthony, the day after Diddy's throwback (the same weekend she was seen there with Affleck), a source told People that her affections were focused on Ben: "They were holding hands, hugging, kissing. They weren't trying to hide the fact that they were together."
It's the summer of Bennifer (again!)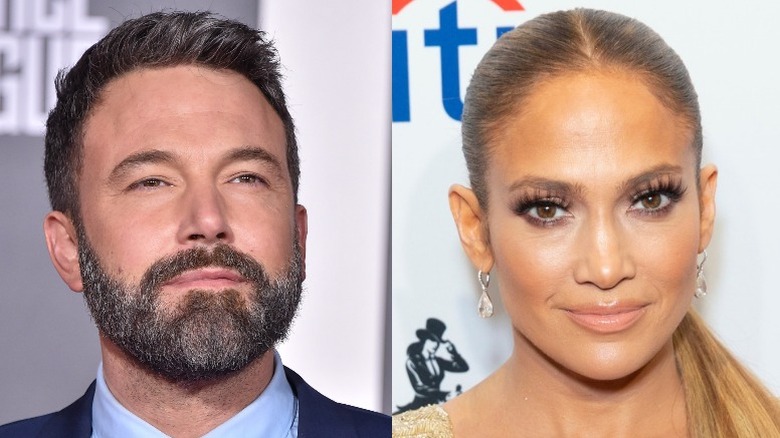 By June 2021, the Lopez–Affleck reunion was adding family into the mix after the couple was seen snuggling at dinner in LA. Then, J.Lo's mom, Guadalupe Rodriguez, was spotted visiting Affleck on set in Las Vegas. A People source said that Guadalupe always liked Affleck and is "thrilled" to see her daughter rekindling her romance with him.
In mid-June, Affleck and Lopez finally delivered the long-lens goods. At a birthday dinner for Lopez's sister Lynda at Nobu in Malibu, Lopez and Affleck cuddled, hugged, and kissed. Page Six ran the photos, which included neck nuzzling, too! Lopez's twins, Max and Emme, were also there and showed the couple something on a smartphone in between the nuzzles.
A source told ET that Ben and J.Lo are feeling "hopeful about their relationship" and that they've "talked about the past and why things didn't work out. … They have both matured and are on the same page and it has been easy."
A week after the canoodling in Malibu, Lopez's most recent ex, Alex Rodriguez, was seen at a Hamptons party with Affleck's ex, Lindsay Shookus, a producer for "Saturday Night Live." A-Rod's rep downplayed the sighting to Page Six, however, saying the two have been "friends for 15 years."
Coincidence? Conspiracy? Anything is possible now that Bennifer's back!
Even other celebs are excited about the return of Ben and J.Lo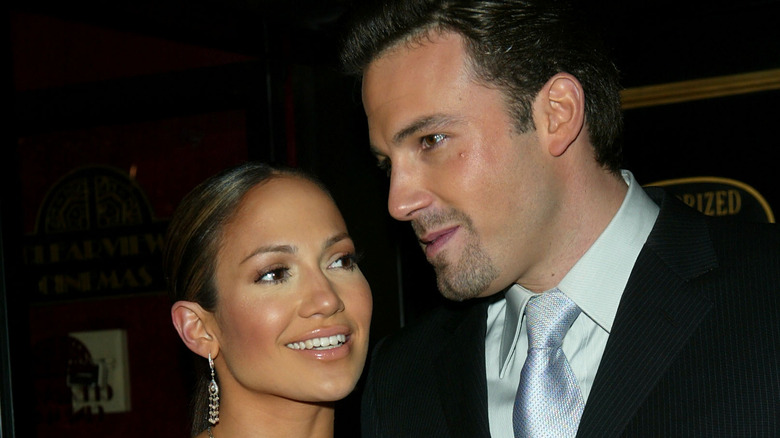 When it's "breaking f*****g news" to Jennifer Lawrence, you know it's a big deal. On Heather McMahan's "Bitch Bible" podcast in May, the Oscar-winning Lawrence was giddy about the first sighting of Ben and J.Lo together. "Jennifer Lopez and Ben Affleck are back together," Lawrence exclaimed, adding, "They are on vacation with each other right now. I'm so excited! … They're in Montana." 
On Twitter, legendary entertainer Bette Midler was hopeful about the second-time-around pairing, while Kevin Smith, director of 2004's "Jersey Girl," which co-starred Affleck and Lopez, claimed credit for the Bennifer moniker that launched a million copycats. "It's a name I first gave the kids during 'Jersey Girl' pre-production, before the world found out they were dating," Smith tweeted, adding, "I'd later drop the name in an interview with the @nytimes. Shortly thereafter, it appeared in the article and then entered the vernacular."
Even Affleck's longtime friend, "Good Will Hunting" co-star and co-writer Matt Damon, couldn't hide his excitement when asked about the reunion on "Today" in May. "I hope it's true," he said. "I love them both. I hope it's true. That would be awesome."
Will it be happily ever after this time around for Jennifer Lopez and Ben Affleck?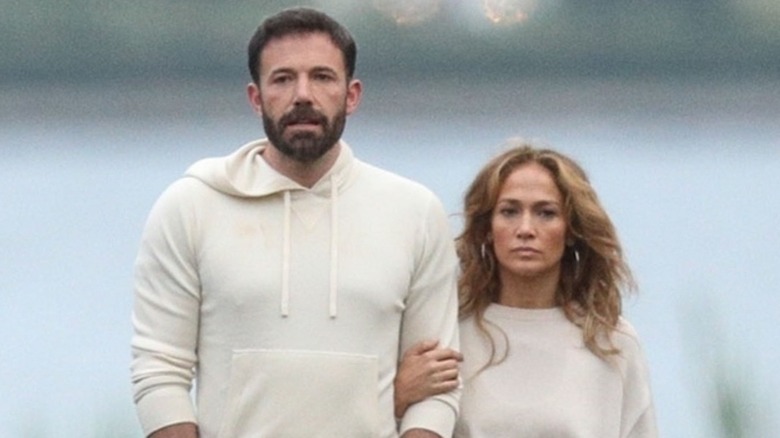 The only ones not talking about the reunion of Ben and J.Lo? Affleck and Lopez. As of this writing, it's just paparazzi shots and lots and lots of anonymous sources.
Previously, however, Lopez shared some "What if?" sentiments when talking about her time with Affleck. "We didn't try to have a public relationship," Lopez told People in 2016, adding, "We just happened to be together at the birth of the tabloids, and it was like 'Oh my God.' It was just a lot of pressure." Of her initial romance with Affleck, Lopez said, "I felt like … 'Okay, this is it. … I think different time different thing, who knows what could've happened, but there was a genuine love there."
Based on the paparazzi shots snagged in July 2021 (above) — Affleck and Lopez enjoying a cuddly stroll in the Hamptons over the Fourth of July holiday — Bennifer is picking up right where it left off, color-coordinated athleisure outfits and all.
Source: Read Full Article