Comedian, television host, and best-selling author Trevor Noah has more than found his stride since taking over The Daily Show for Jon Stewart in 2015. Though Noah had a bit of a rough start, he got right in the thick of things during the 2016 Presidential election with his biting commentary and hilarious jokes. He's been rolling with the punches ever since. Since then, the South African native has written a stunning memoir, Born A Crime and has his own Netflix stand up special Son of Patricia, but how much is Noah worth — and what's his salary for hosting The Daily Show?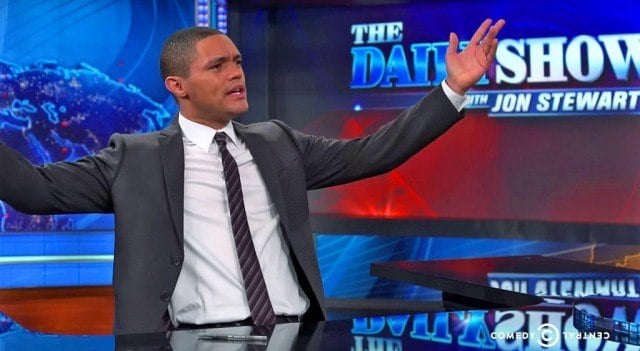 Trevor Noah | Comedy Central
Trevor Noah is worth $13 million
Though Noah has only been on the A-list in Hollywood for a few years, he had already made quite a name for himself in South Africa. Back in 2002 when he was just 18, Noah snagged a role on the South African soap opera, Isidingo. From there he went on to host his own radio show, a gossip television series. and he even co-hosted the South African Music Awards in 2009 and 2010.
Before Noah even became a contributor to the Late Show with David Letterman in 2013, he was already building an immense amount of wealth.
What is Trevor Noah's salary for The Daily Show?
When the Emmy-award nominee took over for Jon Stewart in 2015, he was able to garner a massive salary of $4 million. We expect that salary only to increase as Noah's popularity continues to rise. After all, TIME Magazine named the comedian one of the 100 most influential people in the world in 2018. Noah is currently under contract to host The Daily Show until at least 2022 and he will also produce and host annual end-of-year specials for Comedy Central.
Noah's brash and witty humor has certainly resonated with people, especially when it comes to his thoughts around race and race relations. He once said, "I've always been a fan of issues around race and racialism, and I've loved playing with it. People act as though it isn't an issue, but it's a recurring theme in our lives globally."
What's next for Trevor Noah?
In addition to his acclaimed book and stan up special, in 2018, Noah signed a multiyear contract with Viacom. Under the deal, Viacom gets first-look rights to any future of Noah's future projects in television, feature films or short-form video content. Currently, Noah is also working on launching an international production and distribution company called Day Zero Productions. All of these projects in addition to his salary as The Daily Show host will also lead to an even bigger net worth in the years to come.
He also recently had an in-depth chat with his grandmother about Apartheid South Africa and even gave fans of The Daily Show an MTV Cribs-style tour of his childhood home and the roads that he used to drive down as a child in Soweto, Johannesburg, South Africa.
We can only hold our breath to see what Noah will get in to next, but we're sure that whatever it is, it will be spectacular.
Check out The Cheat Sheet on Facebook!
Source: Read Full Article