Rose McGowan went from big-screen star to TV celebrity, courtesy of her major breakout in "Scream" and subsequent starring role in the Warner Brothers' teen fantasy fave, "Charmed." However, since McGowan went public with accusations that the world's most powerful movie producer, Harvey Weinstein, sexually assaulted her at the Sundance Film Festival in 1997, she's essentially become persona non grata in Hollywood.
As a direct result of her bombshell revelations, the actor told The Guardian that her career "was stolen" from her, alleging that she had been "blacklisted" from working in the entertainment industry. McGowan isn't a woman who just quietly disappears into the background, though. Instead, she became one of the driving forces behind the #MeToo movement, an activist, an author, and as of the beginning of 2021, Rose McGowan is a permanent resident of Mexico.
The actor is loud, proud, and outspoken, and she isn't going down without a fight. Her reinvention as the "feminist whistleblowing bada**" leader of the #RoseArmy (via The Telegraph) has earned her millions of supporters in addition to a slew of haters, including a batch of bigwigs. Let's take a deep dive into the A-lister feuds, frenemies, and foes that constitute the team of celebs who can't stand Rose McGowan.
If you or anyone you know has been a victim of sexual assault, help is available. Visit the Rape, Abuse & Incest National Network website or contact RAINN's National Helpline at 1-800-656-HOPE (4673).
Rose McGowan and Alyssa Milano went from co-stars to antagonistic archenemies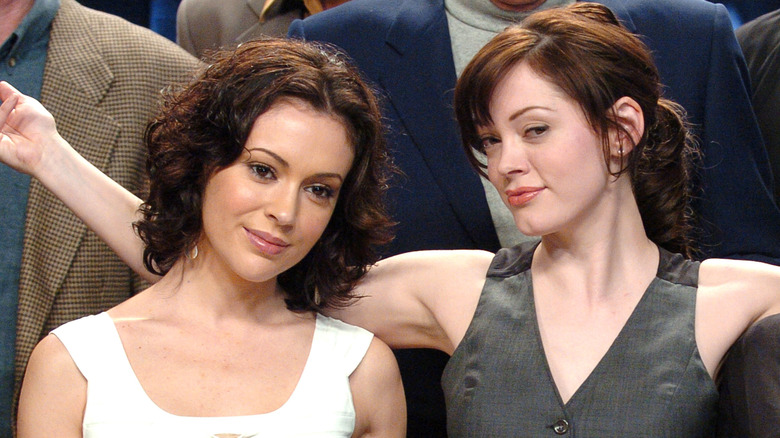 Rose McGowan and Alyssa Milano's relationship stems back over two decades, and it's been a tumultuous and bumpy affair. The two actors worked together for five years, playing half-sisters Paige Matthews and Phoebe Halliwell on "Charmed" from 2001-2006. However, things between them started becoming noxious — very publicly — around 2016, when McGowan and Milano set about sparring on social media.
At first, it was all about the politics, with Milano clapping back at her former costar in a flurry of tweets responding to McGowan questioning what the Democratic party had "done to solve ANYTHING?" Then, McGowan ramped the Twitter feud up a notch by firing off a litany of scorching slurs against Milano, including claims she's a "fraud" and that she hijacked the MeToo movement from founder Tarana Burke.
McGowan finished off by accusing Milano of making the "Charmed" set "toxic," ordering her to "get off [her] coattails," then, just for good measure, she tweeted a video clip from a 2018 "Nightline" interview where she shaded Milano for being "a lie." Milano retaliated, claiming it was Rose McGowan who was the actual phony and accusing her of sending "hyperbolic attention-seeking tweets." Oh, snap.
Amber Tamblyn put Rose McGowan on blast for 'shaming' fellow actors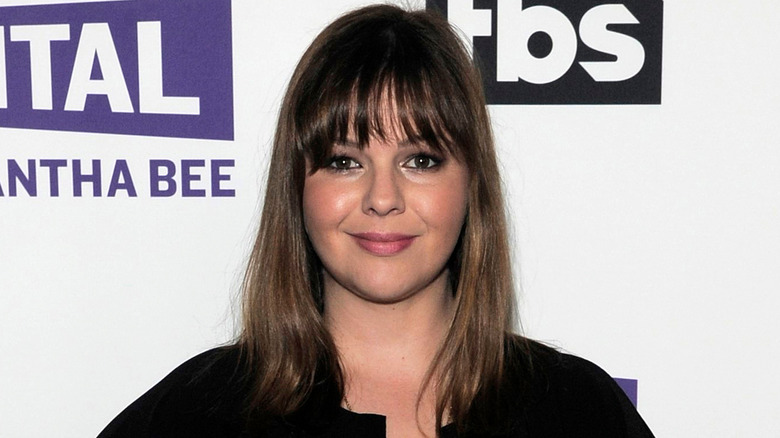 Rose McGowan managed to tip then-friend and fellow outspoken feminist Amber Tamblyn over the edge back in 2017, thanks to a series of tweets she posted criticizing actors participating in the "Golden Globes" black dress protest. "Actresses, like Meryl Streep, who happily worked for The Pig Monster, are wearing black @GoldenGlobes in a silent protest," McGowan wrote in a now-deleted Tweet, according to Vanity Fair. "YOUR SILENCE is THE problem. You'll accept a fake award breathlessly & affect no real change. I despise your hypocrisy. Maybe you should all wear Marchesa," she added, taking a jab at Harvey Weinstein's ex-wife, Georgina Chapman's clothing label.
Tamblyn wasted no time putting McGowan on blast for slamming the actors, who had chosen to wear all black in solidarity with the #MeToo movement (via Glamour). "Rose McGowan is a friend and while I support her kind of movement, I do not support any woman (or man) shaming or taunting the movements of other women who are trying to create change. Telling us to all wear Marchesa? This is beneath you, Rose," she tweeted in the first of several messages.
Ultimately, however, Tamblyn decided to take the high road, vowing, "You don't have to support and stand with us, but we stand and support you. You may take below the belt shots at us but we will not take them at you in return."
Rose McGowan and Asia Argento's friendship ended with a lawsuit threat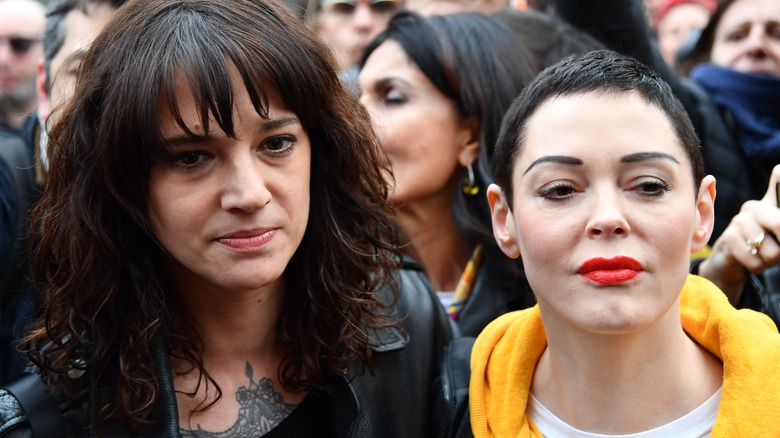 Rose McGowan and Asia Argento were once tight pals, their friendship forged by trauma. The two fought to bring awareness of sexual assault and harassment and were leading figures in the MeToo movement. McGowan and Argento were also among the first to go public with rape and sexual assault accusations against Harvey Weinstein.
The June 2018 suicide of Argento's partner, Anthony Bourdain, strengthened their relationship further, as McGowan comforted her friend following the tragedy. However, cracks began to appear two months later after Argento was accused of paying $380,000 to a former co-star. Per The Guardian, Jimmy Bennett alleged the actor sexually assaulted him in 2013 when he was 17-years old. Argento vehemently denied the allegations, insisting Bourdain had given Bennett the money to help him through a financially challenging time.
Rose McGowan waited a week before responding in a statement to the press, expressing her support for Bennett, severing her friendship with Argento, and adding some explosive accusations of her own. According to a statement published by Rolling Stone, McGowan claimed Argento had allegedly told her then-partner Rain Dove that "she'd been receiving unsolicited nudes of Jimmy since he had been 12." Argento immediately shot back, threatening to sue McGowan for "substantial damages for deception, fraud, coercion, and libel" unless she retracted her "false statements" (via Deadline). McGowan complied and publicly apologized to Argento, who celebrated by getting a "revenge tattoo" — a dagger with a single drop of blood.
If you or anyone you know has been a victim of sexual assault, help is available. Visit the Rape, Abuse & Incest National Network website or contact RAINN's National Helpline at 1-800-656-HOPE (4673).
Sarah Jeffery battled with Rose McGowan over Charmed reboot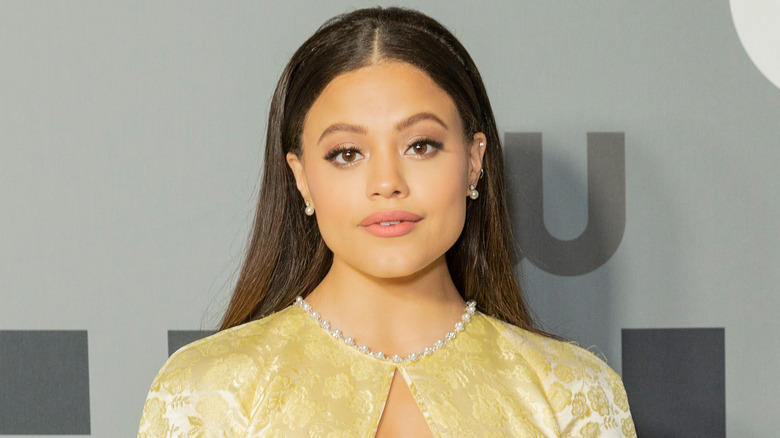 When the CW decided to reboot "Charmed," it went down like a lead balloon. According to Nielson (via The Wrap), the show scored an average of 346,000 viewers over three episodes in March 2021, making it the least-watched broadcast TV show. Holly Marie Combs, Shannon Doherty, and Rose McGowan, who all starred in the original series, were among some of the most vocal critics.
However, it was an Instagram video (via Daily Mail) that Combs and McGowan made mocking the show that sparked a bitter battle with one of the new stars, Sarah Jeffery. In the video, McGowan said the reboot "sucks," but she was "happy people have jobs." One fan was quick to shoot down the critique and accuse the pair of racial bias, claiming in a tweet, "It really doesn't sit right with me that white women from the OG charmed consistently put down a new #Charmed with a POC cast.."
But, it was Jeffery who really put Combs and McGowan on blast, tweeting that she found it "sad and quite frankly pathetic to see grown women behaving this way." Rose McGowan hit back in her Instagram Story (via Yahoo! News), "Dear Sarah Jeffery, I honestly had no idea who you were til you tweeted. I have been too busy fighting monsters & fighting for a massive cultural reset to notice who is in the reboot," she wrote.
Alec Baldwin branded Rose McGowan a 'tragic front person' for the MeToo movement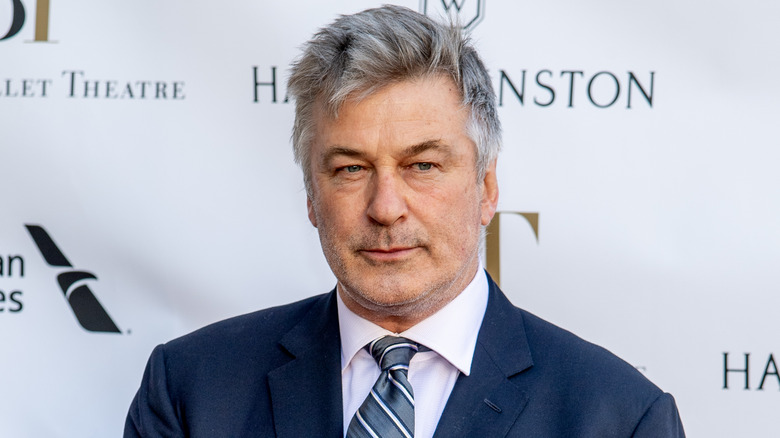 Alec Baldwin is renowned for his explosive temper and epic feuds. At the same time, Rose McGowan never backs down from a good old-fashioned Twitter brawl, so it was only a matter of time before the two butted heads. After Baldwin sat down with Jeffrey Brown for an interview with PBS to promote his new book, it all kicked off.
Brown grilled Baldwin about his reputation for "bullying" women and pressed him to "define" how his past actions differed from "harassment" or "misconduct." Baldwin explained, "we just innately treat women differently because men have typically been in charge" before going on to admit, "and that's something I think needs to change." The conversation inevitably turned to Harvey Weinstein, and Baldwin criticized Rose McGowan for reportedly agreeing to take a $100,000 settlement fee instead of taking her accused rapist to court.
McGowan hit back hard, calling Baldwin a "baby man" and "scum bucket" in a series of tweets. Her response sparked a vicious social media war that became so heated that the SNL star announced he was quitting Twitter — which has become somewhat of a habit over the years. However, Baldwin wasn't done with McGowan; he ramped the feud up a gear in an interview with The Hollywood Reporter, claiming the actor is "a tragic front person for [the #MeToo] cause" and akin to "one of the Crips — the head of her own gang."
Tucker Carlson slammed Rose McGowan for 'extreme' and unreasonable behavior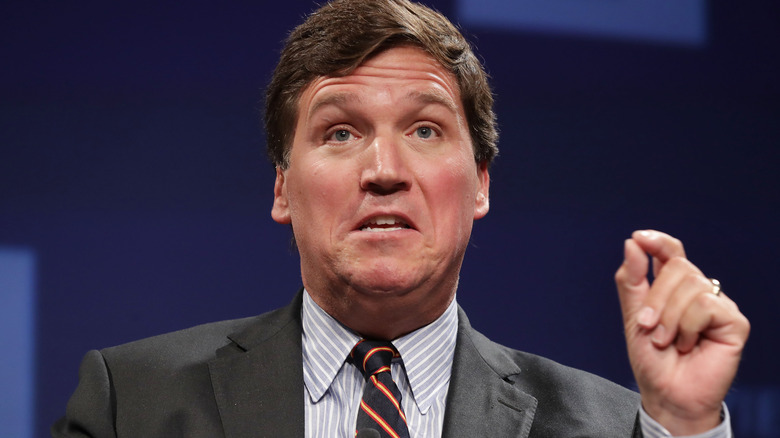 Tucker Carlson loves to insert himself into the middle of a controversy, and that's what he did when he defended Matt Damon for seemingly downplaying the actions of disgraced comedian Louis C.K. "I imagine the price that he's paid at this point is so beyond … I just think that we have to kind of start delineating between what these behaviors are," Damon said during an interview on ABC News' "Popcorn with Peter Travers."
The "Bourne Identity" star had previously come under fire from Rose McGowan, who slammed him for not speaking up about the Harvey Weinstein scandal. "Hey @mattdamon what's it like to be a spineless profiteer who stays silent?" McGowan tweeted the actor.
Enter Tucker Carlson, who waded into the fray during a segment on his Fox News show. After vigorously defending Matt Damon's comments, Carlson went on to attack McGowan, claiming "the least reasonable, the most extreme voices" such as hers "got louder by the hour" and drowned out detractors. "[She] ordered the media to stop using the word 'alleged' when describing claims of sexual misconduct. In other words, everyone accused is guilty. If you deny that, you're guilty, too," Carlson claimed. "Weirdly, almost nobody in the media pushed back against Rose McGowan's demand. Before long, they may have to obey her. She has nearly a million Twitter followers. She's calling the shots."
Germaine Greer attacked Rose McGowan for bagging 'billions of dollars of free publicity'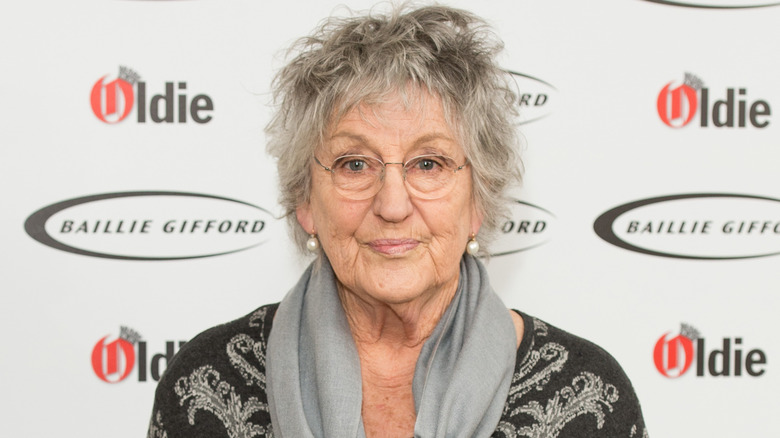 Germaine Greer is famous for her controversial opinions, and she isn't afraid to share them. The feminist writer went public with her thoughts about celebrities and the #MeToo movement during a speech to kick off the Jaipur Literature Festival in India.
Greer claimed female actors might choose to sleep with men in return for a movie role, resulting in execs running to attorneys for NDAs in fear they'll be accused of sexual misconduct. However, Greer opined, these same stars would eventually go public anyway. "You sign the NDA and get paid a six-figure sum, you spend the money, and then think, 'I think I'll tell my story now.' And I'll tell you something else; it's going to go nowhere. Watch this space. What they've got out of it is billions of dollars of free publicity," the writer said (via TheNational).
When asked who she believed was using #MeToo for PR, Greer alleged, "Rose McGowan. You want me to name them all? There are a lot of them." Not surprisingly, McGowan wasn't happy about being accused of profiteering from a movement she's dedicated her life to, sacrificed her career for, and even risked being imprisoned over — after, she claims, cocaine was planted inside her wallet in a bid to "silence" her (via The Guardian). McGowan clapped back in her trademark style via social media. "Germaine Greer. You are a fail and a fraud," she tweeted.
Katie Hopkins attacked Rose McGowan in a video rant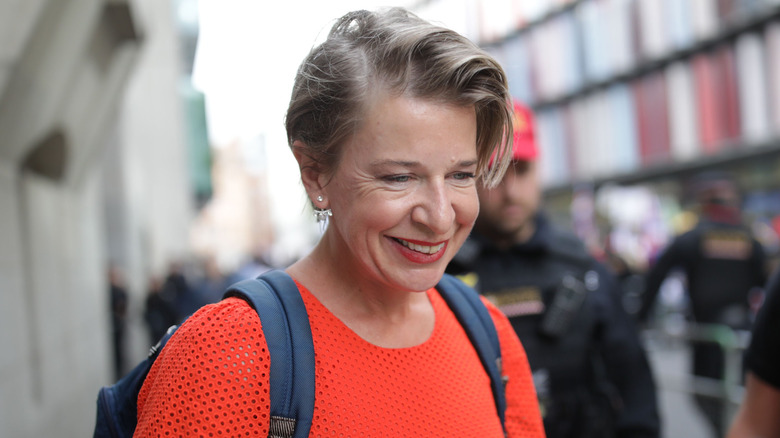 There isn't a publicity-attracting trolling bandwagon that writer, far-right mouthpiece, and sometimes reality TV star Katie Hopkins hasn't jumped on. So, it was a no-brainer that she would have Rose McGowan in her crosshairs at some point. That moment arrived in January 2020, and it came via a video rant Hopkins posted on YouTube.
Hopkins took umbrage at a post from McGowan, apologizing to Iran for the actions of the USA. "Dear #Iran, The USA has disrespected your country, your flag, your people. 52% of us humbly apologize. We want peace with your nation. We are being held hostage by a terrorist regime. We do not know how to escape. Please do not kill us. #Soleimani," she wrote in a tweet that's since been deleted (via Deadline).
British-born Hopkins, who's not an American citizen or even resident, laid into McGowan while standing in front of a giant US flag. "You don't speak for anyone else; you certainly don't speak for 52 percent of Americans just like myself; you only speak for you," she said. Hopkins went on to claim that she "doubted" even 2 percent of Americans would agree with McGowan's views and that they were "probably crazy vegans and people who marry their own brothers." Hopkins finished off her rant by suggesting it was "time" for McGowan to leave the U.S. and that she's heard "Afghanistan is particularly nice at this time of the year."
Rain Dove and Rose McGowan's relationship turned toxic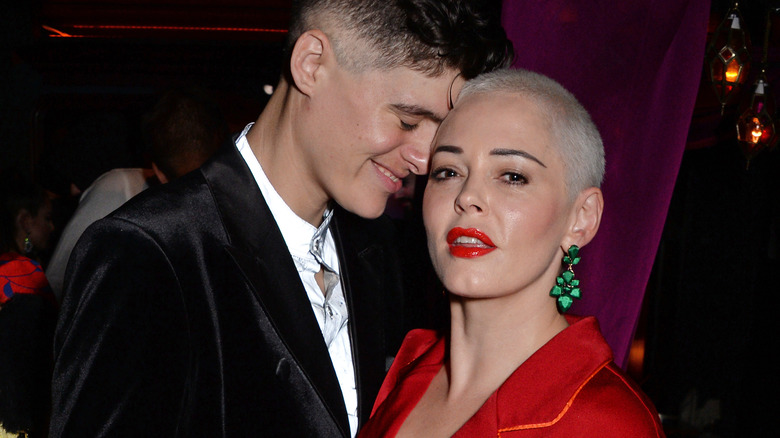 Rose McGowan and non-binary model Rain Dove went public with their relationship in July 2018. McGowan and Dove opened up about their romance in an interview with PinkNews, sharing that Dove had come over to McGowan's house to offer advice while she was battling accusations of transphobia. McGowan had come under fire after engaging in a heated exchange with a trans woman who confronted her during a book signing for her memoir "Brave." McGowan and Dove were together for two years before their relationship became toxic, resulting in an acrimonious split.
After Dove was accused of selling "incriminating texts" from McGowan's friend Asia Argento, purportedly admitting to having sex with a minor, things started going rapidly downhill for the couple. Dove later admitted that they sold the messages in a since-deleted video posted on YouTube (via NBC News). Dove then confessed to cheating on Rose McGowan with two different people. 
Per Metro, Dove also claimed that they'd been told McGowan was only in the relationship because of the transphobia accusations she was facing — and there was no coming back for the couple from that point. "Does anyone out there know how to fix a Wikipedia entry? I broke up with my ex 6 months ago and they are still listed as my partner," McGowan later tweeted following the video's release. "I would like my name to be cleared of association."
If you or someone you know may be the victim of child abuse, please contact the Childhelp National Child Abuse Hotline at 1-800-4-A-Child (1-800-422-4453) or contact their live chat services.
Billy Corgan tried to break up Rose McGowan and Marilyn Manson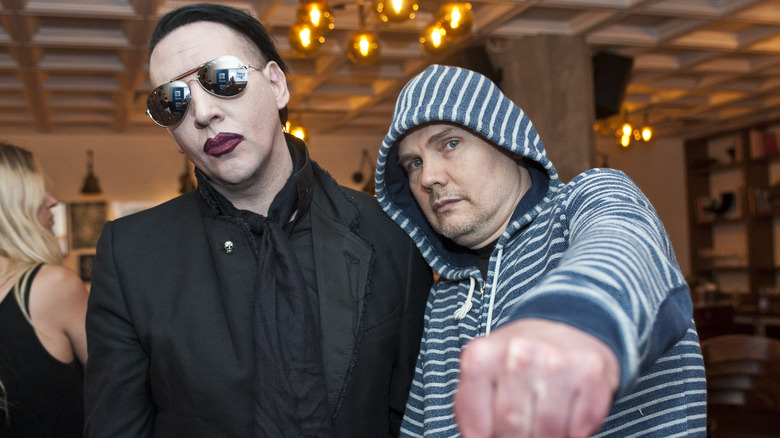 It's safe to say Billy Corgan isn't a fan of Rose McGowan; in fact, the actor has been blamed for sparking an alleged feud between the Smashing Pumpkins' lead singer and his longtime friend, Marilyn Manson.
McGowan and Manson, whose real name is Brian Warner, started dating in 1997 and were engaged to be married for two years before splitting in 2001. McGowan later admitted to Andy Cohen during an interview on "Watch What Happens Live" (via ET) that the break-up was fueled by "Scarface" behavior. "He did too much blow, and you were not down for it?" Cohen asked. "It was me, it was me," McGowan confessed before back peddling. "Actually, I don't know. I plead the Fourth [instead of Fifth]… I'm honest; always, I can't help it."
Manson alluded to the chaos that accompanied dating McGowan in an interview with Esquire, admitting it wasn't the healthiest of relationships and that Corgan had warned him not to get involved with her. "He wrote a strongly worded letter about how Rose McGowan would ruin my life and ruin my career if I stayed with her, which was good advice," Manson said. "And he wrote it as a letter, which is very polite. There is sort of a guy code that I abide by where he totally offered his advice, and he was genuinely just looking out for my best interests."
Source: Read Full Article