The CBS comedy shows The Neighborhood and Bob Hearts Abishola return in November with brand new episodes. After skipping a week, the Cedric the Entertainer sitcom comes back with a Halloween episode. In Bob Hearts Abishola, Gina Yashere's Kemi looks to take the focus as she fights "for the love of her life" in a promo trailer for episode 6, "The Devil's Throuple."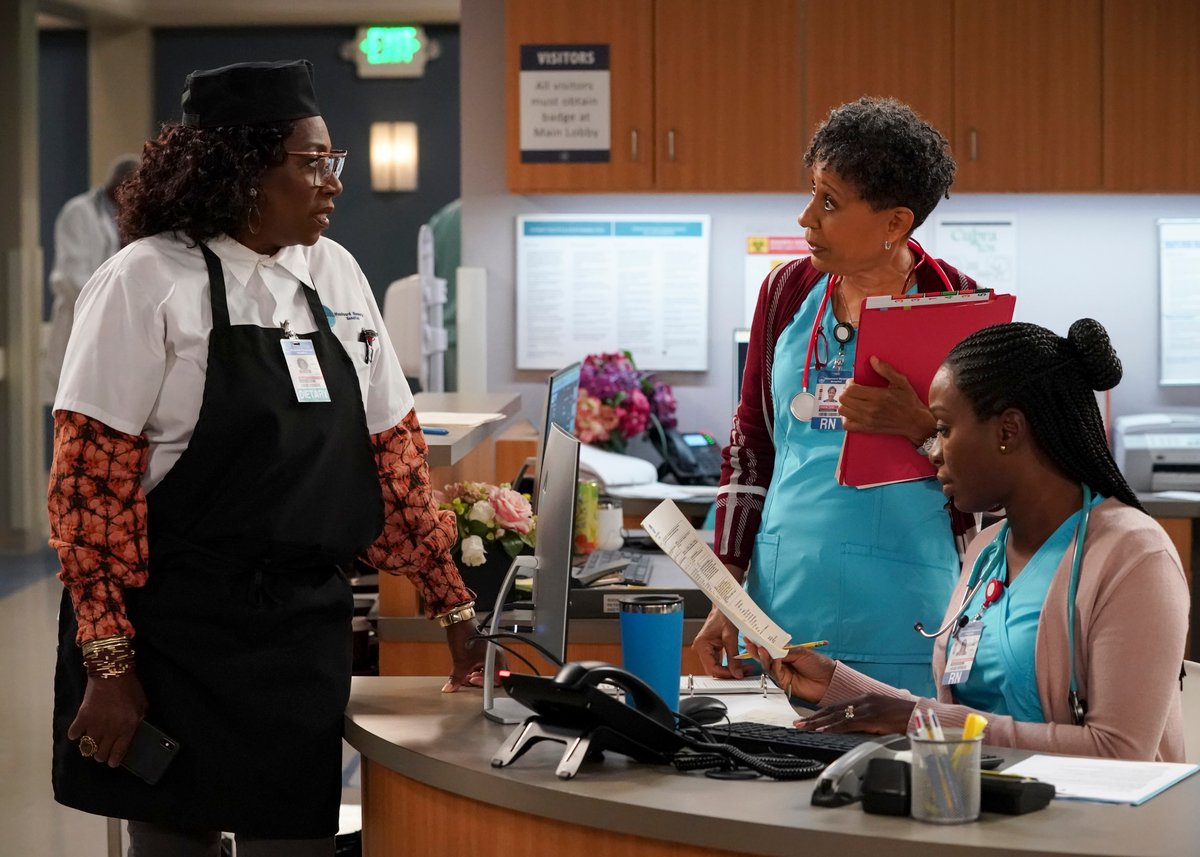 In 'Bob Hearts Abishola' Episode 6 'The Devil's Throuple,' Gina Yashere's Kemi works on her love life
While Billy Gardell's Bob and Abishola married early in season 3, Kemi still has a ways to go in her love life.
Abishola, Gloria, and Kemi all sat in their usual seats at lunch in the hospital. However, Kemi remained hard at work on another project on her computer.
"I'm sorry, but I am desperate," she said in the promo. "I am fighting for the love of my life!"
Tony Tambi's Chukwuemeka briefly dated Abishola before she decided to continue seeing Bob. However, Gina Yashere's Kemi swooped in to date the Nigerian pharmacist afterward. However, Toni Danner's Morenike joins their equation as a 'plus one.'
The Gina Yashere character tends to make things more dramatic. Bob Hearts Abishola Season 3, Episode 6 seems to have that on full display.
Bob and Abishola plan their honeymoon while Gina Yashere's Kemi deals with her issues
While Kemi sees her love life spiral in Bob Hearts Abishola Season 3, Episode 6, the titular couple have an easier plot.
The CBS promo also showed Bob and Abishola on their usual park bench. While adjusting to living with Bob's mom, Christine Ebersole's Dottie, the two have started settling into married life.
One more part of the equation, though, is their honeymoon.
Bob suggests they look at visiting Greece. Of course, the first thought on his mind is Greek cuisine.
Folake Olowofoyeku joked that his choice of honeymoon destination revolved around food.
Matt Jones' Douglas tries to buy a car on the company's dime in the 'Bob Hearts Abishola' episode
The Bob Hearts Abishola Season 3, Episode 6 promo trailer was not the only peek fans got at the next episode.
Instead of focusing on Gina Yashere's Kemi, the sneak peek found Matt Jones' Douglas staying late after work. Douglas' devotion to the job impressed Bob. At least, it did before he realized what Douglas planned.
Both Douglas and his sister, Christina (The Big Bang Theory's Maribeth Monroe), started the serious as somewhat lazy and entitled. While they both developed, some habits die hard. Bob immediately shot down Douglas' request.
While the episode's drama looks to come from Kemi and Chukwuemeka, the other characters have their own issues.
Bob Hearts Abishola Season 3, Episode 6, returns on November 1, 2021.
Source: Read Full Article