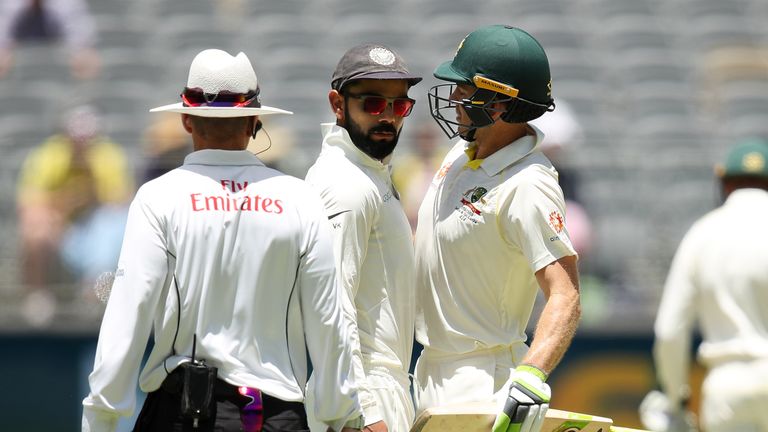 Australia captain Tim Paine and India skipper Virat Kohli became embroiled in a verbal altercation on day four of the second Test in Perth.
Paine had promised Australia would tone down their words under his stewardship, while Kohli suggested before the series that he would only engage in sledging if the Baggy Greens started it.
However, the pair clashed in the middle at Perth Stadium on Monday, while Paine helped bat Australia to a total of 243 in their second innings as they set India 287 to win.
Umpire Chris Gaffaney stepped in after Kohli questioned Paine's batting technique, while the pair also physically collided when Paine ran down the pitch for a single and Kohli tried to collect the ball.
Great session of cricket for Australia. Love seeing both batsman fight hard & not throw their wickets away, but tough it out. Very impressed with Tim Paine on all levels. The Indian skipper he's box office & good for the game. Lastly, this innings will be the making of Khawaja
Paine was later caught on the stump microphone questioning whether India's players liked Kohli as they batted in their second innings.
"I know he's your captain but you can't seriously like him as a bloke?" said Paine, before India closed on 112-5.
Words were also exchanged between the pair on the third evening when India appealed to have Paine caught behind, with Kohli saying: "If he messes it up, it's 2-0." Paine replied: "You've got to bat first, big head."
Former Australia seamer Mitchell Johnson told Fox Cricket: "Look, I don't mind the battles out there but if you're (Kohli) going to say something in the papers or in the media and go against your word you've to expect something in return."
Source: Read Full Article