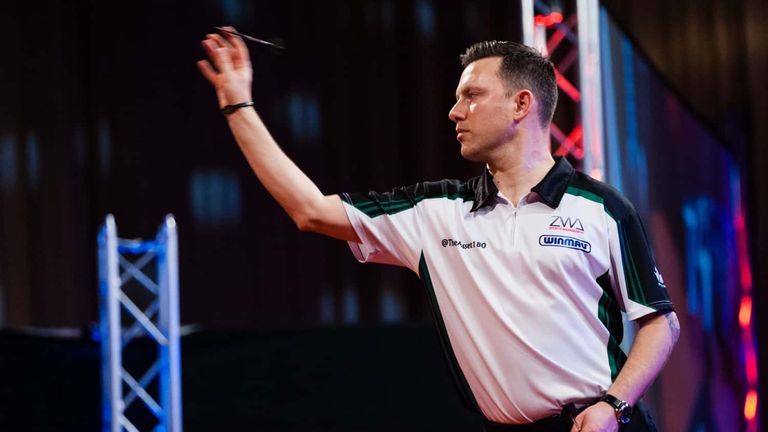 Paul Nicholson admits he's taken a risk by opting to not to enter 2019 Qualifying School, but he revealed he's feeling "refreshed" and "hungry" as he targets a return to PDC action in 2020.
Nicholson has been an ever-present on the PDC circuit over the last decade, but he surrendered his Tour Card after finishing outside of the world's top 64 at the end of the 2018 season as results conspired against him at Ally Pally.
DOWNLOAD THE DARTS SHOW PODCAST
'The Asset' has juggled playing commitments with media work over recent years, and speaking to the Darts Show podcast, he revealed the reason behind his decision not to enter Qualifying School.
"After I'd covered the World Championship for the radio and then obviously went straight to Lakeside after that, I just felt that everything went against me at Ally Pally," Nicholson said.
"If I had beaten Kevin Burness I'd have kept my card so it's entirely my own fault, it's not the fault of Devon Petersen or Luke Humphries or Nathan Aspinall.
"I just felt when your game gets to a certain point that is no longer good enough to be in the top 64, you think to yourself: Am I the kind of guy who wants to just survive in the top 64 or do I want to find a way again of being where I want to be, which is a top-16 player."
The former Players Champion reached the semi-finals of the Gibraltar Darts Trophy in June which saw him qualify for the European Championship, where he was beaten by Michael van Gerwen.
Thanks for having me on Paul. It was a pleasure talking to yourself, @MichaelBridge_ and @ColinJawsLloyd. I look forward to hearing the show. https://t.co/dsT89iy9Rd
The 39-year-old then succumbed to Burness in round one at the Ally Pally, with the unlikely runs of Aspinall, Humphries and Petersen forcing Nicholson to relinquish his Tour Card.
"I actually feel that I played a lot better in 2018 than I have in the last three or four years, and that still wasn't good enough to maintain a standard of a top-64 player," Nicholson said.
"My thinking was: 'You go to Q-School, you're going to have a knee-jerk reaction, you're probably going to get flogged by a lot of young hungry talent when you're really exhausted from lots of media work'.
"I thought the smart move was to step away and say I'm going to do everything on my timetable this year and fix my game the way I want to fix it, and for the first time in a decade, I've got the opportunity to look at my game under a microscope and see what I need to do to get back there."
Nicholson admits he is constantly analysing whether he has made the right decision to take a brief hiatus from competitive action, but insists his hunger remains intact.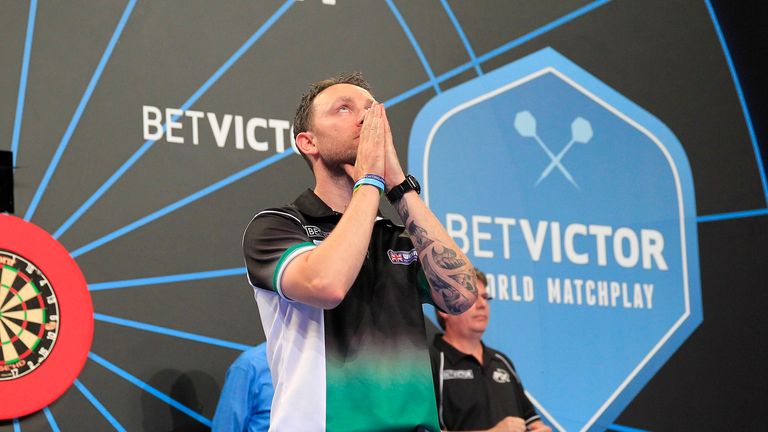 "If there was an application for 2020 Q-School now I would sign it, so I can't wait for Q-School 2020."
Nicholson on next year's Q School
"I'm thinking about everything from every angle," said the former World Cup finalist.
"I'm thinking have I made the right choice and how am I feeling right now? That is the question I'm asking myself every morning around 10 or 11 o'clock when I'm having a throw.
"Every day I'm asking myself how am I feeling about this situation and there have been quite a few days in the last four weeks where I've said I feel absolutely terrible about this because I want to be there, but I'm feeling very refreshed and more hungry as time goes on.
"If there was an application for 2020 Q-School now I would sign it, so I can't wait for Q-School 2020. I'm practising 30-45 minutes per day at the minute and I'm just looking at every aspect of my game and thinking: 'Do you know what, there's something I can improve on today'.
"Ultimately Q School came too quickly this time. I wasn't going to be ready for it so what was the point in going? But come 2020 I know I'll be ready."
Live Premier League Darts
February 28, 2019, 7:00pm
Live on
The recent World Championship saw an influx of fresh young talent emerge, with Aspinall, Humphries and Chris Dobey all impressing.
The trio were subsequently chosen as 'contenders' to replace the injured Gary Anderson in the Premier League, with Dobey drawing with Mensur Suljovic on Night One, and Nicholson has paid tribute to the fearless approach adopted by the current crop.
"I remember when I walked into my first Pro Tour and I looked at the likes of yourself [Colin Lloyd], Steve Beaton, Phil Taylor, Robert Thornton in the early part of his PDC career, Gary Anderson and you actually question yourself, am I good enough to be here?" Nicholson added.
"These kids now have come through Q-School, they've come through the Development Tour and obviously the Challenge Tour; they come in with such confidence that they don't feel that they've got anything to be afraid of. They feel they can pounce on the fact that they're an underdog and use that to their advantage.
"I look at the likes of Van den Bergh who I don't feel has been frightened of anybody through his whole career. They're almost taking the sky-high confidence aspect of Van Gerwen and running with it. They're trying to live up to that and when people walk into the arenas it's not about being afraid, it's about being confident and actually being fearless."
The Premier League heads to 3Arena in Dublin for night three on Thursday, February 21. You can also stay up to date with all the action by following us @SkySportsDarts and get all the latest news, previews and interviews www.skysports.com/darts
Source: Read Full Article