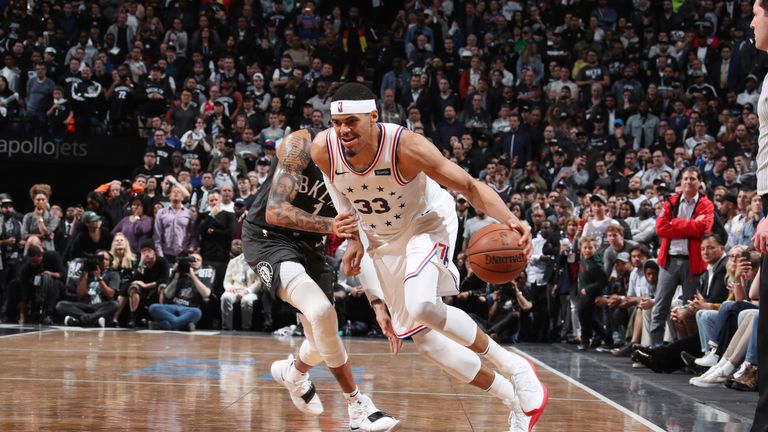 Joel Embiid was the star as the Philadelphia 76ers took control of their series with the Brooklyn Nets with victory on Saturday night, while the Milwaukee Bucks cruised to another win over the Detroit Pistons in Saturday's other Eastern Conference match-up.
Saturday's playoff scores
Philadelphia 76ers 112-108 Brooklyn Nets
Mike Scott hit a three-pointer with 18.6 seconds remaining to lift the visiting Philadelphia 76ers past the Brooklyn Nets 112-108 to take a 3-1 lead in the Eastern Conference opening-round playoff series on Saturday.
Joel Embiid, returning to the line-up after missing Game 3 with his ongoing knee problem, led the Sixers with 31 points, 16 rebounds, seven assists and six blocked shots, while Tobias Harris added 24 points.
Ben Simmons had 15 points, eight rebounds and eight assists for Philadelphia, who will attempt to seal the series win back on home court on Tuesday.
Caris LeVert led the Nets with 25 points while Jarrett Allen and D'Angelo Russell had 21 apiece for Brooklyn, who were without forward Ed Davis with a sprained right ankle.
Back-to-back three-pointers from Jared Dudley had earlier helped earn the Nets a 63-57 half-time lead, before an ill-tempered third period which saw Embiid given a flagrant for a hard foul on Allen and Dudley and Jimmy Butler ejected for their part in the scuffle that followed.
After the 76ers missed nine of 10 shots, Russell's deep three-pointer gave Brooklyn a 99-93 advantage.
Game leaders
76ers
Points: Joel Embiid – 31
Assists: Ben Simmons – 8
Rebounds: Joel Embiid – 16
Nets
Points: Caris LeVert
Assists: Caris LeVert, D'Angelo Russell – 6
Rebounds: Jarrett Allen – 8
But Embiid responded with a spinning shot from the post and a vicious dunk as he burst into the paint to make it 101-100 and after Russell knocked down a jump shot with 1:26 left, JJ Redick then drained a clutch three-pointer to put Philadelphia 107-106 ahead with 50 seconds remaining.
Joe Harris then took a pass from Russell in the lane to get the Nets ahead 108-107 ahead with 25 seconds to go, only for Scott to have the last say and leave Brooklyn with it all to do to stay in the series.
Milwaukee Bucks 119-103 Detroit Pistons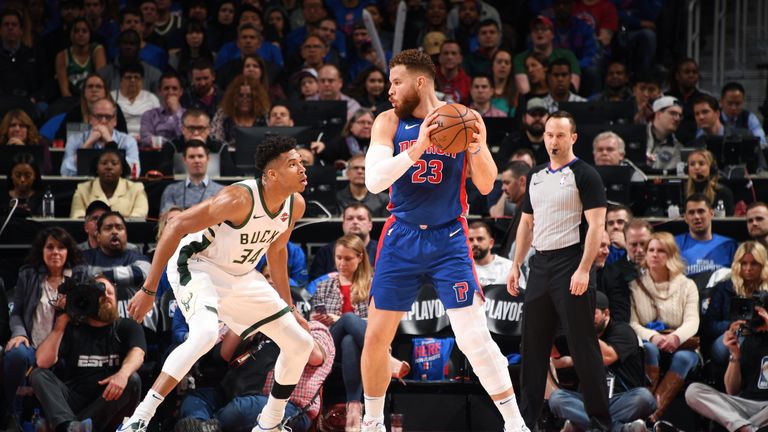 Blake Griffin returned for the Detroit Pistons but he could do nothing to prevent his team falling to a 3-0 series deficit to the Milwaukee Bucks on Saturday night.
Khris Middleton recorded 20 points and nine rebounds, while Brook Lopez recorded 19 points, seven rebounds and five blocked shots to help the Bucks notch a 119-103 victory in the Eastern Conference first-round series.
Game leaders
Bucks
Points: Khris Middleton – 20
Assists: Eric Bledsoe, George Hill – 5
Rebounds: Giannis Antetokounmpo – 10
Pistons
Points: Blake Griffin – 27
Assists: Reggie Jackson – 8
Rebounds: Andre Drummond – 12
Eric Bledsoe also scored 19 points with MVP favourite Giannis Antetokounmpo registering 14 as the top-seeded Bucks found some balanced scoring in this one-sided series.
Nikola Mirotic had 12 points and George Hill chipped in 11 for the Bucks.
Griffin had 27 points, seven rebounds and six assists in 31 minutes in his first appearance in the series due to a left knee injury, but the Pistons have now lost 13 straight playoff games dating back to 2008 – matching the dubious all-time NBA mark set by the New York Knicks between 2001 and 2012.
Source: Read Full Article