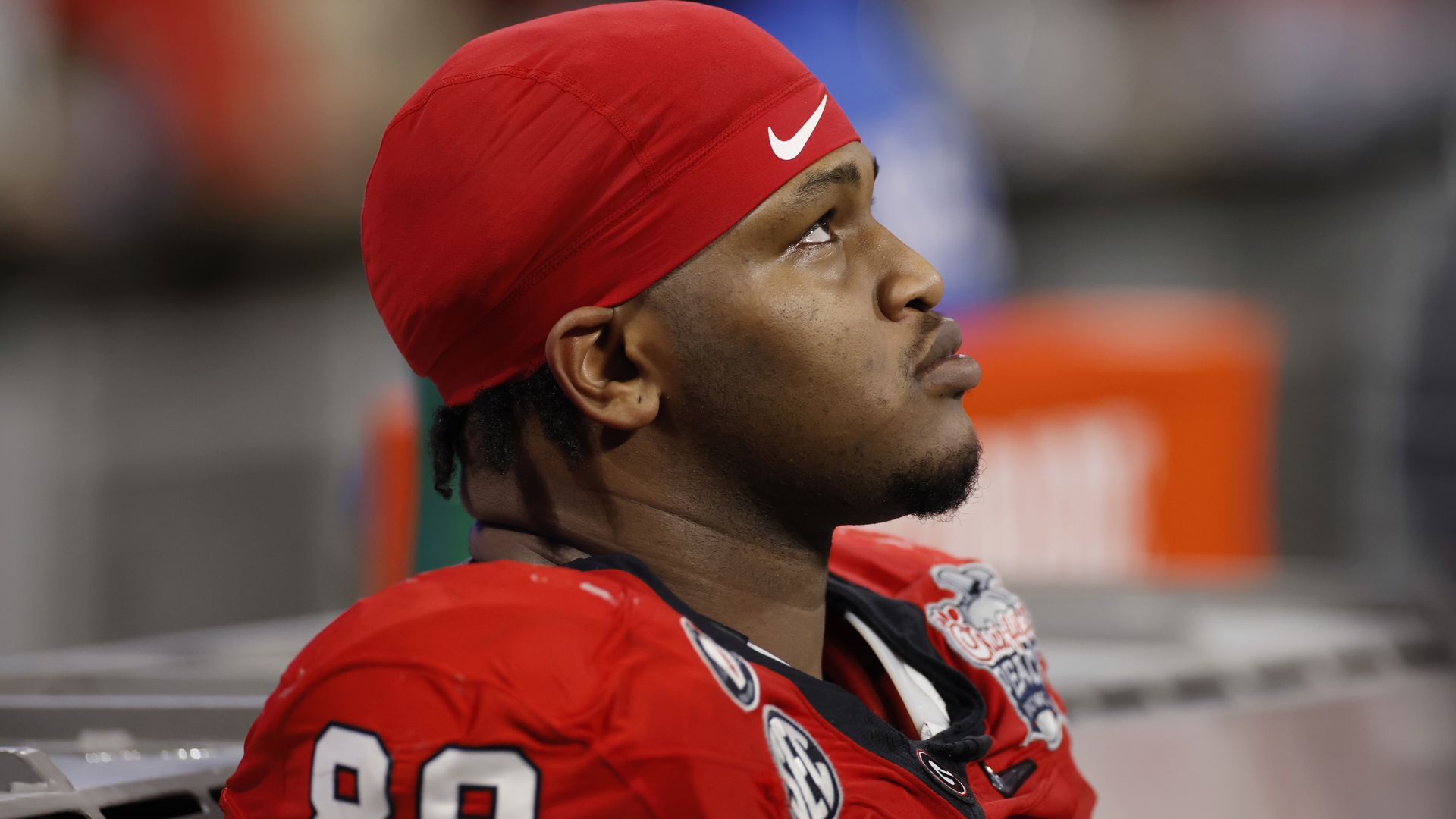 Georgia Bulldogs defensive lineman Jalen Carter looks on during a game against the Ohio State Buckeyes. Photo: Joe Robbins/Icon Sportswire via Getty Images
Georgia defensive lineman Jalen Carter — a projected top pick in the upcoming NFL Draft — was charged Wednesday with reckless driving and racing for his involvement in a January crash that killed two others.
Driving the news: The wreck, which killed Carter's teammate Devin Willock and Georgia recruiting analyst Chandler LeCroy, happened hours after the Bulldogs celebrated winning their second straight national championship.
Details: The Athens-Clarke County Police Department said in a press release Wednesday that Carter, who drove a 2021 Jeep Grand Cherokee Trackhawk that night, and LeCroy, driver of a 2021 Ford Expedition, operated their vehicles "in a manner consistent with racing."
"The evidence demonstrated that both vehicles switched between lanes, drove in the center turn lane, drove in opposite lanes of travel, overtook other motorists and drove at high rates of speed, in an apparent attempt to outdistance each other," per the release.
Police said LeCroy's vehicle reached a speed of 104 miles per hour.
Willock died at the scene of the crash due to injuries, while LeCroy died from injuries after being brought to a local hospital, per the Atlanta Journal-Constitution.
Police said LeCroy's blood alcohol concentration was 0.197 at the time of the crash, more than twice the legal limit in Georgia.
What they're saying: In response to the charges, Carter posted a statement that read, in part, "There is no question in my mind that when all the facts are known that I will be fully exonerated of any criminal wrongdoing."
Georgia coach Kirby Smart said the charges were "deeply concerning, especially as we are still struggling to cope with the devastating loss of two beloved members of our community. 
"We will continue to cooperate fully with the authorities while  supporting these families and assessing what we can learn from this horrible tragedy," Kirby added.
Source: Read Full Article