Meguru Yamaguchi is gearing up to launch his first-ever museum exhibition in Tokyo, Japan. Titled "YOUR OLD FRIEND," the momentous presentation will feature seven new works featuring Yamaguchi's sculptural paintings of his signature brushstrokes. The centerpiece of the show will be an immersive installation, in which the artist has reproduced his entire New York studio, in one of the gallery rooms. The show also signals the artist's return to Japan after ten years.
Accompanying the new works are a selection of early works including portraits and paintings which Yamaguchi created when he attended preparatory school in Japan back in the early 2000s. Moreover, a series of limited edition prints featuring Yamaguchi's paintings captured by Japanese photographer Jiro Konami will also be up for grabs at the presentation. Altogether, the exhibition acts as a retrospective that chronicles Yamaguchi's artistic journey, beginning with his earliest pieces when he was still a student attending university in Tokyo to his latest works as a celebrated contemporary artist.
"YOUR OLD FRIEND" is running from October 31 until November 16. Check out our exclusive interview with the artist below and then visit PARCO Museum's website for more details.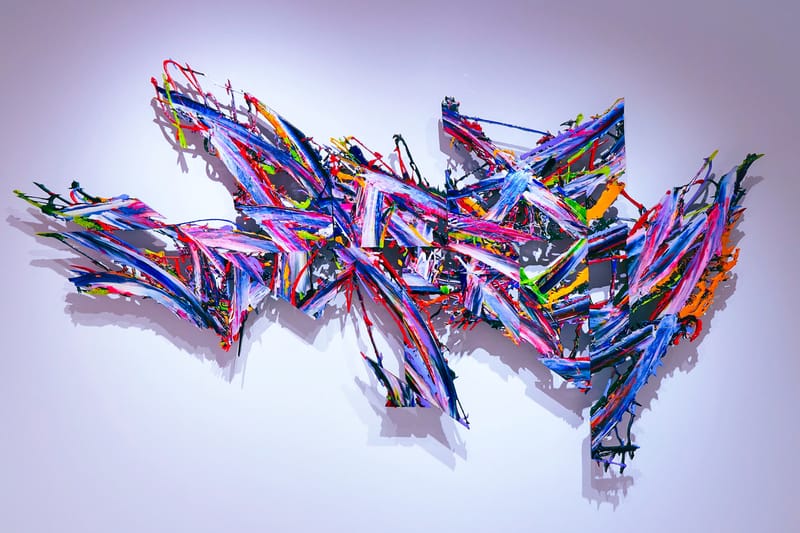 HYPEBEAST: How did this presentation with PARCO MUSEUM come about? Describe the collaboration process.
Meguru Yamaguchi: I think it was in 2001 when KAWS' first Tokyo exhibition was held at PARCO MUSEUM. I saw the exhibition, and I think I can fairly say that that exhibition is one of the reasons why I moved to New York. Before the KAWS show, all I knew was Impressionist and classical art. So, when I went to the museum and saw all these depictions of characters and the way vivid colors were applied, I really liked the styles of artworks since then. I felt that the expression was so free from anything. And these works were sold in such a high prices too which is also another reason for me diving into this kind of work. At the time, I vaguely had an idea that I could be a very successful artist too this way. So, this exhibition was one of the introductions for me to walk into an art worlds.
You haven't stepped foot in Japan in the past 10 years, what's it like visiting your home country after so long? How has the country changed since you last visited?
To describe my last 10 years in short, I'd call it "A Prison of Dreams". Because I came to New York with an aspiration to become a painter but it turned out that I was fallen in a situation where I could not go back to Japan for 10 years. This obviously led to consequences like, unable to attend funerals of my dearest grandmothers and grandfather, and so on — just countless limitations and distress. For a long time period, I dreamt I was in Japan. So many things happened in these 10 years and it felt too long.
And yet, me and my friends still have the same dreams in our hearts since we first came to New York, and some are experiencing exactly the same emotions I have now. So, it has really been a survival decade for me but it was with tremendous supports from friends and others, or with the supports I could give to others. This made me building up a very unique and special bond with friends here — different from the ones I have in Tokyo.
Considering it's your first show in Tokyo in a decade, what does this show mean to you?
"YOUR OLD FRIEND" can be like a letter to myself of 20 years ago who aspired to be a painter, to let him show and to make him feel completely mind-blown. I would hope him to be hit by the same degrees of inspiring impact by seeing KAWS show at PARCO MUSEUM in my teenage years, or by seeing Deitch Projects in New York. I hope these kinds of emotions could also be felt by young visitors.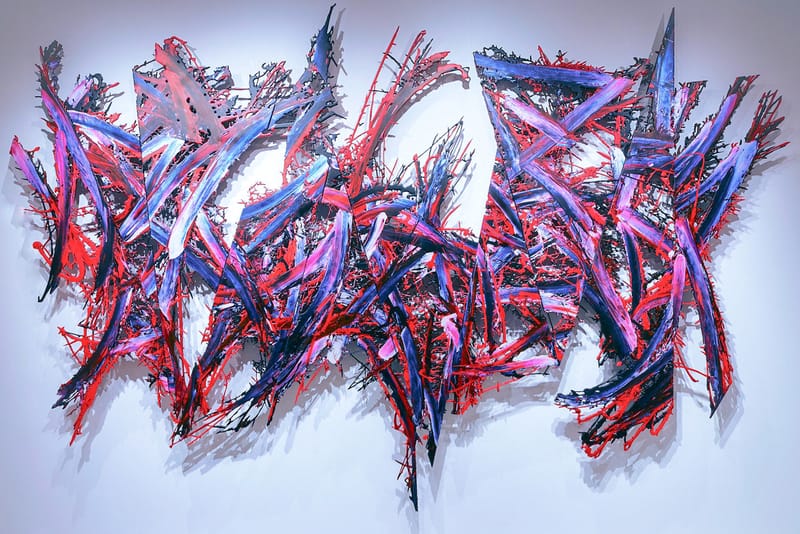 Tell us about "YOUR OLD FRIEND." What are some of the new works that you are presenting? Any new techniques?
"YOUR OLD FRIEND" means myself who still does drawing and painting every single day. I go back to Shibuya, my hometown for the first time in the last 10 years and 20 years has just passed since I saw KAWS show at PARCO, and yet I am still chasing my dreams I had back then. "YOUR OLD FRIEND" also means my old local friends, high school mates, friends we become through a preparatory for art universities, and foremost, it also means painting itself — it is one of my oldest friends. I think the wording "YOUR OLD FRIEND" tells my life quite nicely. An original inspiration of the word itself actually came from the conversations made with Hiroyuki Seo who does rad photography, and Ryosuke Tanzawa who always does epic MVs.
You also have several pieces on display that were made while you were attending university back in 2000. Describe these pieces.
"YOUR OLD FRIEND" is my first museum show. So, I thought it'd be nice if visitors could get an idea of how my approaches to painting has changed through time and for this reason I brought my oil painting which was inspired by Richter's works of realism, or an acrylic of spooky mushroom that I drew with ketchup plastic bottle every night at my dad's atelier in Jinnan, in Shibuya when I was in a preparatory school. I even brought a portraiture that I made after I came to New York. Now, it's crystal clear that you can see I was trying so many different styles or to find my own style.
Also, I'm super grateful that I could borrow some of these early works from collectors who kindly let me exhibit them in "YOUR OLD FRIEND." I thought I would not be able to see these works ever again, so, I am filled with gratitude. As I'm seeing them all come together now, I realized that my trials and efforts were never be wasteful. Each piece has allowed me to walk a singular, unbeaten path.
How long are you staying in Japan? Any places you have planned to see and check out?
I am lucky enough to do an inauguration show for +81 gallery Kyoto, in Kyoto which newly opened on the 23rd October, and I will be there in the afternoon on the 7th of November. Our family moved from Ebisu to Fukuoka City in the last 10 years, so I will visit there too. I have a mural project for Seibu Shibuya that I will start in November. During this stay I actually wanted to visit a temple that has a huge ceiling painting of Hokusai (Hokusai Katsushika), but I guess I keep this visit for the next time.
PARCO MUSEUM
Shibuya Parco, Part1 / 3F, 15-1
Udagawacho, Shibuya-ku, Tokyo
Japan
Source: Read Full Article