Do you ever stop everything you're doing and think to yourself, "Hark! Where is the living legend known as Elizabeth Holmes?" Literally same. Elizabeth has been extremely under the radar since summer 2018, so much so that I'm legit worried she got trapped in one of her black turtlenecks and never found her way out. Last time anyone checked, this (alleged!) scammer was charged with nine counts of wire fraud and two counts of conspiracy to commit wire fraud. Why? Oh, ya know, just for claiming that her company Theranos could run medical tests using a single drop of blood. Which sounds all kinds of shady and illegal, so Fyre Festival's Billy McFarland can step to the left!
Anyway, with those kinds of charges levied against her, you might assume Elizabeth is sitting in a jail cell somewhere. But you would be very wrong—unless your definition of a "jail cell" is a luxury apartment with a hot boyfriend, in which case, wow, you're really on top of things.
Anyway, please grab some popcorn and settle right the hell into this post because we're going on a deep dive. Deep, like Elizabeth's love for her infamous "wolf" Balto (we'll get to him in a moment, fear not).
Kay, So She's Not in Jail
Far from it. Elizabeth is currently straight chillin' in a luxury apartment over in San Francisco, where she lives with her boyfriend—or rather, fiancé!—and his former coworker Andrew Goldberg. Elizabeth's life in 'Frisco (locals totally love it when people call it that, right?) seems pretty chill. As you can see in the below video, she's ditched her signature turtlenecks for athleisure, and was recently spotted looking super happy, all things considered.
She's Engaged to a Casual Hotel Heir
Dude's name is Billy Evans, he's heir to the swanky-sounding Evans Hotel Group. Other personal deets include the fact that he went to M.I.T., and that he's fully smitten with Elizabeth. In fact, Billy is so smitten that he's already popped the question, and Elizabeth wears his signet ring around her neck to make it clear she is taken. The couple have already sent out wedding invites, but apparently his family is…er…not here for it.
"His family is like, 'What the f*ck are you doing?' It's like he's been brainwashed," a source told The New York Post. "[He says] 'The media has it all wrong about her.' He's had a lot people very close to him sit him down and have a talk. 'This could be the biggest mistake you'll ever make.' 'The negativity around her could blow back on you.' 'You've never encountered anything like this.' 'You need to think hard about what you're doing.' It's kind of like Billy is her shiny new toy. She's super enthusiastic about being with him."
here is balto the wolf, elizabeth holmes at burning man, holmes as a leash baby, elizabeth holmes in love by the sea pic.twitter.com/vXJUhfWp8Z
Don't Worry, Balto Is Still Alive
Elizabeth's good boi became famous when she procured him during the downfall of Theranos in the weirdest way possible. Here's a wonderful excerpt from Vanity Fair about this long-suffering canine:
Wait, it gets so much better:
ELIZABETH. WYD, girl?!
Anyway, Balto (who Elizabeth later decided was a wolf, not a dog) is currently being co-parented by Elizabeth and Billy. It's unclear how often he urinates and defecates in their apartment, but keep doing you, Balto!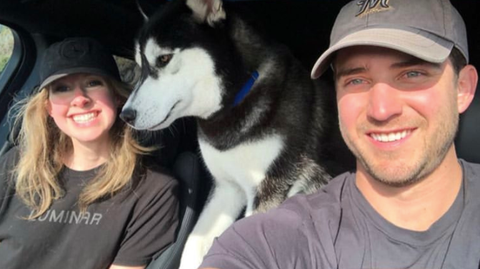 Yes, She Might End Up in Jail
Okay, so yeah: Elizabeth allegedly mislead patients/doctors/investors, and was charged with nine counts of wire fraud and two counts of conspiracy to commit wire fraud. And she could go to jail if convicted! But these things take time, and while Elizabeth is facing 20 years in prison (note: she pleaded not guilty), a trial date still hasn't been set. So…guess our girl will just, like, get married and live that former (alleged!) scammer life in the meantime.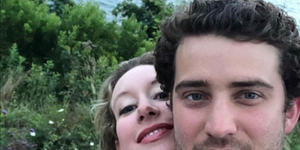 Source: Read Full Article