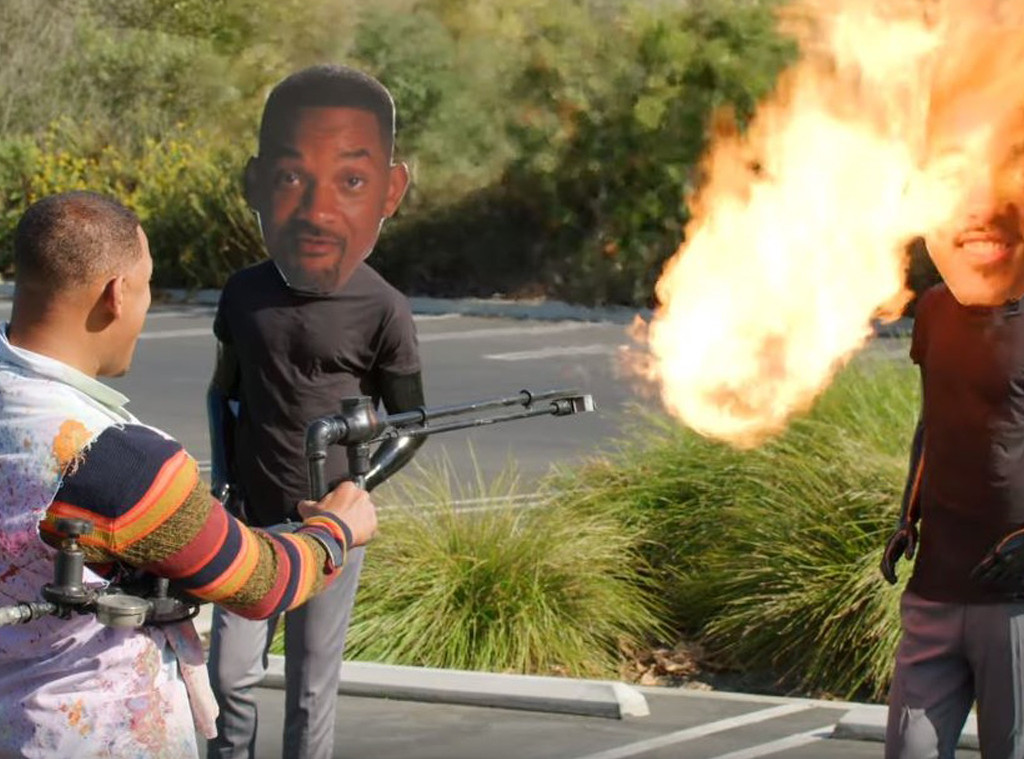 YouTube
Will Smith just lit a torch to his career.
In a video with YouTube's The Slow Mo Guys, the Gemini Man star took a flamethrower to a cutout of his face in celebration of his new flick, in which he battles it out with his younger self. Filmed in slow motion—the M.O. of the YouTube channel, which boasts more than 12 million subscribers—Smith had the time of his life watching his mannequin set on fire.
"Die you dirty, young me," he yelled, "Trying to kill the old me! Ah!"
Indeed, we now bow down to the self-proclaimed Flesh Prince. "It makes you feel powerful," he admitted. "I think I'm going to get a flamethrower." Mainly, as he joked, to use on anyone who dares steal his parking spot.
And, in what can only be described as the perfect way to relieve any pent-up aggression, the superstar also epically smashed a watermelon with a bat.
"I'm trying to think about my motivation," Smith said with a laugh. "I just turned 51 last week, so I'm mainly thinking about not hurting myself. Whatever you do, don't tear a neck muscle on the Slow Mo Guys because you're going to tear it in slow motion."
And just like that, wham!
His day of debauchery with creators Gavin Free and Daniel Gruchy has been a longtime coming.
"I love The Slow Mo Guys," he revealed. "I've been wanting to be part of your team for a long time. I'm excited to be here."
Grab your sledgehammer and check out the hilarious video above. It's guaranteed to keep you smiling for 15 minutes straight.
Don't miss E! News every weeknight at 7, only on E!
Source: Read Full Article