October 27 brings a scorching hot New Moon in the sign of tempestuous Scorpio. This luminary will oppose evocative planet Uranus, which is currently retrograde in sensual Taurus. Translation: You can expect to have your sexual passions satisfied…as long as you experiment with your innermost desires.
The New Moon will be at the burning hot in Scorpio, heightening your yearnings, while romantic Venus and erotic Mars further fan that fire (because they're in mutual reception, their power increases.) It's time to engage in your deepest sexual needs and take a walk on the hedonistic wild side!
Read your Sun/Rising sign horoscopes below to find out more!
Aries
You're thirsting for a new way to show bae you care. Instead of buying them frivolous gifts, switch it up. Try out a lacy new something in the bedroom. Send a sext when they least expect it, or hell, just tell them they look hot AF. Feeling wanted and thirsted after is always a solid present!
Taurus
Two hearts beat as one in a steamy shower, which is why having a blistering hot tryst underwater will boost your sexual prowess. A bath for two can feel just as good, especially with a delish glass of champagne nearby (you are the fanciest sign in the zodiac, after all.)
Gemini
Your body is craving soft touches and gentle kisses a LOT lately. There's no need for anything extraordinary between the sheets ATM—you're just enjoying exploring your partner's body and having them slowly find your sweet spots, so just ask and you shall receive!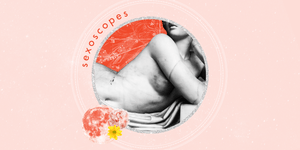 Cancer
Under this luminary, blend two of your favorite things together: food and sex. That's right–time to try out some sensual food play in the bedroom. Take turns with your partner blindfolding each other for sensory overload with strawberries and whipped cream (or if that's too much for your sheets, a simple flavored lube can work wonders, too.)
Leo
You're not one to normally be shy; however, this New Moon is making you hide under the covers instead of owning the fiery experimental lion you are. Try out new sexual positions with caution—don't go for complex moves like The Wheelbarrow until you get your confidence back. Stick to perfecting what you're already great at instead!
Virgo
It's time to seriously flirt. Ditch your "prissy" stereotype and ignite your lesser- seen, scorchingly sensual side. Warm up your fingers with some hot-blooded sexting. You'll have a lot more to say to your boo than you thought you did, once they join in on the convo. PSA: Send nudes with caution.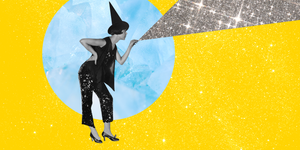 Libra
Step out of the box and pleasure yourself for a change. You're normally super focused on making sure your partner is pleased—now it's time to fully prioritize on your needs for a change. Charge your vibrator under the New Moon for maximum satisfaction.
Scorpio
Embrace the turbulence in your love life. Use the cosmic energy as an opportunity to let go of any relationship baggage by being a whole different person—literally. Let your fantasies run wild and role play with bae. It can feel like a much-needed fresh start.
Sagittarius
If you're feeling it, let your guard down and allow your partner to tie you up for some H-O-T fun—just make sure they don't lose the keys to the handcuffs and, most importantly, remember your safe word. If you're unsure of being a sub, you can still dominate in bed by being a bossy bottom!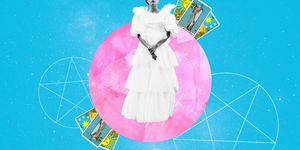 Capricorn
Hang with your crew more, because you crave emotional intimacy more than anything right now. You're more into learning how to express your affection through communication right now and hosting a small get-together at your place will help you explore your feels through nonsexual activities.
Aquarius
Are you feeling a tad risqué, Aquarius? Well, if you want to live on the edge, then maybe it's time for a very intense makeout sesh with your boo, the kind where you don't care who's watching. You're in an exhibitionist kinda mood and want the world to know how much you dig bae!
Pisces
Incorporate your lusty desires with your higher mind and use tantra to connect to your partner on a deeper sexual level. Through the power of breath control, meditation, and mindfulness, you can bring your bone sesh to a whole new level. Also, tantra can intensify your orgasms! What is there to lose??
Source: Read Full Article