In the world of big-time college football, there aren't many bigger names than Urban Meyer. He's one of the highest-paid college football coaches because he's enjoyed nothing but success at Ohio State. However, his time on the sidelines is ending on Jan. 1, 2019, after he coaches the Buckeyes in the Rose Bowl. Let's look at why he is retiring, how much he makes for coaching, and who Urban Meyer's wife and children are.
Urban Meyer's football background
Urban Meyer's longest head coaching stint is at Ohio State. | Kevin C. Cox/Getty Images
Urban Meyer was born in Toledo, Ohio, in 1964 and grew up in Ashtabula, Ohio, which is northeast of Cleveland. Even though he was drafted by baseball's Atlanta Braves in 1982 and played two seasons of minor league ball, football turned out to be his true calling.
Meyer played collegiately at Cincinnati, spent two years as an unpaid graduate assistant at Ohio State, and worked 13 seasons as a salaried assistant at Illinois State, Colorado State, and Notre Dame.
Meyer earned his first head coaching job in 2001 at Bowling Green State University near Toledo. Since then, he's coached at Utah (2003-04), Florida (2005-10), and Ohio State (2011-18).
What is his salary at Ohio State?
Urban Meyer has never had a losing season as a head coach, and he owns an .853 career winning percentage with a 186-32 record. Big college football programs pay big bucks for that kind of success, and Ohio State is no exception.
Urban Meyer has an .853 career winning percentage and a national title at Ohio State. | Jamie Squire/Getty Images
His salary for coaching football at OSU is $7.6 million for the 2018 season. He earned close to $6 million in 2017 before the school extended his contract and gave him a raise. His net worth is estimated at $20 million, according to Celebrity Net Worth.
Why is Urban Meyer retiring?
The reasons Urban Meyer is stepping down and walking away from his $7.6 million salary are complicated.
He had surgery in 2014 to address a cyst on his brain, and it's still an issue he has to monitor. He dealt with some severe head pain during a 2018 game against Indiana. The medication he takes to deal with the cyst causes memory issues. So health could be a reason he's retiring.
Meyer might be retiring so he can distance himself from one of the recent big scandals in college football. He fired assistant coach Zack Smith in the summer of 2018 when Smith's ex-wife filed a protective order after years of domestic abuse. Meyer initially said he didn't know about the abuse when he fired Smith, but it turns out he might have known about it and done nothing. Turning a blind eye cemented Meyer as one of the college football coaches with bad reputations.
Of course, we won't be surprised if Meyer tells the world he wants to spend more time with his family. That was his reason for resigning at Florida in 2010.
Who are Urban Meyer's wife and children?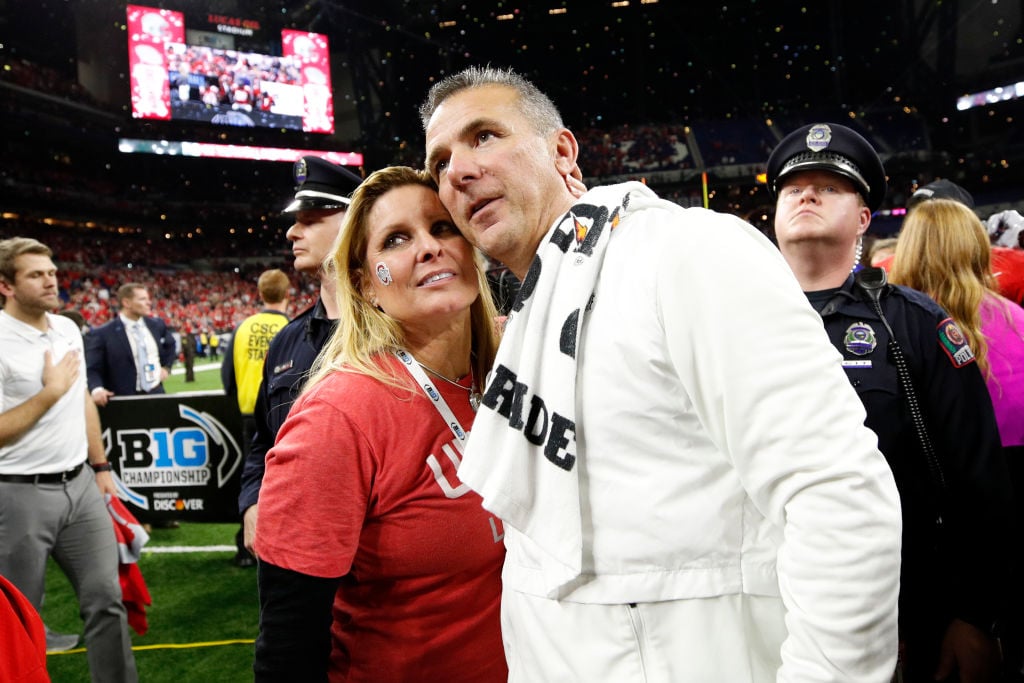 Shelley Meyer (left) and Urban Meyer married in 1986. | Joe Robbins/Getty Images
We don't know the specific reason Urban Meyer is retiring, but if it is to spend more time with his family, this is who he'll be hanging out with.
Shelley Meyer, his wife, whom he met at the University of Cincinnati and married in 1986.
Nicki Meyer Dennis, his eldest daughter, who played collegiate volleyball at Georgia Tech;
Gigi Meyer, the couple's second child, who played volleyball at Florida Gulf Coast University;
Nathan Meyer, the youngest child who plays baseball at the University of Cincinnati.
Check out The Cheat Sheet on Facebook!
Source: Read Full Article