Travis Scott just gave Kylie Jenner an early Valentine's Day surprise and even we couldn't help but swoon.
The rapper decided to give his girlfriend a surprise she'd never forget by creating his own Tunnel of Love.
Even though Kylie Jenner only shared a snippet of her surprise, we could tell Travis Scott put a lot of thought into Valentine's Day.
Scott really outdid himself with this surprise
On February 12, Kylie Jenner took to her Instagram Stories to share a video of her Valentine's Day surprise.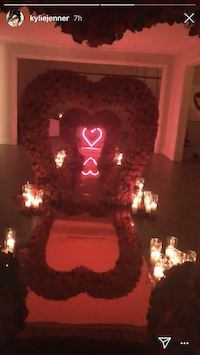 In the video, Travis Scott had transformed Jenner's walkway into a Valentine's Day oasis.
With heart-shaped rose-covered arches, candles, mood lighting, and soft music playing in the background, Kylie Jenner wasn't the only one left speechless.
He has surprised Jenner before
This is not the first time Travis Scott has made the mother of his child swoon.
Back in November, the "Sicko Mode" rapper showed the world that he was the most romantic person even.
Scott had snuck into Kylie Jenner's Calabasas mansion and filled entryway and staircase with hundreds of red roses and flowers.
Jenner shared the sweet gesture on Instagram and fans couldn't help but envy the makeup mogul.
Travis Scott clearly has a thing for red roses and surprising Kylie Jenner.
They are celebrating Valentine's Day early this year
Along with Travis Scott's most recent surprise, the couple celebrated Valentine's Day a little early.
Following their daughter's epic first birthday party, Jenner and Scott enjoyed a night out while attending the Pre-Grammy Gala on February 9.
The couple turned the event into their own pre-Valentine's Day date night and they were sure to turn heads the entire night.
Jenner went for a red satin gown by Ralph & Russo which featured a strapless bodice and a thigh-high slit.
Kylie Jenner knows what she wants when it comes to Valentine's Day
Just last month, Kylie Jenner shared her Valentine's Day must-haves in a video uploaded to her YouTube channel.
The video was in honor of Jenner's Valentine's Day Collection launch but fans enjoyed getting the inside scoop on Jenner's ideal Day of Love.
In the video, Kylie Jenner revealed that she prefers red roses over white, milk chocolate candy and would love receiving jewelry as a gift on Valentine's Day instead of a teddy bear.
Even though Kylie Jenner did not mention anything about Travis Scott in the video, we can already guess he used her Valentine's Day preferences to his advantage.
Many were hoping he had finally proposed
Many fans are still waiting on Scott to propose to Kylie Jenner and after seeing the Valentine's Day surprise, are hoping the rapper finally had.
Everyone was certain that the rapper would pop the question during his Super Bowl Halftime Show performance, which took place on February 3.
Even though a proposal did not take place while he was on stage, fans were certain the two celebrities were serious about each other after Travis Scott shared a photo of Kylie Jenner wearing a massive diamond on her ring finger.
Neither Scott or Jenner have confirmed the rumors but we know for a fact they are either already married or are planning out a wedding as we speak.
Source: Read Full Article