I woke up in a panic yesterday when I realized the holidays are almost over and I haven't done a single bit of gift shopping. If you're in the same boat, don't worry — all we need is some gift inspo. Luckily, the text-to-shop service Jetblack has just revealed their list of the the hottest holiday gifts their users are buying tons of this holiday season, and theres bound to be something on this list that's on your recipients' wish lists.
According to the list, in 2018, practical gifts are the trend du jour amongst Jetblack shoppers so far — because if it doesn't make your life better, you're so over it already. Jetblack member favorites include gravity weighted sleep masks, portable chargers, travel pillows, and massage devices. The common denominator, really, is that they're items someone will likely use more often than not — which is ideal for a holiday gift, because you know your money is going toward something your gift recipient will get use out of.
Beware: After looking at this list, you might be inclined to buy yourself one of everything that you buy your friends. (I mean, who could blame you, though?) According to Jetblack, their most popular item of all this holiday season is the Hyperice Hypervolt Portable Massage Device, which retails for $349 as seen below. If that's too pricy for your gift recipients, there are also cheaper options, like the Gravity Weighted Sleep Mask for $29, or the Museum of Ice Cream Sprinkle Pool Brush Set for $64.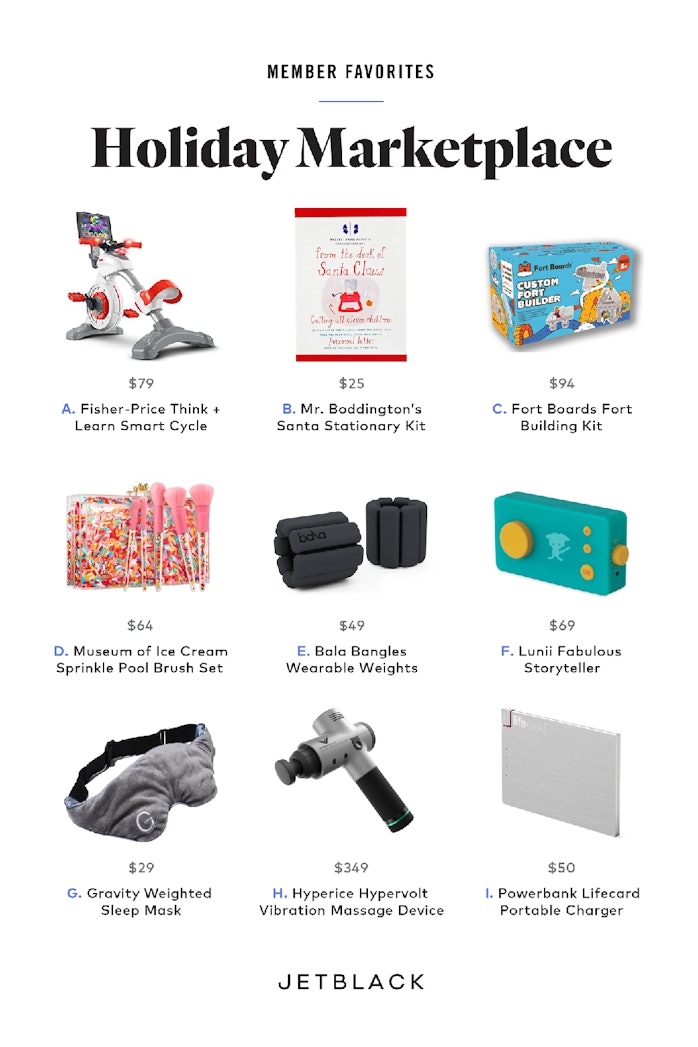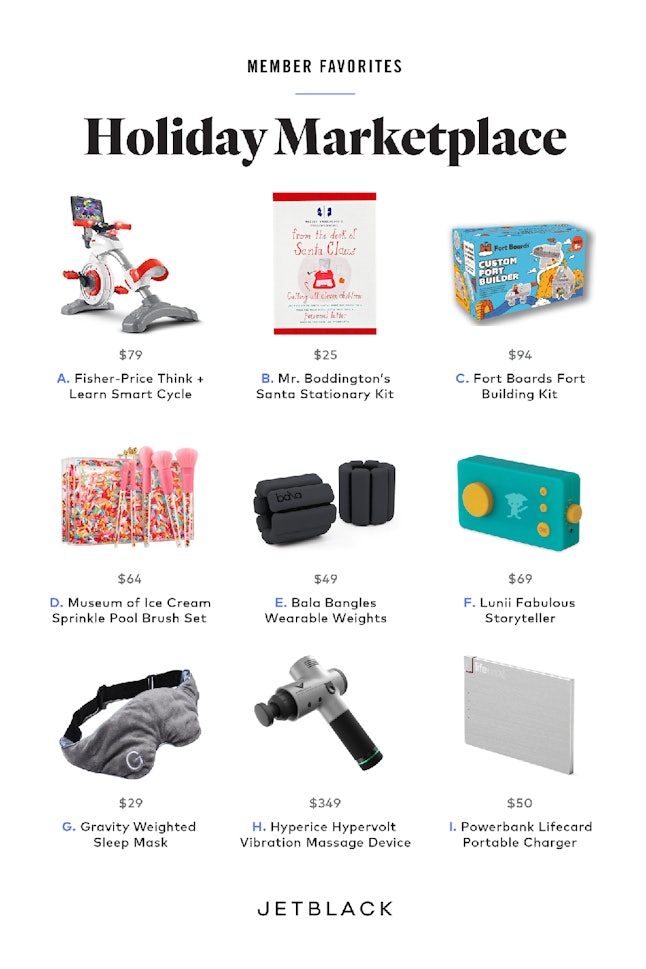 If you haven't heard of Jetblack, here's a little bit about the service: Headed up by Jenny Fleiss, co-founder of Rent the Runway, it's literally a service that lets you shop over text message — with same-day delivery. The service is affiliated with Walmart, and for the holidays, even comes with free gift-wrapping from Paper Source.
Unfortunately, it's only available if you live in New York City for now, but the service does plan on expanding to other cities eventually. If you do live in NYC, currently you can get on the waiting list for Jetblack.
"The service relies on artificial intelligence and team of buyers to respond to members' text requests with a curated menu of choices pulled from Walmart.com, Jet.com, as well as other retailers like Pottery Barn," Nathaniel Meyersohn reported for CNN Business.
What sets Jetblack apart is its curation feature, which customizes product recommendations based on your price point, who the item is for, and what their interests are.
If you live in a dense urban area with terrible traffic and no parking, shopping for anything can be a nightmare — and this is especially true in a city like New York. Being able to get holiday shopping done through a text message with same-day delivery is, like, kind of the dream. (That being said, Jetblack is not currently delivering perishable items, alcohol, or prescriptions.)
If you're outside of New York City and can't sign up to Jetblack just yet, you can at least peep the list of the most popular items on the service above to get some holiday gift giving inspo. Happy shopping, y'all!
Source: Read Full Article