Meghan Markle is nearing the end of her pregnancy, but she hasn't slowed down at all when it comes to attending royal events! And apparently Baby Sussex is right there with her, because she/he was extremely active during Meghan's latest engagement in Bristol.
In a truly amazing video shared by popular fan account @harry_meghan_updates, Meghan can be seen mid-conversation when her baby kicks, causing her to catch her breath. Here's the video, and I guarantee you'll watch about a million times.
View this post on Instagram
WOW! Look at this! The precious moment Baby Sussex kicked Meghan's lungs out of her 😍 He/she really wants to come out to meet us people! No wonder mummy needs to hold to calm 😊
A post shared by Meghan & Harry 💍 supporters (@harry_meghan_updates) on
Meghan is apparently due in April, and it looks like she'll be giving birth at the Lindo Wing like Princess Diana and Kate Middleton before her. She and Prince Harry don't know the gender of their little one, who will be raised in Frogmore Cottage—just outside of London. For more updates on all things royal bb, head here.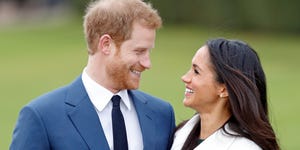 Follow Mehera on Instagram.
Source: Read Full Article