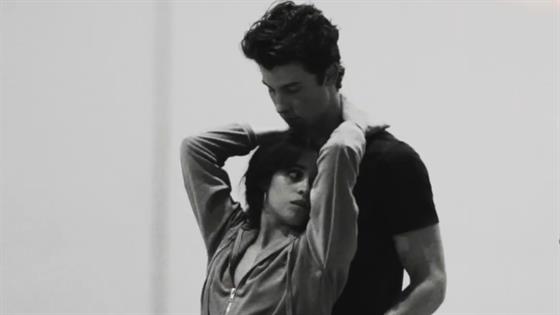 Will Shawn Mendes and Camila Cabello prove to have staying power…even if their summer romance fizzles out?
After being spotted out and about engaging in PDA ever since filming their "Señorita" music video in early July, the young pair's steamy performance at 2019 MTV Video Music Awards solidified their standing as the celeb couple of summer 2019.
Time will tell if it's just a summer fling or the real deal, but the fanfare around the pop duo's relationship is undeniable, setting them up to be one of their generation's defining couples.
But they are far from the first set of superstars to enter a romance that inspired endless headlines and interest; over the years, there's been several celebrity couplings whose legacy has far outlived the actual relationship. Just take a look at Ariana Grande and Pete Davidson's whirlwind romance last summer?
Before them, iconic couples like Robert Pattinson and Kristen Stewart, Ben Affleck and Jennifer Lopez, and Justin Bieber and Selena Gomez all became defining pop culture touchstones during their respective eras. And going back even further, Brad Pitt and Gwyneth Paltrow were the golden couple of the '90s, while Johnny Depp and Winona Ryder tattooed their romance into the entertainment history books.
But just how many of these generation-defining couples are actually still together? Well, that might just shock you during your trip down memory lane. Prepare for nostalgia overload…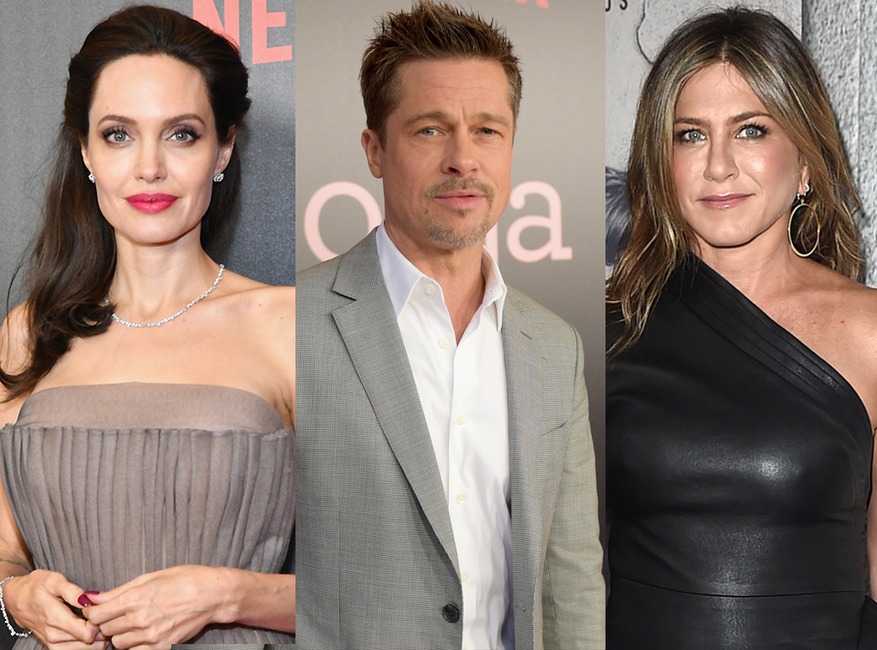 Getty Images
The Jen-Brad-Angelina Love Triangle
Arguably the biggest entertainment scandal of all-time was the infamous love triangle made up of Jennifer Aniston, one of TV's most beloved stars, Brad Pitt, one of Hollywood's most adored leading man, and Angelina Jolie, one of the world's most beautiful women. Tabloids could not have scripted it better.
The drama between three of the most famous people in the world began in January 2005, when Pitt and Jolie began dating after months of rumors that he had cheated on Aniston (whom he married in 2000) with his Mr. & Mrs. Smith co-star. Since then, all three of their careers, relationships and public personas have been defined by the enduring love triangle—with Aniston giving an infamous tell-all interview to Vanity Fair and "Team Jolie" and "Team Aniston" t-shirts being sold at one point. Just look at the reaction when Pitt attended Aniston's 50th birthday party, following their respective splits from Jolie and Justin Theroux, this past year.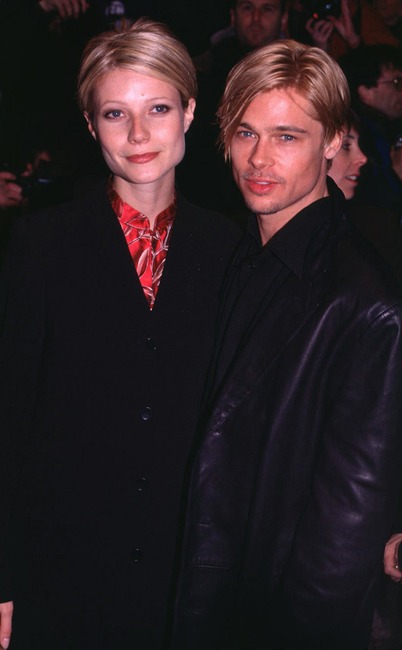 Kevin Mazur/WireImage
Brad Pitt and Gwyneth Paltrow
Who can ever forget the infamous matching haircuts? The painfully attractive pair first began dating while filming Se7en and quickly became the golden couple of the '90s.
Though they were engaged and once sported identical looks, their romance came to an end in 1997, with the Goop founder later taking blame for its demise during an interview with Howard Stern.
"I was such a kid, I was 22 when we met," she said. "It's taken me until 40 to get my head out of my ass. You can't make that decision when you're 22 years old, you know? I think I was a kid and I wasn't ready, and he was too good for me."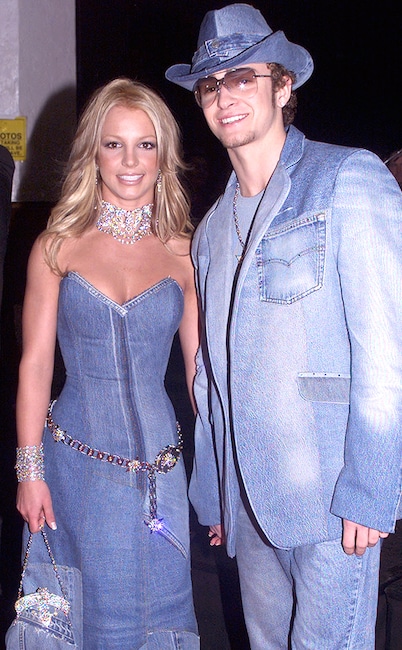 REUTERS/Rose Prouser
Justin Timberlake and Britney Spears
He was the breakout star of the biggest boy band in the world. She was the most famous pop star in the world. If pop music were prom, Justin and Britney were its ultimate king and queen. From the infamous matching denim outfits to the adorable nicknames (Pinky and Stinky), the young couple's four-year relationship (1998-2002) and dramatic breakup has helped define both of their careers, its legacy immortalized forever with "Cry Me a River," Timberlake's hit song about the devastating split. The music video featured a Britney look-a-like and seemingly confirmed the cheating rumors.
"I was kind of in denial," Spears would later say seeing the video for the first time during an interview with Diane Sawyer, who also asked if the infidelity allegations were true. "I'm not technically saying he's wrong but I'm not technically saying he's right either."
Article continues below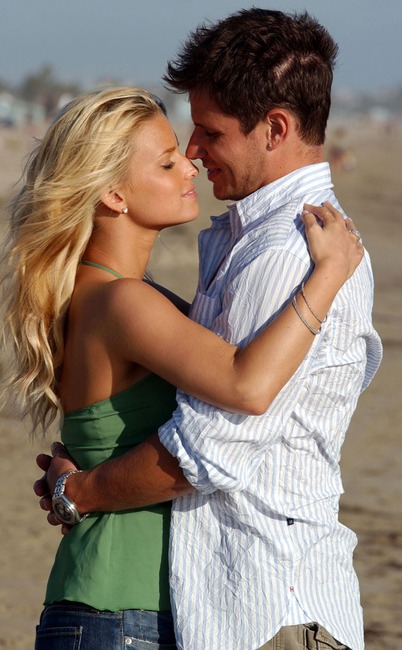 Bob Riha Jr/WireImage
Nick Lachey and Jessica Simpson
Thanks to the success of their reality series Newlyweds, the 98 Degrees singer and pop star, who met at the Hollywood Christmas Parade in 1998, were able to break out of the shadow of Justin and Britney, thanks largely to Jessica's "dumb blonde" moments on the show and Nick's reactions. "Is this chicken, what I have, or is this fish? I know it's tuna, but it… it says 'Chicken… by the Sea,'" she infamously asked her husband.
But after three years of marriage and three seasons of Newylweds, the honeymoon was over for one of reality TV's first couples, as Nick and Jessica announced their split in 2005.
In 2015, the singer-turned-businesswoman called the marriage and divorce a huge financial regret on CNBC, saying, "The biggest money mistakes? I don't know. For some reason I thought of my first marriage."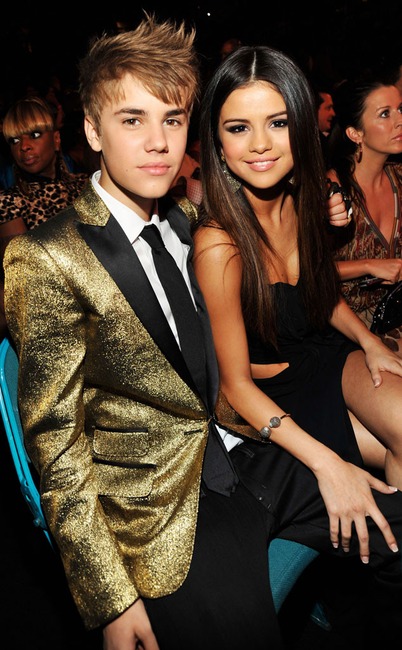 Kevin Mazur/WireImage.com
Justin Bieber and Selena Gomez
"Jelena" is to the teens what Britney and Justin were to the aughts, and fans had a front-row seat to every up and down of their relationship thanks to social media. They first began dating in 2010, with the Disney darling was 18 and the pop idol was 16 and a tumultuous on-and-off romance followed, filled with break-ups, make-ups, songs inspired by both, disapproving looks from her BFF Taylor Swift and a physical fight with Orlando Bloom. Their story came to a close, however, when Justin married Hailey Baldwin in September 2018, and the newlyweds posed for their own Vogue cover and opened up about their marriage.
Bieber had once predicted he would marry Baldwin, who he had also dated on-and-off since 2014, explaining to GQ, "I know that in the past I've hurt people and said things that I didn't mean to make them happy in the moment. So now I'm just more so looking at the future, making sure I'm not damaging them. What if Hailey ends up being the girl I'm gonna marry, right?"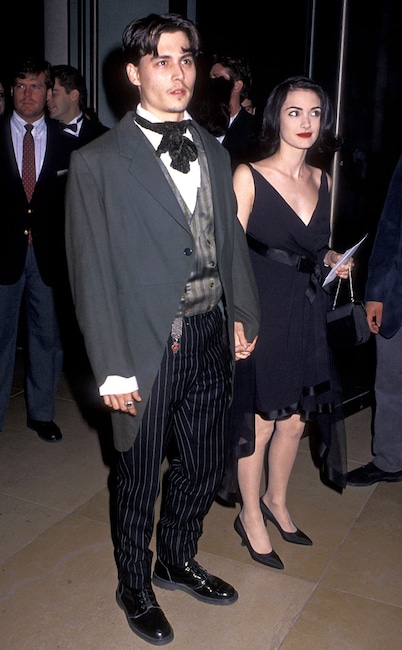 Ron Galella, Ltd./WireImage
Johnny Depp and Winona Ryder
Winona Forever. That was the tattoo Depp got during his whirlwind romance with Ryder, then 18, with the young pair quickly becoming the It Couple after meeting at the Great Balls of Fire! Premiere in 1989 and going on to star in Edward Scissorhands together. Depp would later tell, "There's been nothing in my 27 years that's comparable to the feeling I have with Winona."
Their romance would play out until 1993, when they ended their engagement and Depp infamously changed his tattoo to read "Wino Forever."
Ryder later called her split from Depp her first major heartbreak, telling Elle in 2009, "I think it was really ironic because, like, everybody else just thought I had everything in the world, you know, I had no reason to be depressed, everything was sort of at its peak, but inside I was completely lost."
Article continues below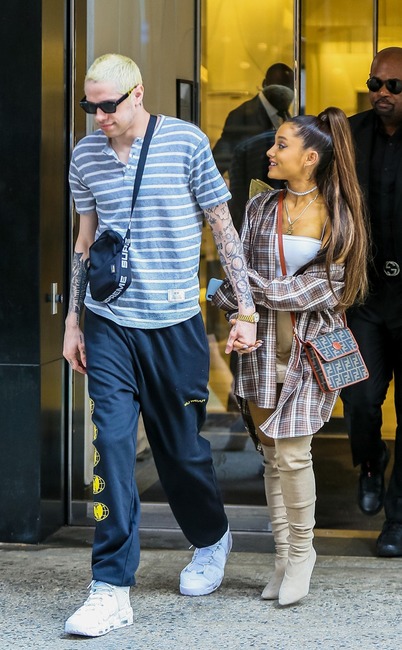 BACKGRID
Ariana Grande and Pete Davidson
If any couple defined the summer of 2018, it was the singer and the Saturday Night Live comedian, who went (very) public with their new relationship, got engaged, inspired a new pop culture term ("BDE"), moved in together, and broke up within the span of five months.
Their whirlwind and headline making romance was immortalized in Grande's hit song "thank U=u, next," which featured the line: "Even almost got married, and for Pete, I'm so thankful."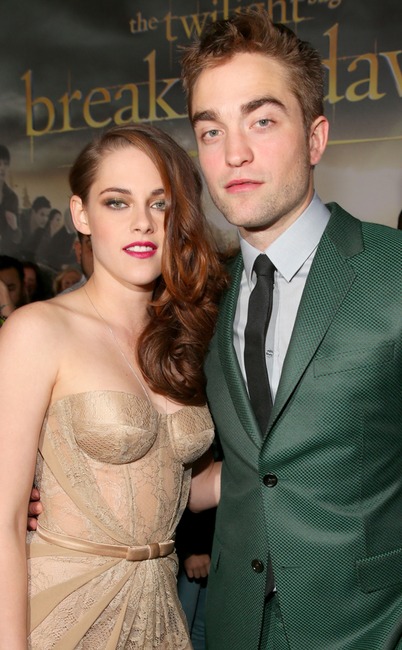 Christopher Polk/Getty Images
Kristen Stewart and Robert Pattinson
A recipe for disaster/endless tabloid fodder: Two up-and-coming and very private young actors x an unexpected rapid-rise to fame + one of pop culture's most beloved pairings (Edward Cullen and Bella Swan) = Robsten, the on-screen/IRL couple at the center of Twilight mania. Oh, and add in a very public cheating scandal and you have one of Hollywood's most infamous pairings, with their fandom ultimately outliving their relationship, which ended in 2013.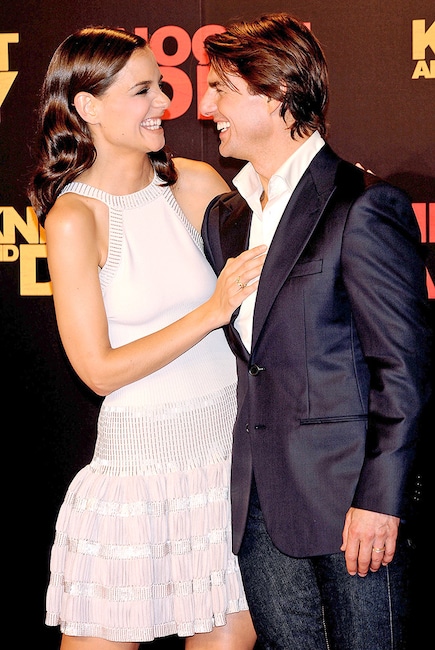 Carlos Alvarez/Getty Images
Tom Cruise and Katie Holmes
Two words: Couch jump.
The Mission Impossible star's furniture-climbing appearance on The Oprah Winfrey Show in 2005 in the name of declaring his public love for the Dawson's Creek star rocked Hollywood, kicking off a whirlwind romance for "TomKat." A proposal at the Eiffel tower, a daughter named Suri (who became the inspiration for a viral Tumblr account), a lavish Italian wedding, a Vanity Fair cover and fake baby bump conspiracies followed before Holmes shockingly filed for divorce in 2012, with their divorce being settled just 10 days later.
Article continues below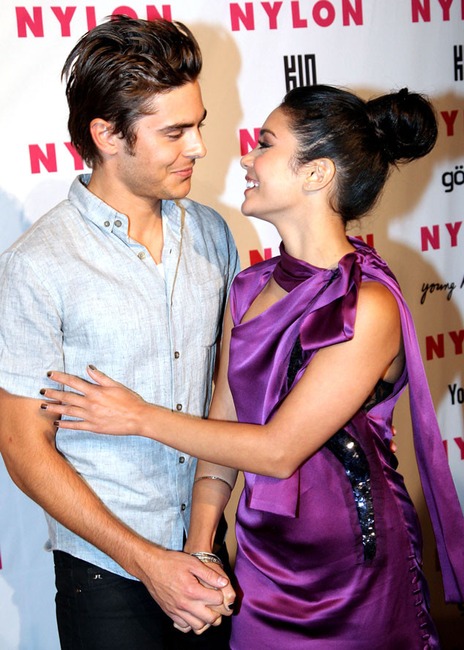 Alexandra Wyman/WireImage
Zac Efron and Vanessa Hudgens
Listen, we love Hudgens' romance with longtime beau Austin Butler, but Zanessa will forever hold a place in our hearts ever since those first photos of the High School Musical leads spotted kissing on the beach in Hawaii confirmed the suspicions of adoring fans everywhere. Troy and Gabriella soared, so Zac and Vanessa could fly—at least from 2005-2010.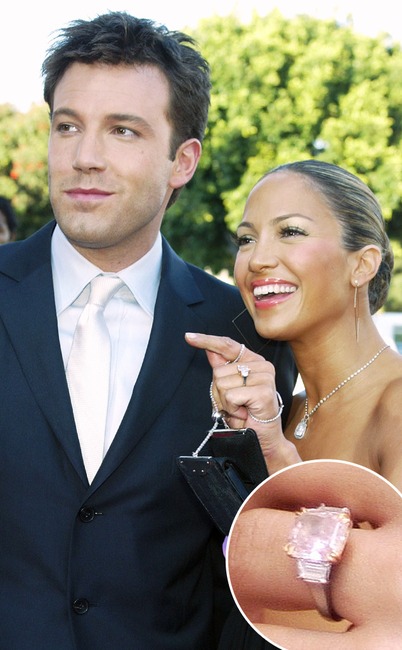 Vera Anderson/WireImage, Kevin Winter/Getty Images
Ben Affleck and Jennifer Lopez
Fun fact: this is the celeb couple that kicked off the trend of coining a moniker by combining their names: Bennifer.
The iconic pairing came to be in 2002, when they filmed their famous flop Gigli. After getting engaged (with a 6.1 carat pink diamond ring, NBD!), they then starred in the movie Jersey Girl and the singer's infamous Jenny From the Block music video, but she called off the wedding just one day before they were set to say "I do."
Every move was documented by the tabloids, with Lopez, who is now engaged to Alex Rodriguez (with the couple earning the nickname "J-Rod"), later opening up about the public pressure.
"I love Ben, he's a great guy but it was a lot for both of us to be under that type of siege for two years straight," she said on The Graham Norton Show. "We were on the cover of every magazine every week, it was just a weird thing. Our relationship, I think, did suffer because of that, that wasn't the only reason… but I think it definitely played a part in the dynamic of our relationship."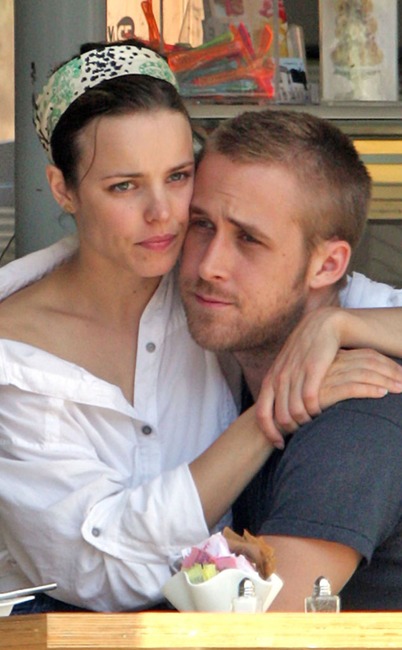 INFdaily.com
Ryan Gosling and Rachel McAdams
It's still not over for fans who swooned over The Notebook's IRL romance, even though it ended a decade ago in 2009. (We'll always have that iconic on-stage makeout at the 2005 MTV Movie Awards.)
Neither star ever officially discussed their much-cried-over break-up, Gosling opened up about their epic romance to GQ.
"God bless The Notebook. It introduced me to one of the great loves of my life," he said. "But people do Rachel and me a disservice by assuming we were anything like the people in that movie. Rachel and my love story is a hell of a lot more romantic than that…the only thing I remember is we both went down swingin' and we called it a draw." (Um, can we get this movie?)
Article continues below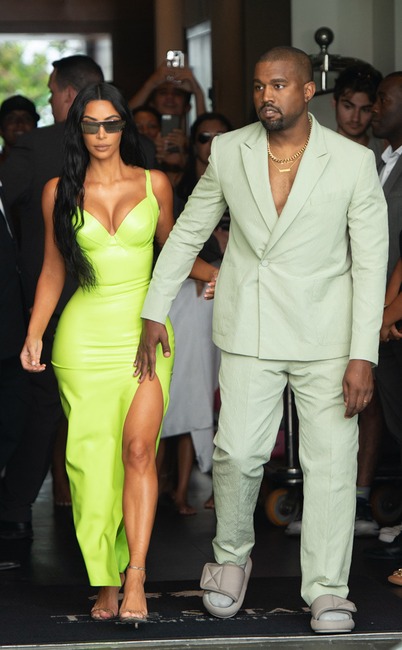 Garguibo / SplashNews.com
Kim Kardashian and Kanye West
Though they first met in 2004, with Kanye developing an instant crush on the Keeping Up With the Kardashians star, Kimye didn't start dating until 2012, following her divorce from Kris Humphries. Ever since, the pair has been inseparable, becoming one of the most famous and talked-about couples in the world, marrying in 2014 and welcoming four children.
Darlene Hammond/Hulton Archive/Getty Images
Robert Downey Jr. and Sarah Jessica Parker
Before the Sex and the City star married Matthew Broderick in 1997 and The Avengers frontman married wife and producing partner Susan in 2005, the A-listers were in a tumultuous seven-year relationship from 1984-1991, which was defined by his substance abuse issues.
"I was so selfish. I liked to drink, and I had a drug problem, and that didn't jibe with Sarah Jessica, because it is the furthest thing from what she is," RDJ, who got sober in 2002, later told Parade. "She provided me a home and understanding. She tried to help me. She is a force of nature!"
Looking back on their romance, SJP told People that while she had to find the "courage" to walk away, she also doesn't "regret any of it. I don't resent the time spent."
Tim Rooke/REX/Shutterstock
Prince William and Kate Middleton
Kate became the most envied (and famous) woman in the world when she married the future King of England, with over 36.7 million people tuning in to watch the event in 2011, with the couple ushering in the next generation of the royal family.
Article continues below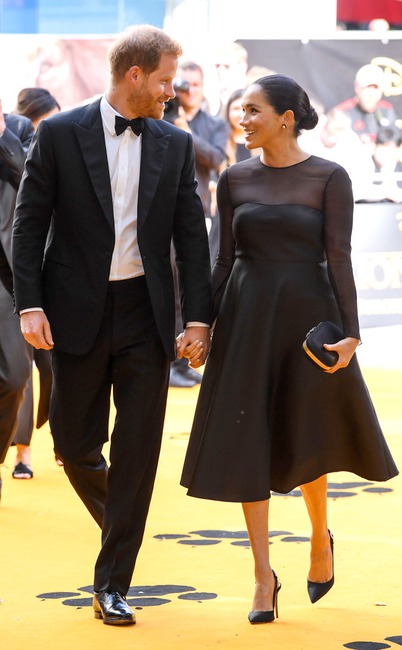 David Fisher/Shutterstock
Prince Harry and Meghan Markle
Just take a look at the Daily Mail homepage on any day that ends in "y" to see just how famous the Duke and Duchess of Sussex are since first going public with their royal romance in 2016.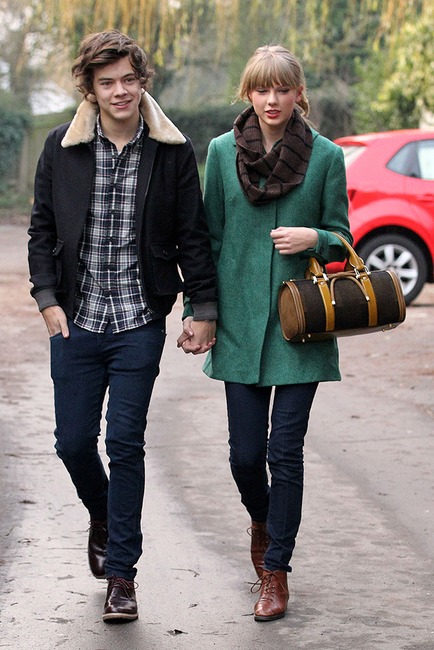 FameFlynetUK/FAMEFLYNET PICTURES
Taylor Swift and Harry Styles
It wasn't a long courtship (roughly November 2012-January 2013), but it is one that has lived on for the singers' respective fans, thanks to Swift's songs about him ("Style," "Out of the Woods," and "I Knew You Were Trouble") and those photos from their Central Park stroll.
"When I see photos from that day, I think: Relationships are hard, at any age. And adding in that you don't really understand exactly how it works when you're 18, trying to navigate all that stuff didn't make it easier," the former One Direction member later told Rolling Stone. "I mean, you're a little bit awkward to begin with. You're on a date with someone you really like. It should be that simple, right? It was a learning experience for sure."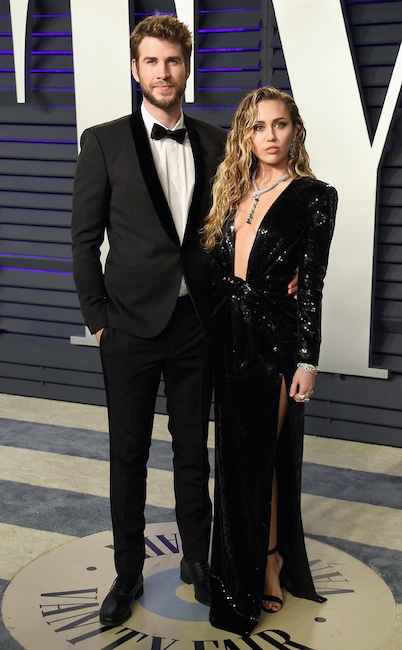 Gregg DeGuire/FilmMagic
Miley Cyrus and Liam Hemsworth
"Once upon a time it was paradise."
Fans grew up with the Hannah Montana star and her Last Song co-star-turned-beau, who first started dating while filming their romantic drama in 2009 when Cyrus was just 16. After getting engaged in 2012, they went on to take a three-year break before eventually reconciling. And in 2018, the pair said "I do" in an intimate wedding ceremony following the devastating loss of their home in the Malibu fires. But less than one year later, the couple announced they were separating after 10 years together, ending an era for them as well as their fanbase.
Article continues below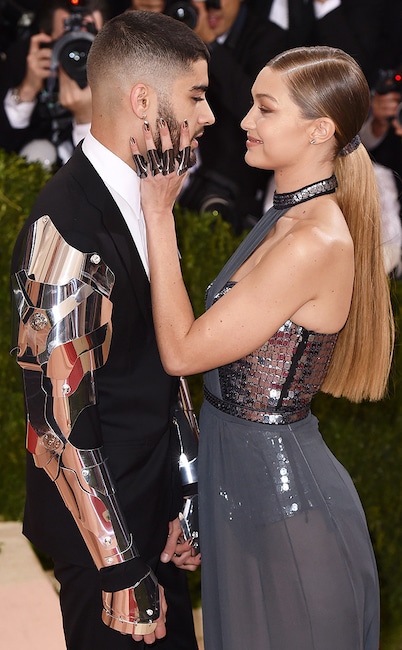 David Fisher/REX/Shutterstock
Gigi Hadid and Zayn Malik
While they've since broken up, the supermodel and former One Direction member's love affair was such a big deal that they landed the cover of Vogue in 2017.
Variety/Shutterstock
Spencer and Heidi Pratt
Laugh all you want, but The Hills couple, who infamously staged paparazzi photos, lost all of their money and briefly retreated from the public eye, proved all the naysayers wrong; they're about to celebrate their 11th wedding anniversary and welcomed their first child, Gunner, in October 2017. Plus, they finally made it to back to reality TV, starring on MTV's The Hills: New Beginnings revival.
Jamie McCarthy/Getty Images
Cole Sprouse and Lili Reinhart
While many of TV's onscreen-turned-real-life couplings that came before them have garnered fanfare (The O.C.'s Rachel Bilson and Adam Brody, Gossip Girl's Blake Lively and Penn Badgley and The Vampire Diaries' Nina Dobrev and Ian Somerhalder, to name a few), none amassed quite the same level of passion as the Riverdale stars.
Article continues below
Don't miss E! News every weeknight at 7, only on E!
Source: Read Full Article