Giudice also talks about the best things that have happened to her since joining "RHONJ" and how she really isn't a mean person … really!
Teresa Giudice is ready for her Masterclass and she couldn't have asked for a more eager and enthusiastic student than Drew Barrymore.
The "Real Housewives of New Jersey" alum appeared on the latest episode of "The Drew Barrymore Show" to help recreate what became one of the most iconic reality television show moments of all time.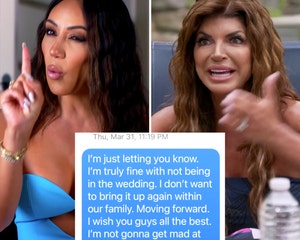 Melissa & Teresa's Texts Following Messy RHONJ Reunion Revealed on Season Premiere
While "RHONJ" is looking at its 13th season, Giudice's shining moment came way back in the finale of the first season when she lost her mind and started trying to flip tables.
Unable to render YouTube Video.
"That show is going for the big moment," Barrymore said of the show after Giudice insisted that she's really not the way so many people perceive her. "I'm trying to work on myself 'cause everyone thinks I'm, like, this mean person from being on the show," she said. "I'm so not."
She went on to say that the true Teresa Giudice can be heard on her "Namaste B—-es!" podcast — nice plug there — describing herself as easygoing, fun, and someone who goes with the flow.
She was definitely none of those things, though, all those years ago when she was screaming and raging and knocking everything down all over the place. And while she may have found her inner peace these days, she still knows how to channel that Season 1 rage.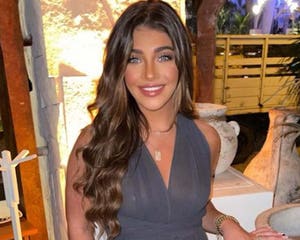 Gia Giudice Lands Job at Immigration Law Office Following Her Father Joe's Deportation
"Think of something that makes you really, realy angry. Like if your boyfriend cheated on you. Or if a girlfriend betrayed you," Giudice told Barrymore, adding that all those years ago she was fired up "'Cause she was going after my girlfriend, so I was sticking up for my girlfriend. I'm a girls' girl." In the original moment, "RHONJ" alum Danielle Staub was the target of Giudice's ire.
This time around, it was all for fun. The women even recreated Giudice's classic line from the show. Just before flipping their tables, they both screaming in perfect unison, "You were engaged 19 times, you stupid b—-!"
Earlier in the interview, Barrymore asked Giudice what her favorite thing is that's happened to her since she became a "Real Housewives." Without missing a beat, Giudice said her recent turn on "Dancing with the Stars."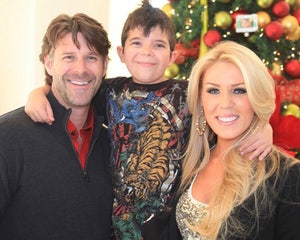 RHOC Alum Gretchen Rossi Reveals Tragic Death of Slade Smiley's Son Grayson
Unable to render YouTube Video.
She only lasted two weeks because she was– well, objectively speaking, she was terrible. "Listen, I always wanted to dance, like my whole life," Giudice said. "I'm not that flexible or anything like that, but it was, like, a dream that I always had and I'm glad that I got to do it."
She may have earned some grace from the "DWTS" audience this past fall because she recreated the iconic table flip moment there, too. It may not have made her a great dancer, but it made her a great sport and fun to watch.
Another accomplishment she called a "big fulfillment" is her success as an author. She's published four cookbooks and two memoirs, landing four times on New York Times' bestsellers list.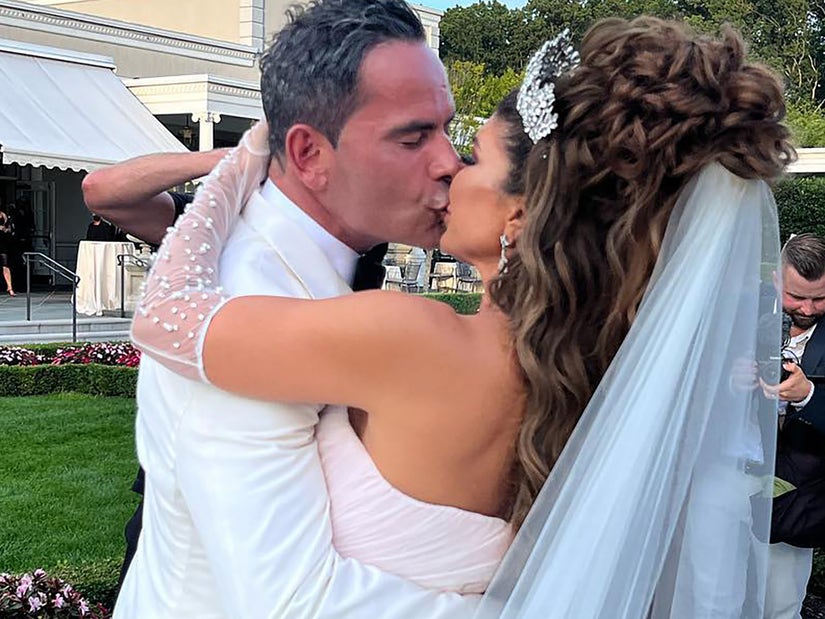 Source: Read Full Article