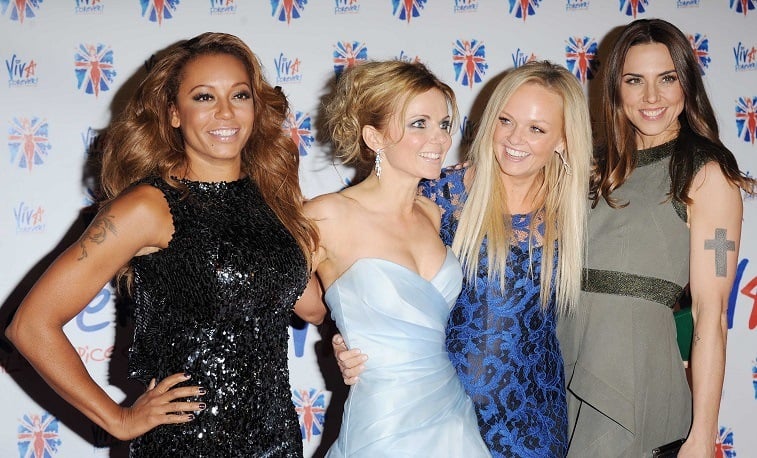 Melanie Brown, Geri Halliwell, Emma Bunton and Melanie Chisholm of The Spice Girls | Stuart Wilson/Getty Images
Please contain your excitement because The Spice Girls are hitting the stage once again! The iconic '90s pop group will be reuniting this upcoming summer for a stadium tour around the United Kingdom. After years of speculation of a possible reunion, The Spice Girls finally announced their reunion on their official Twitter account.
Fans everywhere can't wait for this tour
It has been six long years since the iconic '90s pop group has graced our lives with their smash hits and incredible fashion. The Spice Girls took over the music scene in the mid-90s with their hits "Wannabe," "Spice Up Your Life," "Say You'll Be There," and many more. By 1996, the five women were taking over the world with not only songs but incredible merchandise and their embodiment of girl power. To date, The Spice Girls are known to be the best-selling pop girl group of all time, which is a title they rightfully deserve. From touring all over the world and eventually calling it quits back in 2000, the Spice Girls have continually held a special place in our hearts.
Now they are making a come back and even famous celebrities can't hide their excitement. Soulful songstress Adele posted an amazing throwback picture to Instagram amid this exciting news and we can't think of anyone else we relate to the most than young Adele, the most loyal Spice Girls fan there is!
View this post on Instagram
HA! This is how I feel right now! I AM READY ✌
A post shared by Adele (@adele) on
Fans young and old have an opportunity to relive the '90s once again and see The Spice Girls live in concert. So dust off your buffalo shoes and whip out those butterfly hair clips, because we're going to party like it's 1998!
The Spice Girls are now a foursome
It's not a surprise that many people are extremely excited that this iconic group is back together again, but unfortunately for those Posh Spice fans out there, Victoria Beckham will not be part of this tour. In a press statement, Beckham states that she would rather focus on her fashion label and wishes The Spice Girls the best of luck on tour. Beckham took to Instagram and wrote,
View this post on Instagram
Today marks a special day for the girls as they announce the first tour dates since we performed together in 2012! I won't be joining my girls on stage again but being in the Spice Girls was a hugely important part of my life and I wish them so much love and fun as they go back on tour next year. I know they will put on an amazing show and the fantastic fans past and present are going to have a wonderful time! X vb #spicegirls #friendshipneverends
A post shared by Victoria Beckham (@victoriabeckham) on
Mel B., Mel C., Geri Horner, and Emma Burton revealed on The Jonathan Ross Show that they didn't even ask Victoria Beckham to join them on tour. Mel C. revealed, "Do you know what is actually quite funny … I saw Victoria recently and obviously we've all been in contact, she is still very much a part of the Spice Girls, she really supports us and we really support her. But she did raise the point that she was never actually asked. We just presumed."  
Even though many of us will miss Posh Spice, four Spice Girls is better than none. However, the women will be joined by singer-songwriter, Jess Glynne, on tour.
"Say You'll Be There" in 2019
Baby Spice, Sporty Spice, Ginger Spice, and Scary Spice will kick off their tour on June 1, 2019, in Manchester and will have six stadium shows around the United Kingdom, concluding their tour in London. The demand for tickets was so high that The Spice Girls have added five more shows to their tour after many of the original tour dates sold out. Tickets are still on sale so you still have a chance to snag a ticket before they're gone. If you're looking for a reason to do some traveling this summer, here is your opportunity!
Source: Read Full Article