Residents across flood-hit parts of eastern Australia, including Sydney's Hawkesbury-Nepean valley, are facing an "itchy, bitey and scratchy" stint as insect numbers are expected to explode in the wake of the deluge.
"It's shaping up to be a pretty pestilent season along the whole east coast," says David Emery, a professor of veterinary parasitology at the University of Sydney. "If it's warm and moist, it's highly likely we'll get lots of mosquitoes."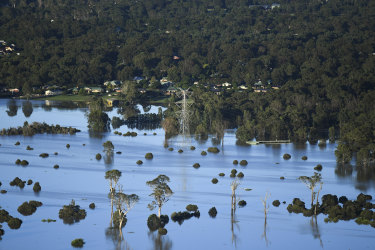 Flood-affected areas near the Windsor and Pitt Town region of the Hawkesbury-Nepean valley. Warm conditions could create a breeding paradise for a range of insects.Credit:Pool
Ticks, fleas, midges and, if the winds are favourable, biting flies may also blow in from Queensland, adding to the irritation of humans, pets and other animals.
"Everything's had a good season," Professor Emery said. "The rain helps all parasites to survive longer if it hasn't drowned them in the first place."
Stagnant pools left behind by receding waters will provide an ideal breeding time for mosquitoes in Sydney's north and west, and elsewhere. "They love these conditions," he said.
Mild weather, if it persists, will also increase the risk of Ross River Fever, a viral infection, transmitted via kangaroos and other wildlife through mosquito bites.
The best way to avoid the infection, which can trigger fever, rashes and joint pains, is "don't bother to get bitten by mosquitoes", Professor Emery said.
Those residing closer to the coast, particularly in Sydney's north, will likely face an increase in so-called paralysis ticks. These can be spread to humans from pets, and can be picked up during outdoor activities including gardening, volunteer weeding and bushwalking.
Unlucky hosts can pick up illnesses, such as Rickettsial infections caused by bacteria, or even lyme disease. "It's pretty rare but you can get it from the one-in-a-thousand ticks [that carry them]," he said.
Pet-owners should consider stocking up on treatments for ticks and even worms. The ticks are often not much bigger than a pinhead.
The burst of life should extend to dragonflies and other critters that feed off insects, such as spiders.
The abundance compares with the paucity during the recent, hot dry summers. It could also last well into autumn if the weather stays moist and mild.
Among the biting bugs may be buffalo flies that can migrate south from the cattle ranges of Queensland. These will need a burst of cold before they retreat north, Professor Emery said.
University of NSW entomologist Gerry Cassis said it was unclear how the wider array of insects will fare after the big rains.
"Coming on the back of the fires [in 2019-20], a lot of the recovery was underway," Professor Cassis said.
The floods could end up wiping out many of the invertebrates that were just getting re-established after the bushfires.
Start your day informed
Our Morning Edition newsletter is a curated guide to the most important and interesting stories, analysis and insights. Sign up to The Sydney Morning Herald's newsletter here, The Age's here, Brisbane Times' here, and WAtoday's here.
Most Viewed in Environment
From our partners
Source: Read Full Article