Key posts
Hello! Welcome to our live coverage of the Neighbours finale
He launched the careers of Kylie, Delta and Margot. Do you know his name?
As the end of the very long road draws nearer for the iconic soap opera Neighbours, the return of Scott and Charlene to Erinsborough, or rather Kylie Minogue and Jason Donovan, was always going to provide a suitably seminal moment to bid farewell to a show that has lasted an epic 37 years.
Reg Watson, the creator of Neighbours.Credit:ATV Network
But there's another lesser-known name entrenched on Ramsay Street that deserves equal, if not greater, recognition: that of the show's original creator, Reg Watson, a shy Australian who was once described as the "godfather" of the modern television soap opera, a writer with a knack for elevating the minutia of suburbia into must-watch drama five nights a week.
That was the gift the late Watson bestowed on audiences around the world for half a century when he came up with the concept for Neighbours and pitched it to his boss, another television icon, the late Reg Grundy.
Watson, who lived quietly with his partner in the northern beaches and hated publicity, died in 2019 aged 93.
Learn more about the man behind Neighbours here.
Kylie and Jason: The return of Erinsborough's sweethearts
Take a squiz at the first pictures of Jason Donovan and Kylie Minogue back in Erinsborough, released earlier this month.
The pair played iconic couple Scott and Charlene on the show – their wedding was broadcast to around 20 million people in the UK in 1988 – and were fan favourites from the get-go. The circumstances around their characters' return have been kept under wraps but Donovan and Minogue's enthusiasm at being reunited was a little more out in the open.
Scott (Jason Donovan) and Charlene (Kylie Minogue) return to Ramsay Street for the finale.Credit:Network 10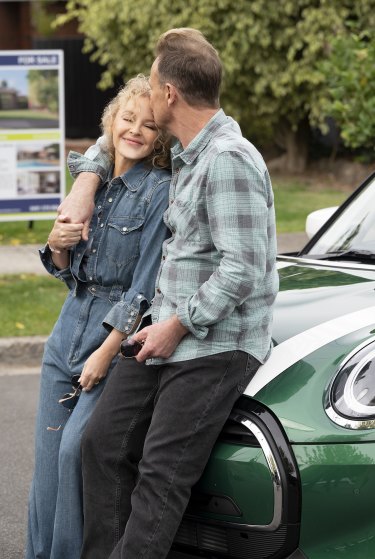 Credit:Network Ten
'Heartbroken' Neighbours fans farewell show
Each night, Divya Nandha finishes cooking dinner by 6.30pm, ignores her phone (although everyone who knows her already knows not to call) and settles down on her couch in Sale, in Victoria's south-east.
The mother and former nurse, who lives with her husband, Rakesh, has built her evening routine around Neighbours, the soap she first fell in love with from the other side of the globe.
Long-term Neighbours fan Divya Nandha visited the set of her favourite show in May, when she heard it was coming to an end.Credit:Facebook
Tonight, she'll be among the millions of fans around the world tuning in for the last time. And she wants to watch it undisturbed.
"Nobody is allowed to call, you know. I will not answer my phone and no one can disturb me," she said.
Nandha and her family moved to Victoria in 2001, and she and her daughter kept watching the show together for years. She said she won't know what to do with herself when the show ends.
"I am going to be totally heartbroken, but I'll probably sit by myself and watch it, and see if my husband can get home early, so we can watch it together," she said.
Read more from Neighbours superfans here.
Hello! Welcome to our live coverage of the Neighbours finale
Good evening everyone. Well, the moment we've all been waiting for (while secretly dreading) is finally here, the Neighbours finale.
After 37 seasons, almost 9,000 episodes, roughly 500 explosions and more natural disasters than seems fair, it's time to say goodbye to the fine folk of Erinsborough.
In true Neighbours style, the finale promises to go out with a bang (and possibly a bomb), and you can expect a host of familiar faces returning to Ramsay Street.
From Kylie Minogue to Margot Robbie, Neighbours most famous alumni have come together to celebrate the landmark show that has given so much to the history of Australian television.
My name is Thomas Mitchell, and I'll be recapping the episode alongside my colleague, culture reporter Meg Watson. Reporter Caroline Schelle will be live at Federation Square in Melbourne as Neighbours fans gather at a live viewing event to bid farewell to the iconic soap.
You can watch the Neighbours finale on Network Ten and 10Peach from 7:30 pm (AEST) or via the 10Play app.
Most Viewed in Culture
Source: Read Full Article