When celebrities hang out with Bustle writers, we want to give them the chance to leave their mark. Literally. So we hand them a pen, a piece of paper, a few questions, and ask them to get creative. The rest is up to them. This time, The Marvelous Mrs. Maisel star Marin Hinkle is leaving her mark in the Bustle Booth.
It's time to get reacquainted with Rose Weissman. You'll be forgiven if you hardly recognize the mother of The Marvelous Mrs. Maisel's titular housewife-turned-comedian Midge come Season 2, as the season premiere finds her decamping to Paris and living a bohemian lifestyle after deciding that her life as a wife and mother is no longer satisfying.
"I was like, 'They're asking me to be almost a changed personality!'" Hinkle recalls of her initial reaction to reading the script. "And then I thought, 'That's what people do sometimes when they leave the country.'" Indeed, Rose is a changed woman in Paris: She's adopted a mangy dachshund named Simone, swapped her fabulous hats for a less confining silk scarf, softens butter in the window, and smokes in the afternoon. Gone is her obsession with keeping up with the other affluent families in her Jewish enclave of the Upper West Side — at least while she's abroad.
Rose's push for independence this season is a fitting parallel to Midge's own journey, as she too continues to wrestle with being viewed as a one-dimensional person in her own life thanks to her gender. But now that Midge is bucking convention by building a life separated from Joel, Rose is following suit, and learning to re-evaluate what makes her happy outside of her commitments to her family.
Hinkle, who is a mother herself, is quick to point out that there's nothing wrong with motherhood, gushing about her teenage son, whom she can't wait to see once her press tour is over. But it's no secret that becoming a mother often means putting your own dreams on hold, especially in the 1950s. Now that Midge has grown up and left Joel, Rose is left questioning her own role as a wife and mother.
"I think Rose is actually lonely," Hinkle points out. "And part of her search to go to Paris is to find what doesn't make her feel so achingly alone. Because she's alone with her husband, too." The couple have lost the ability to communicate, as we see this season, and they'll have to work to get it back. Still, Hinkle is glad that this season has allowed Rose the space to question her life choices.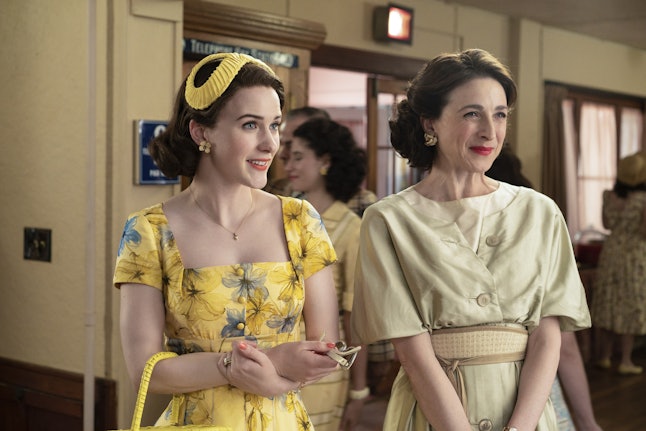 "That's the big thing to always remember in life is that… at some point — and maybe it is after your children have left the home, if you're raising children — you sort of say, 'What more can I do to grow in my life?'"
It's clear that Hinkle values female role models who have asked this question of themselves, like her mother-in-law, who picked up activities like tennis and teaching at the library after her children left the house. "I think it's great that Rose, in her 50s, is actually trying out something new again and revisiting what she had done probably in her college years," she says.
And whether or not Rose continues her journey of self-discovery, it's clear that this is a new, exciting phase for the Weissman family.
Check out Hinkle's answers to our Bustle Booth questionnaire below.
Source: Read Full Article