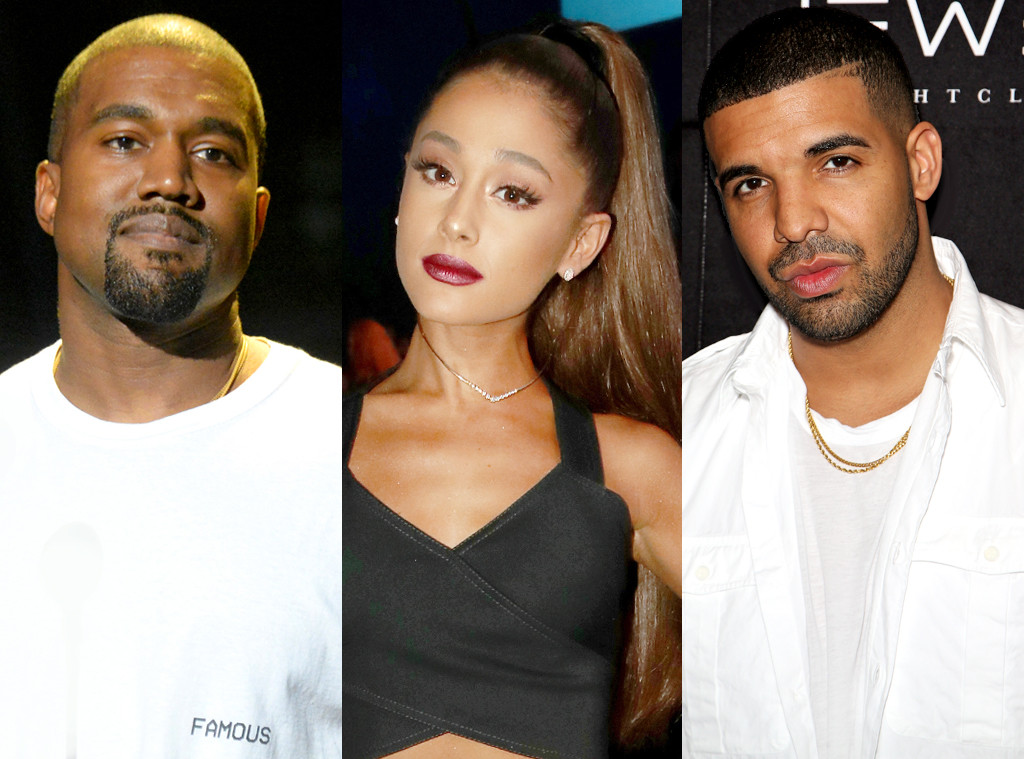 Jeff Kravitz; Christopher Polk; Gabe Ginsberg/Getty Image
UPDATE: Ariana Grande responded to Kanye West's remarks later on Saturday morning, tweeting, "With all due respect, I don't need to use anyone to promote anything. Period. I was making a comment ab what men were doing at the time vs. women. It was a joke which I understand now was probably insensitive. I apologize if I was in any way triggering and hope u feel well today."
______________
Kanye West is less than impressed with Ariana Grande's attempt to intervene in his beef with Drake.
On Thursday, West blasted Drake on Twitter, alleging that the fellow rapper "threatened" him and was picking on "people with mental health issues." Drake has yet to respond directly to his comments but he did post on his Instagram Story, after West's rant, "crying laughing" emojis.
Grande weighed in on the rapper's feud on Twitter that day as well, writing, "Guys, I know there are grown men arguing online rn but Miley and I dropping our beautiful, new songs tonight so if y'all could please jus behave for just like a few hours so the girls can shine that'd be so sick thank u." Grande had released her new single "Imagine" less than two hours later, as scheduled, after promoting it continuously throughout the day.
Grande's comments prompted a fresh Twitter tirade from West, this time against her.
"I know Ariana said this to be cool and didn't mean no harm but I don't like even slightest level of slight commentary from someone I know loves and respects me," West replied on Saturday at 4:38 a.m. PT.
"People will no longer take mental health for a joke," he continued. "Drake verbally attacked Cudi when he was in the hospital and went at me after TMZ because I decided to release albums in June Is snowballed and he refused to meet with me but texted my mother in law and did sneak disses on peoples records that I consider family."
West also wrote, "All of this foolishness weighed on my mental health so @ArianaGrande you know I got love for you but until you're ready to really make sure everyone's ok don't use me or this moment to promote a song."
Miley Cyrus, who on Thursday dropped her new song, a cover of John Lennon and Yoko Ono's "Happy Xmas (War Is Over), tweeted in response to Grande, "Didn't they hear the news ?! War IS over ! Thank you , next!"—referencing Grande's previous new single.
West has not responded to Cyrus. And Grande has not responded to West. However, Sophie Brussaux, the mother of Drake's son, reacted to the pop star's tweet, writing on Instagram, "I would hardly call Kanye arguing with himself 'grown men.'"
West has been open about his own mental health struggles. He was hospitalized for "mental exhaustion" for a week in 2016.
"No one would ever choose to end up in a mental hospital and diagnosed with a mental disorder but god chose me to publicly go through this journey and it is beautiful," West tweeted on Saturday.
On his 2018 track "Yikes," off his album Ye, the rapper insinuates he is bipolar. In October, he stirred some controversy with remarks about slavery and then clarified them on TMZ Live, during which he also revealed that he was off his medication. On Saturday, he tweeted, "I'm loving the new music I've been working on. 6 months off meds I can feel me again."
Later in October, West made more headlines when he met President Donald Trump, who he admires, at the White House and told the U.S. leader that a neuropsychologist told him he "wasn't actually bipolar," but rather "had sleep deprivation which can cause dementia 10 to 20 years from now when I wouldn't even remember my son's name."
"People said my career was over after TMZ I need to show the world that we so called crazy people will not be just written off," West tweeted on Saturday.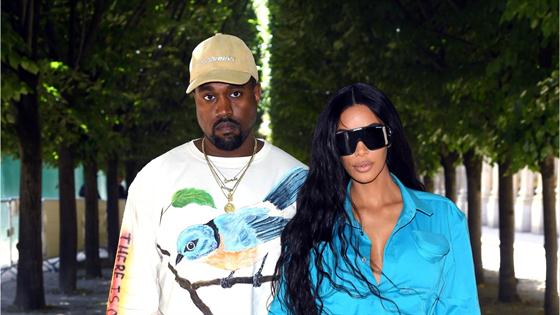 "I am able to experience first hand how people who have mental health issues get written off by society," he wrote. "Don't listen to him cause he's crazy. He's washed cause he's crazy etc…I don't blame people for not knowing how to handle this that said we as a society will learn together."
West also tweeted, "It reminds me of when I said stop hip hop homophobia It used to be ok for rappers to bash gay people just listen to certain rap records from the 90s and early 2000s. It's like when you see a tv show from the 60s and it's super racist and sexist. We're all growing together."
West began ranting about Drake on Twitter soon after the latter rapper asked his team to clear a sample for a 2009 track they made together called "Say What's Real." West eventually wrote, "It's all love bro bro but don't play with me. You stay too close to be playing all these industry games bro."
Amid his Twitter tirade earlier this week, West also accused Travis Scott, boyfriend of his wife Kim Kardashian's sister Kylie Jenner, of allowing Drake to insert "sneak disses" on the song "Sicko Mode." He also claimed Scott sent him "more threats" that afternoon. The latter rapper has not responded.
"Drake and Trav both love Ye more than anyone and I love those guys back. We love everyone," West tweeted on Saturday.
"Perhaps we stop looking at my tweets as rants and start looking at them as therapy testimonials and some even ministry," West said later. "God has given me this voice for a reason."
(Originally published on Saturday, December 15, at 8:23 a.m. PT)
Source: Read Full Article