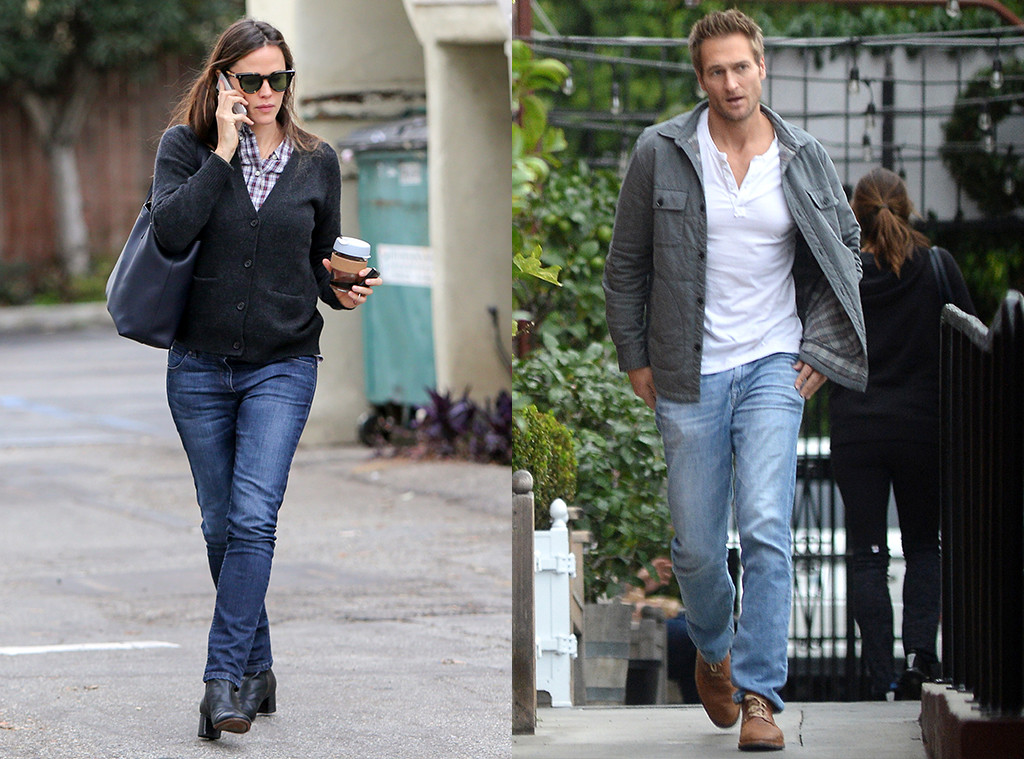 BG004/Bauer-Griffin/GC Images; TheImageDirect.com
Jennifer Garner and boyfriend John Miller are proving that breakfast dates are the way to go.
The new couple hit up a Santa Monica hot spot on Monday morning amid reports that their relationship was starting to simmer down. These reports referenced their infrequent dates and conflicting schedules. However, their appearance together showed their romance is going strong.
A source recently told E! News that the Alias star is still seeing the businessman, but she wants to "keep it private and for themselves."
Unlike her very public marriage to Ben Affleck, Jen is "keeping things under wraps by going away with him and seeing him in private places. She's enjoying being with him and doing it the way she wants," the insider previously revealed.
Moreover, things are still new between her and Miller, who is a father of two, and they have their kids to watch.
When it was revealed she was once again dating, a source told E! News that things between her and John were "casual."
"She's been hanging out with him for the last few months and getting to know him," the source said at the time. "They have some friends in common and know some of the same people through their kids."
View this post on Instagram
This time of year it is extra cozy to send kids to school with something warm in their bellies. My kids feel extra cozy about @realbakingwithrose's chocolate bread. This recipe isn't crazy sweet and, with a good swish of peanut butter, is just the thing for my early rising middle schooler. You can find the full episode on IGTV. #PretendCookingShow #bangwentthecabinet #????‍♀️wentmybrain #hurryupchristmas?? . #TheBreadBible Chocolate Chocolate Chip Bread Ingredients: 3 Tbs plus 1/2 Tbs unsweetened cocoa powder 3 Tbs boiling water 1/2 Tbs pure vanilla extract 3 large eggs 1 1/2 cups sifted cake flour 3/4 cup plus 2 Tbs sugar 3/4 tsp baking powder 1/4 tsp salt 13 Tbs unsalted butter, softened 3 Tbs chocolate mini chips or bittersweet chocolate (chopped) . Directions: 1. Preheat oven to 350F. 2. Whisk cocoa and boiling water until smooth. Allow to cool to room temperature, then gently whisk in vanilla and eggs. 3. In a mixer bowl, combine cake flour, sugar, baking powder, and salt. Mix on low speed for 30 seconds to blend. Add half the chocolate paste and the butter and mix until dry ingredients are moistened. Increase speed to medium-high and beat for 1 minute to aerate and develop structure. Scrape down the sides of the bowl. Gradually add remaining chocolate paste in two batches, beating for 20 seconds after each addition to incorporate the ingredients and strengthen the structure. Scrape down the bowl. Fold in chocolate mini chips/chopped chocolate. 4. Scrape batter into prepared loaf pan and smooth the surface with a spatula. 5. Bake for 50-60 minutes. An instant-read thermometer inserted into the center will read about 200F. (The bread shouldn't start to shrink from the sides of the pan until after removal from the oven.) 6. Set the bread on a wire rack to cool for 10 minutes. Loosen the sides of the bread and invert onto an oiled wire rack. Reinvert so it is top side up and cool completely.
A post shared by Jennifer Garner (@jennifer.garner) on
More importantly, Garner has her kids to take care of, so it's no surprise that Jen has to schedule her dating life around her kid's school hours and play dates. Hence the breakfast date.
She also has to make time for her various holiday activities, like baking.
Don't miss E! News every weeknight at 7, only on E!
Source: Read Full Article