For folks who celebrate Christmas, the Dickensian tale of A Christmas Carol has been told and retold in many an era. I've grown up watching my favorite interpretation every year known as A Muppet's Christmas Carol. In the movie, Ebenezer Scrooge is made to confront his ghosts of Christmas past, all the while doing some much needed reflection. This past weekend I was also implored to self-reflect after I experienced my own version of a Christmas haunting. In short, I got ghosted at SantaCon. And of course I very much lived to tell the tale.
I first heard about SantaCon about a year ago from someone I was seeing. When I woke up at her place on a Saturday in early December, snow was doing it's debut first-snow-of-the-year flutter above the miles of bricked Brooklyn buildings. My crush rolled over with a groan, "Oh, no, today is… SantaCon."
"What… is that?" I said as I was relatively new to New York City. I imagined something like a Comic Con for Christmas and St. Nick enthusiasts.
"It's just like… a mess. Everyone dresses up as Santa and goes to bars."
Huh. Per her advice, I did my best to avoid Manhattan that day. Fast forward to a year later, I find myself in a bar locked lips with a guy dressed as Santa. My friends are all dressed as Santa. I am not. I think this is the only time in my life I will ever feel weird for not wearing a Santa costume. I was warned about this. And now I had found myself seemingly smack dab in the middle of the Bad Santa version of "I saw Mommy kissing Santa Claus." So, how did I get here? Well, it's kind of a long story.
According to the Village Voice, the first SantaCon occurred in the mid-'90s in San Francisco. The original event was actually meant as a form of surrealist performance art. In the early years of the event, groups of rogue artists, including New York City's John Law, dressed as Santa and roamed about for a day in their respective cities. The intention was to critique the ways in which capitalism has changed how many people celebrate Christmas. And yet, over time, SantaCon has also strayed far from its original interpretation.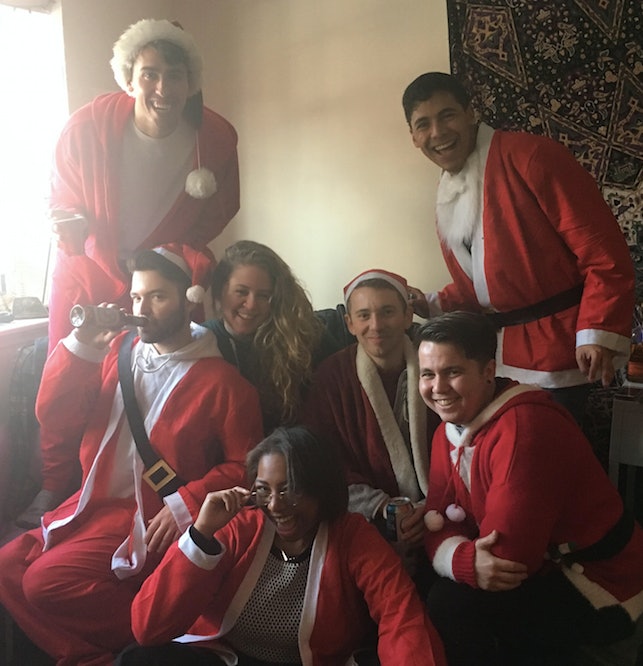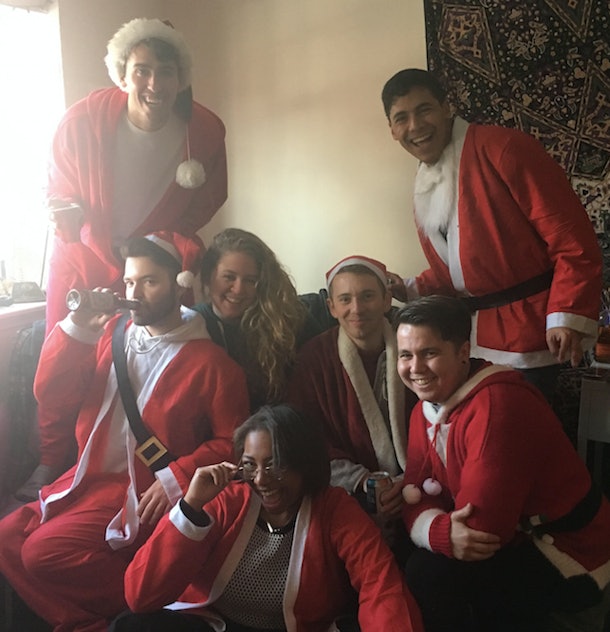 The bottom line is that SantaCon has arguably transcended into maybe the very thing that the founding artists, like Law, intended to criticize. Today, more than 86 cities celebrate SantaCon, including my own, New York. It's a designated day for a lot of people to dress as Santa and do a holiday bar crawl — an event many, if not most, New Yorkers make their best attempts to avoid and one that the New York Police Department has even tried to ban from certain areas of the city. Many bars around the city have taken to posting signs banning elves, Santas, and even some reindeer. New Jersey Transit has even issued a ban on alcohol during SantaCon. (To which many have said: Grinches be trippin'.)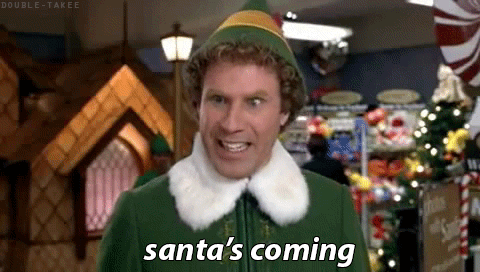 Truth be told, curiosity is what drove me to participate in the real Nightmare Before Christmas this year. As I was en route to my friend's SantaCon pregame, I sipped my extra strong coffee to brace myself for the day to come.
I was not wearing a costume. Namely, because I had actually asked a guy from a dating app to be my date. I anticipated that we would casually stroll through the Christmas-themed-zombie-apocalypse that Manhattan became that day. My daydream consisted of maybe some flirting and laughing as we gazed upon the sea of red and white. We then would dip into a coffee shop and share more about ourselves with each other. All the while keeping a healthy, safe distance from the spectacle of The Santas. But that wouldn't really be participating in SantaCon.
My daydream remains just that: fictional. Even though I planned this date with this guy well in advance and made sure there was no pressure, I texted him on Friday to see if he was still down to go on our SantaDate. He didn't respond. I still haven't heard from him, TBH. After I sent the text, I flipped open the dating app that I met him on and saw a little green dot next to his name meaning he was online. Seriously, how hard would a "hey, sorry I can't make it" text really be? Nice, I thought, I guess I got SantaConned.
So, much like Santa, this guy and our date proved to be an illusion or, rather, a romanticized belief I had a feeling wouldn't be coming to fruition. He ended up being as fictional as the Big Man himself. And that's OK. Sh*t happens. I am actually amazed that I almost made it to 2019 without getting ghosted. And it's definitely true that ghosting, uh, sucks.
The thing is, much like the spirit of Christmas, the day ended up being about so much more than one guy meant to bestow upon us the word's material gifts. Yeah, I would have enjoyed the date and yes, I was crushing, but also I would have been on the outskirts of SantaCon looking in. And that, my friends, is not the true spirit of SantaCon. Instead, I spent the day really letting loose with my dear friends by dancing, and maybe singing a Christmas carol or two on the subway. And I even ended up getting kissed by a Santa. It was not an idyllic Christmas kiss at all, as it was in a bar and no mistletoe was involved. But, hey, it was a decent kiss nonetheless.
When it comes down to it, I feel as though I experienced the essence of SantaCon (and definitely got my lifetime fix of it, sorry, Santa). I don't think I will be back next year, but I will be hanging with my friends again soon. We have those memories, and my Ghosts Of Christmas Date's Past are, well, history.
Source: Read Full Article