In case you haven't noticed due to the fact that she's super low-key, Jennifer Lawrence has a fiancé whom she's marrying in Rhode Island soon. And unlike her previous boyfriends (e.g, Chris Martin, Nicholas Hoult, and Darren Aronofsky), he's not famous. Like, not even tangentially.
In fact, Cooke Maroney, man with an extremely solid first name, is a total normal like the rest of us (JK, I am in no way normal), so tracking down information about him was tough. But I didn't spend my childhood reading approximately 4,000 volumes of Nancy Drew for nothing, so behold: everything you need to know about J. Law's soon-to-be husband—which should come in handy once they say "I do."
First things first, they're getting married in an October Rhode Island wedding
Speculation first started when Jennifer was spotted out with a ring, and then her rep confirmed the news in early February. TMZ reports that J.Law and Cooke will tie the knot in a "swanky venue" in Rhode Island over the weekend of October 19 and 20, and for some reason they have a lottt of menu details. The 150 guests will chow down on "wood-roasted fish with herbs and lemon-infused butter OR the big dish: 5-week-aged leg of beef with forager's sauce," in case you were curious (I know you weren't).
Okay, cool!
Back in June, J.Law talked about getting engaged to Cooke on Catt Sadler's NAKED With Catt Sandler podcast. "I definitely wasn't at a place where I was like, 'I'm ready to get married,'" she said. "I just met Cooke and I wanted to marry him. We wanted to marry each other. We wanted to commit fully. He's my best friend so I want to legally bind him to me forever. And fortunately the paperwork exists for such a thing. It's the greatest. You find your favorite person in the planet and you're like you can't leave. So I wanted to take that offer."
Now that we have that exciting-ness out of the way, let's move on to Cooke, shall we?
He Works in the NYC ~ArT SceNe~
Cooke studied art history at New York University, and now holds a job as a director at Gladstone 64, which is the Gladstone Gallery's Upper East Side location (for those of you who don't live in NYC and didn't watch Gossip Girl, that is a very fancy area). Apparently, this dude reps several famous art clients, including Lena Dunham's dad! So that means Cooke probably knows Lena, right? Right, okay, stay with me.
He and J. Law Met Through a Friend
Look, I'm not saying that friend is Lena. But I'm not not saying that friend is Lena. Actually just kidding, J. Law and Cooke reportedly met through Jennifer's best friend Laura Simpson, and started dating back in May. Whateva.
He's on Instagram
But his account is private. Go ahead and friend Cooke if you want to, but don't expect him to approve the request if your username is JenniferLawrenceFan4Eva. Godspeed.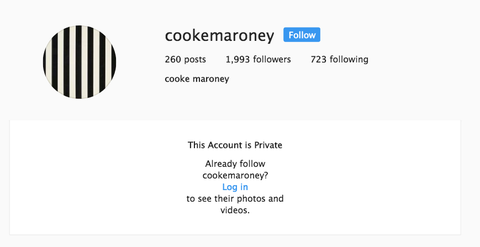 He's Cool with Her Ex-Boyfriends
Cooke and Jennifer recently attended the premiere of her ex Nicholas Hoult's new movie The Favourite—and fun fact: Darren Aronofsky was also there. Here they are on their way to the event: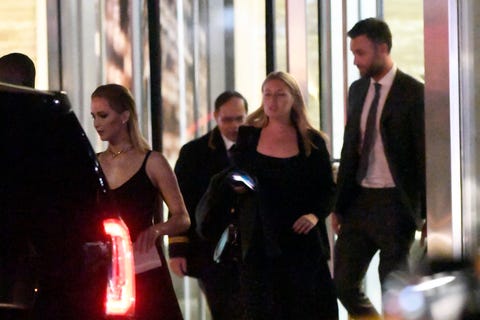 He Likes to Party
A source told The Cut that Cooke "goes to a lot of art-world parties" (lol, k) but he stays pretty chill. "He's definitely fun-loving but I wouldn't say he's out of control," the source said. "He likes to have fun, a young [good-looking] New York guy who likes to participate and have fun. When we would hang out, we would definitely drink; we would have fun." If you're confused by what this source meant when he/she said "participate," me too.
Here he is (on the left) at one of said parties: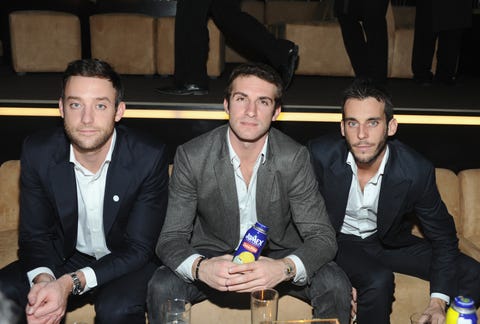 And Finally, His Parents Own a Farm
A truly deep internet dive led me to discover Oliver Hill Farm in Vermont, which is owned by Cooke's parents, James Maroney and Suki Fredericks. According to a Medium profile from 2015, Mr. Maroney was an art dealer in Manhattan (and held a tenure as the Senior Vice-President & Head of American Paintings at Christie's) before he and his wife started the farm, which is where Cooke grew up. So! Cute!
Source: Read Full Article