"He was, on and off the camera, a legend," wrote James Phelps, who played Fred Wesley in the Harry Potter franchise, while Jason Isaacs, who starred as Lucius Malfoy, called Gambon "magnificent."
Wands up — Harry Potter stars are mourning the death of Michael Gambon, who was best known for playing Albus Dumbledore in six of the blockbuster films.
On Thursday, Gambon's publicist announced the Irish-British actor had passed away at the age of 82 after a bout with pneumonia, according to TMZ. The rep said he died in a hospital surrounded by his wife Anne and son Fergus.
Following the sad news of Gambon's passing, several of Gambon's Harry Potter costars — as well as many fans — took to social media to pay tribute.
Waiting for your permission to load the Instagram Media.
Instagram Media Unavailable
The official Harry Potter social media accounts posted a statement that read: "We are incredibly saddened to hear of the passing of Sir Michael Gambon. He brought immeasurable joy to Harry Potter fans from all over the world with his humour, kindness and grace. We will forever hold his memory in our hearts."
James Phelps — who starred as Fred Weasely in the Harry Potter films — honored Gambon on social media, recalling a heartfelt memory from working with Gambon on the sixth installment of the fantasy franchise: Harry Potter and the Half-Blood Prince.
"Whilst shooting HP6 I worked on the AD department for the whole shoot (apart from the days I was acting)," he wrote in a post, which he shared on Instagram and X. "And for that reason I spent many hours with Michael during the shoot. He was always very funny and very welcoming to share any knowledge he had."
'One day we were shooting Dumbledore's final clock tower scene, obviously quite an intense scene. In between set ups, Michael asked what I was up to that weekend. As it happened my brother and I were reading Peter and the Wolf with the Manchester Halle orchestra."
James said Gambon asked if he had the script with him, and he told him he did, to which Gambon said, "I've done that, let's go through it and if you like I can give some notes."
"So we spent what should have been his downtime going over my weekend gig," James added. "It is a memory I've always had as one of the highlights of my HP days."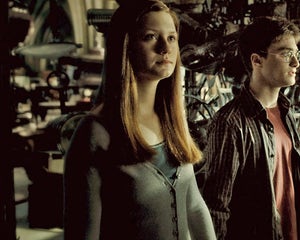 Bonnie Wright Says Lack of Ginny Weasley Scenes from Books Was a 'Little Disappointing'
The actor captioned his post, "I'm very sorry to hear about the passing of Michael Gambon. He was, on and off the camera, a legend. Just a little memory of Michael."
Meanwhile, Jason Isaacs — who portrayed Lucius Malfoy in the film franchise — also paid tribute to Gambon, writing, "Magnificent Michael Gambon has died. I learned what acting could be from Michael in The Singing Detective – complex, vulnerable and utterly human. The greatest thrill of being in the Potter films was that he knew my name and shared his fearless, filthy sense of fun with me."
Fiona Shaw — who starred as Petunia Dursley in the Harry Potter movies — reacted to Gambon's death while speaking to BBC Radio 4's The World at One.
"I will think of him as a trickster, just brilliant, magnificent trickster, but with text, there was nothing like him, he could do anything," she said, per Daily Mail. "He varied his career remarkably and never judged what he was doing, he just played."
Gambon — who played Hogwarts headmaster Albus Dumbledore for six films — joined the Harry Potter film franchise for the third installment, Harry Potter and the Prisoner of Azkaban, following the death of Richard Harris, who portrayed Dumbledore in the first two movies.
Harris' son, Jared, paid tribute to Gambon on X, writing, "Hilarious! A brilliant actor. I saw him on stage several times, and he lives unforgettably in my memory. He took over Dumbledore from my father, which was fitting as he over took Brando as my father's favourite actor."
It wasn't just stars from the world of Harry Potter who honored Gambon on social media. Several of Gambon's former costars and fellow celebrities also shared heartfelt tributes online.
See more tributes in the posts, below.
Waiting for your permission to load the Instagram Media.
Instagram Media Unavailable
Waiting for your permission to load the Instagram Media.
Instagram Media Unavailable
Waiting for your permission to load the Instagram Media.
Instagram Media Unavailable
Source: Read Full Article