Welcome to GMA 25 Days of Cookies! For 25 days, we are featuring cookie recipes that are perfect for your holiday party, cookie swap or next family gathering. Our celeb BFFs are sharing their cookie recipes with us, and we've gathered some seasonal standouts that are sure to dazzle on your Instagram feed and Pinterest board.
Head to our full guide here all month long for the most beautiful, fun, seasonal, delicious holiday cookies worthy of your new Christmas traditions.
Celebrity chef Alex Guarnaschelli shared this recipe for her festive holiday cookies that feature candy canes and dark chocolate mints layered between simple butter cookies.
"It's like a buttery Christmas tree wrapped in a cookie," she said. "You could also sub in white chocolate mixed with candy canes for a richer, lighter filling. If you want to get really creative, once the cookies are completely cooled, arrange them in a decorative tin with lots of fresh mint leaves and/or mini candy canes wrapped in plastic."
Check out the recipe below and follow the step-by-step guide!
Recipe for Alex Guarnaschelli's Candy Cane Cookie Sandwiches
Ingredients:
2 and 1/4 cups all-purpose flour
1 teaspoon kosher salt
1/2 teaspoon ground allspice
2 sticks (1 cup) unsalted butter, chilled, cut into small cubes
2 large egg yolks
3/4 cup sugar
11/2 teaspoons vanilla
32 chocolate mint wafers
6 medium candy canes, finely chopped
Directions:
1. Preheat the oven to 350 Fahrenheit.
2. Make the dough: In a medium bowl, work the flour, salt, allspice and butter with your fingers until the mixture resembles coarse crumbs.
In another medium bowl, whisk together the eggs, sugar and vanilla.
Work the egg mix into the flour mix.
Divide the dough in half and press each half between two pieces of parchment. Roll them on a flat surface until both pieces only about 1/8 inch thick.
Refrigerate.
3. Bake the cookies: Peel away the top layer of parchment and use a 2 to 2 1/2 inch round cutter to cut individual rounds.
Transfer the cookies to a greased baking sheet, leaving a little room between each cookie. Continue cutting the other half of the dough.
Roll the scraps and cut more cookies. Place the trays in the oven and bake 8-10 minutes. Do not overbrown.
4. Sandwiches: Place a chocolate mint and some crushed candy canes on half the cookie rounds while they're still hot. Carefully lift the other half of the cookies and place them directly over the candy cane mix so the filling melts a little in each, making the two halves of each sandwich stick together. Cool completely.
Recipe courtesy Alex Guarnaschelli.
Head to our full guide here all month long for the most beautiful, fun and delicious holiday cookies that are sure to become a new tradition.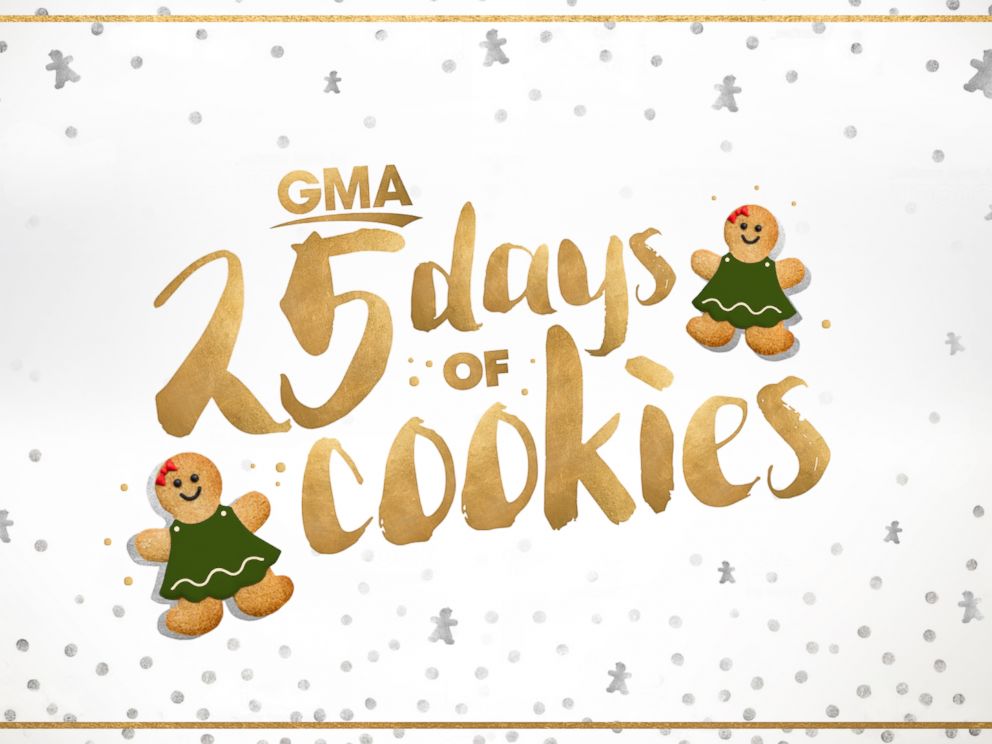 Tell us which cookies you're baking! Tweet @GMA using #25daysofcookies with your #25daysofcookies pictures and we may feature you on our GMA Facebook page or in our morning GMA newsletter! Deck the halls with lots of cookies, fa la la la la, la la la la!
Source: Read Full Article